PRTG offers "10-times the features for less than annual maintenance cost" of competing system
About Dataware Services
Operating one of the largest public data centers in South Dakota, Dataware Services provides hosting, backup, network monitoring, co-location, security and wireless services for public and private companies, as well as government agencies and contractors. Due to increasing demand for reliable, effective and affordable network monitoring services from its customers, the company recently discovered the powerful benefits of Paessler AG's PRTG Network Monitor to keep a watchful eye on critical network infrastructure. In fact, Dataware has been so pleased with PRTG's performance and budget-friendly pricing, they're currently replacing two competing products with PRTG to provide more cost-effective and efficient networking monitoring both for its internal networks and external customer needs.
A growing demand for robust monitoring
As companies of all sizes come to rely heavily on their data network as a critical business resource, a growing number have also begun to realize the benefits of network monitoring technologies for optimizing network availability and up-time. Few can tolerate network slowdowns, congestion, under-sized or faulty equipment-the negative business impacts are just too great.
"For all of its features and flexibility, what really sells PRTG is its price," Kirby said. "We were able to fully implement PRTG with about ten-times the features for less than the annual maintenance cost on the previous system. Plus, it runs on about one-third of the hardware. I've been in IT for more than 20 years and I've never seen anything like it."
PRTG: The recommended choice
Through recommendations gleaned from resources in the MSP software market, Kirby says Dataware found PRTG Network Monitor to be exactly the right tool to fit their needs, and at the right price. Other services promised network monitoring capabilities or performed well on the server side of the system. However, PRTG was the only one to efficiently bridge the gap and provide comprehensive monitoring for all components on the network landscape: switches, routers and servers, email, database and web applications, CPU usage, available server storage, and more - along with a flexible and effective threshold and alert system to ensure maximum staff responsiveness to problems as they occur.
"PRTG cuts our troubleshooting time from hours to mere minutes," Kirby said. "Instead of just getting alerts for things that fail, the ability to configure thresholds and receive warnings before the failure is critical to proactively keeping the network up and running, allowing us to not just minimize costly downtime, but actually prevent it before it ever occurs."
Based on client preferences, PRTG can issue alerts directly to Dataware's clients, or send them to Dataware staff, via SMS text, email or telephone. With full-featured reporting and an extremely easy-to-use GUI, PRTG provides unprecedented visibility into network configuration and activity and logs historical usage and traffic data for reference during troubleshooting or resource planning.
In just one instance, PRTG helped Kirby and his team identify a misconfigured backup route that, upon rectifying, decreased backup time by about 80%.
"The PRTG interface is so full of data, yet so straightforward, it's incredibly easy to find what you're looking for in just a couple of clicks," Kirby said. "That's not been my experience with other monitoring systems."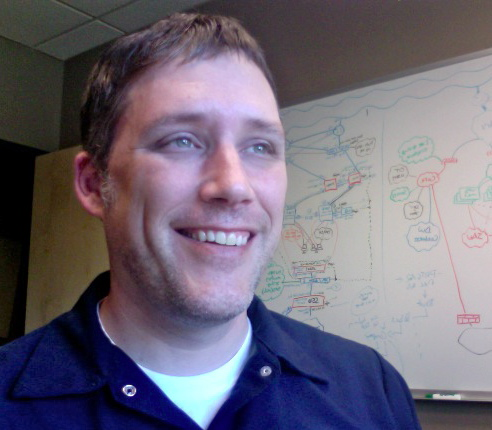 Jim Kirby, Director of Engineering,
Dataware Services
Head to head comparison
Compared with other monitoring tools, Kirby said PRTG not only has a better interface, but is also more feature rich than any other product on the market. In his search for the right monitoring solution, Kirby actually forwarded specs based on one instance of PRTG already running on the Dataware system to another commercial competitor. Based on his requirements, the competitor's price was nearly 40 times that of PRTG.
"For all of its features and flexibility, what really sells PRTG is its price," Kirby said. "We were able to fully implement PRTG with about ten-times the features for less than the annual maintenance cost on the previous system. Plus, it runs on about one-third of the hardware. I've been in IT for more than 20 years and I've never seen anything like it."
As a result, Dataware is the in the process of replacing two competing products - one open source and one commercial - with PRTG. With 761 sensors already in place reporting data to one local probe and one remote probe, Dataware is about to open its second data center, which will essentially triple the sensor count.
Supreme scalability and compatibility
PRTG's elegantly scalable system provides for efficient and affordable expansion, particularly where multiple customers are involved. Because most customers use internal IP addresses within a similar range, the resulting duplicate IP numbers can sometimes "confuse" typical monitoring systems, causing data to be reported inaccurately or misinterpreted.
"PRTG handles scale-out beautifully, and deployment is so easy," Kirby notes. "With our previous freeware system, it took us about four weeks to design a monitoring solution for just 10 servers at a client's request. With PRTG we could develop, test and install the system in about three hours. I can even see us deploying PRTG into a large customer network in under three days-from design to install."
PRTG's VPN compatibility also makes it easy to setup custom sensors and monitors to trigger an alert if a VPN connection drops. Kirby and his team were able to configure this option in about 10 minutes, whereas efforts to do so with a previous solution still failed after four weeks of effort and numerous bug reports. "After 18 months, they still don't have it right," Kirby said.
Reporting accuracy + billing equity = happy customers
PRTG's robust reporting capabilities have not only helped resolve network configuration issues and solve problems related to latency and availability. Advanced analytics have also helped Dataware generate more accurate bandwidth billing for its hosting customers.
"The ability to monitor for IP-based bandwidth usage allows us to collect more accurate data in a way we couldn't before, especially in the case of shared hosting with clients actually sharing the same physical server," Kirby said. "Because of this more accurate and equitable billing, some customers may see their bills actually go down, which I'm sure they'll be quite pleased with."
In addition to the typical IT network monitoring functions, Dataware is also using PRTG to monitor temperature and humidity inside its server rooms and all UPS devices for input/output quality, load percentage and remaining battery time.
"This is an awesome piece of data," Kirby said. "Before PRTG, we simply had no idea how our UPS devices were functioning. Now we know when it's overcapacity before it starts to fail. We also know when we having incoming feed issues and can take the reports and graphs from PRTG to the utility company to show them what's going on to help them solve the problem and help us understand what kind of spikes or brown outs we may have to deal with periodically."
Second-to-none support
With all of its functionality, flexibility and affordability, PRTG also comes with another equally valuable feature-outstanding service. Backed by Paessler's outstanding support service and attention to customers, PRTG has provided Dataware with uncompromising support from day one.
"They not only provided us with a thorough demo period, but they treated us like a paid customer during that time, responding to my requests for assistance as though I were already a customer," Kirby said. "Their support is phenomenal and their product is far superior to anything else on the market."