Feinkost Dittmann expands Paessler PRTG monitoring to include manufacturing & merchandise management system
About Feinkost Dittmann
Feinkost Dittmann (Reichold Feinkost GmbH) has been specializing in the production of gourmet foodstuffs for more than a century. Founded way back in 1901, the German company is headquartered in Taunusstein/Neuhof, has a logistics center in Diez, and its "Gourmet Factory" in Villmar. It also has production facilities abroad, in Manisa (Turkey), Berriatua (Spain), and Alexandria (Greece) with its partner Almi S.A. Among other things, the company offers olives, pesto, antipasti, garlics, spices, sauces, peppers, vinegars, anchovies, and caviar. Feinkost Dittmann has been awarded the "International Food Standard Certificate," as well as a German label for its commitment to the use of organic products.
The German specialist in Mediterranean products has branches in Turkey, Spain, and Greece, and applies the highest quality standards to its production processes. A perfectly functioning IT network is vital to ensure these processes go off without a hitch. In 2008, Dittman installed PRTG Network Monitor to be able to promptly detect errors in its IT network. The gourmet food producer started out with 500 sensors for its monitoring. Today, that number has increased to around 3,500. The main reason for this expansion was the introduction of a new merchandise management system.
Dittmann foodstuffs are delicate commodities. The quality of the end products is directly related to the quality of the company's production and logistics processes. In order for these processes to run smoothly, as well as to guarantee uninterrupted communication between the various production sites, Dittmann's IT infrastructure must always be reliable and free of disruptions. In 2008, the company therefore decided to install a network monitoring solution to provide its IT team with a continual overview of this infrastructure, one that would allow them to prevent downtime by quickly detecting and responding to errors in the system. Up until that time, the IT team was forced to work with multiple monitoring tools, as none of its freeware and open-source software provided for the necessary functionality to act as a stand-alone solution. As a result, the admins were in way over their heads, spending far too much time managing each of the many tools.
"When it came time to expand our monitoring, it was clear that we would stick with PRTG instead of purchasing a new solution. After all, our experience with the software had already proven so beneficial for so many years. PRTG provides us with a comprehensive overview of all our IT infrastructures, allowing us to promptly take action in the event of malfunctions. Thanks to PRTG, we can stop failures – and subsequent production standstills – in their tracks. The software also comes with special features that allow us (for example) to immediately reboot services and determine whether our sites are online."
Frank Hellwig, Head of IT at the headquarters in Taunusstein
The search for an all-in-one monitoring solution
During its search for alternatives, Dittmann stumbled upon PRTG, a comprehensive tool with a wide range of features that allowed the IT team to manage the entire network infrastructure with a single piece of software. PRTG is an all-in-one tool that immediately adapts to a company's monitoring needs: if new network parts or devices are added, no reprogramming is required. Instead, the components can be integrated into the monitoring system with just a few clicks. Dittmann was also impressed with the software's transparent licenses, as well as its prompt and professional technical support.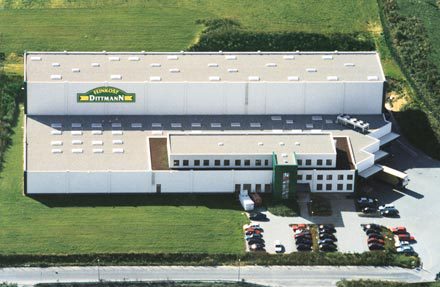 Getting the hang of monitoring
In 2008, PRTG began monitoring the infrastructures of all four sites from the company's headquarters in Taunusstein. Starting out with 500 measuring points (aka "sensors"), the IT team was able to monitor a variety of parameters in real time. In particular, it used HTTP, ping, SNMP, and WMI sensors to monitor the availability of hardware, the bandwidth of web pages, memory, disk space, and more. Over time, the company's networks grew in size: more mobile devices were added, as was a new merchandise management system. The automation of processes and the increased use of scanners created new areas of vulnerability where disruptions or errors could occur. To handle this growth (and prevent malfunctions), Dittmann upgraded its PRTG license from 500 to 5,000 sensors. Currently, the company uses around 3,500 sensors.
Monitoring backup jobs
PRTG monitors a network with VMware solutions, in particular five ESX hosts with a total of 85 virtual servers. A NetApp FAS 2240 storage platform is in place, and Citrix was introduced at the beginning of 2014 to display virtual desktops. In addition to standard, preconfigured sensors, Dittmann also uses PRTG "custom sensors." One of these sensors was set up to monitor the automatic exchange of business data and documents in the Edifact standard. If the data lingers for more than an hour, PRTG sends a notification to the IT team, thereby allowing them to identify orders that require further processing. In addition, the team keeps an eye on backup jobs that are performed at production sites, as well as in IT. These backups jobs help the IT team ensure that all scales and temperature modules are functioning properly in the production areas. If a scale fails, PRTG sounds the alarm so the production chain can be restored immediately. Dittmann also uses PRTG "remote probes," which are installed at its various locations. These probes collect monitoring data in real time, then forward the data to the IT team at the company's headquarters in Taunusstein. In this way, Dittmann can keep a constant eye on its locations both in Germany and abroad.
IT team always in the know – regardless of the location
PRTG provides the IT team at Dittmann with a comprehensive overview (a dashboard created via the "Maps" feature) that allows them to keep track of the infrastructure (including all components) at each of the locations. The dashboard is displayed on a large TV at the company's headquarters, enabling the entire IT team to immediately see if an error has occurred (or is brewing). On-site monitoring and administration are performed via the web interface. The PRTG monitoring environment can also be accessed via the PRTG mobile apps, allowing the team to manage and control the network while on the go. With this app, alarms can be acknowledged, monitoring paused, and graphs and dashboards (maps) displayed with the click of a button.
Conclusion
Increased complexity due to distributed networks and a new merchandise management system required the IT team at Feinkost Dittmann to search for a new monitoring tool. With PRTG, the team is immediately informed of malfunctions and can take action accordingly. Among other things, PRTG comes with "custom sensors" that allow for much greater flexibility (than standard sensors) by adapting to the specific requirements of the new merchandise management system. Another advantage of the all-in-one solution compared to the company's previous open-source tools is that Dittmann no longer has to constantly plan updates or allocate additional resources for maintenance.
Get to know more happy PRTG customers