Free Syslog Server
PRTG Works as a Syslog Server
Syslog is a standard for sending log messages within a network. It is supported by a variety of devices. The syslog protocol provides a wide range of system info, thus syslog monitoring is an important part of network monitoring.
This is what PRTG does for you:
Receive and accumulate syslog messages from multiple servers in one sensor

Alert based on custom filter strings

Include/Exclude messages based on filter strings

Browse through the messages received

Up to 400 days of retention per sensor
PRTG Network Monitor works as a free syslog server: one sensor type in PRTG is the Syslog Receiver, which receives and analyzes syslog messages, stored in a high performance database. This means that the content of received syslog messages can be checked and an alarm can be triggered depending on the content and severity. This way you can move your syslog logs from many different types of systems to one central syslog server, which makes analyzing and monitoring your network much more efficient. You can define which messages you want PRTG to process, by defining filters in the sensor settings.
PRTG

Network Monitoring Software - Version 18.4.47.1962 (December 11th, 2018)

Hosting

Download for Windows and hosted version available

Languages

English, German, Spanish, French, Portuguese, Dutch, Russian, Japanese, and Simplified Chinese

Pricing

Up to 100 sensors for free (Price List)

Unified Monitoring

Network devices, bandwidth, servers, applications, virtual environments, remote systems, IoT, and more...

Supported Vendors & Applications


More >>
The Syslog Receiver sensor works similarly to PRTG's SNMP trap receiver, which is used as an SNMP trap server. The Syslog Server sensor can be added to a probe device - processing all messages of the system running the probe - or directly to a specific device, which is faster than using source filters on a probe device.
For more information on the Syslog sensor and its new features, please refer to this blog article.  
As part of its flexible alerting system that supports 9 notification technologies (e.g. email or SMS), PRTG can also send SNMP traps and syslog messages to notify administrators of alarms.
You can individually define which types of messages will be considered as a "Warning" or "Error". For example, let a message with a severity of 4 switch the sensor into a Warning status, and all severities below into an Error status. This way, you get an alarm immediately depending on your needs.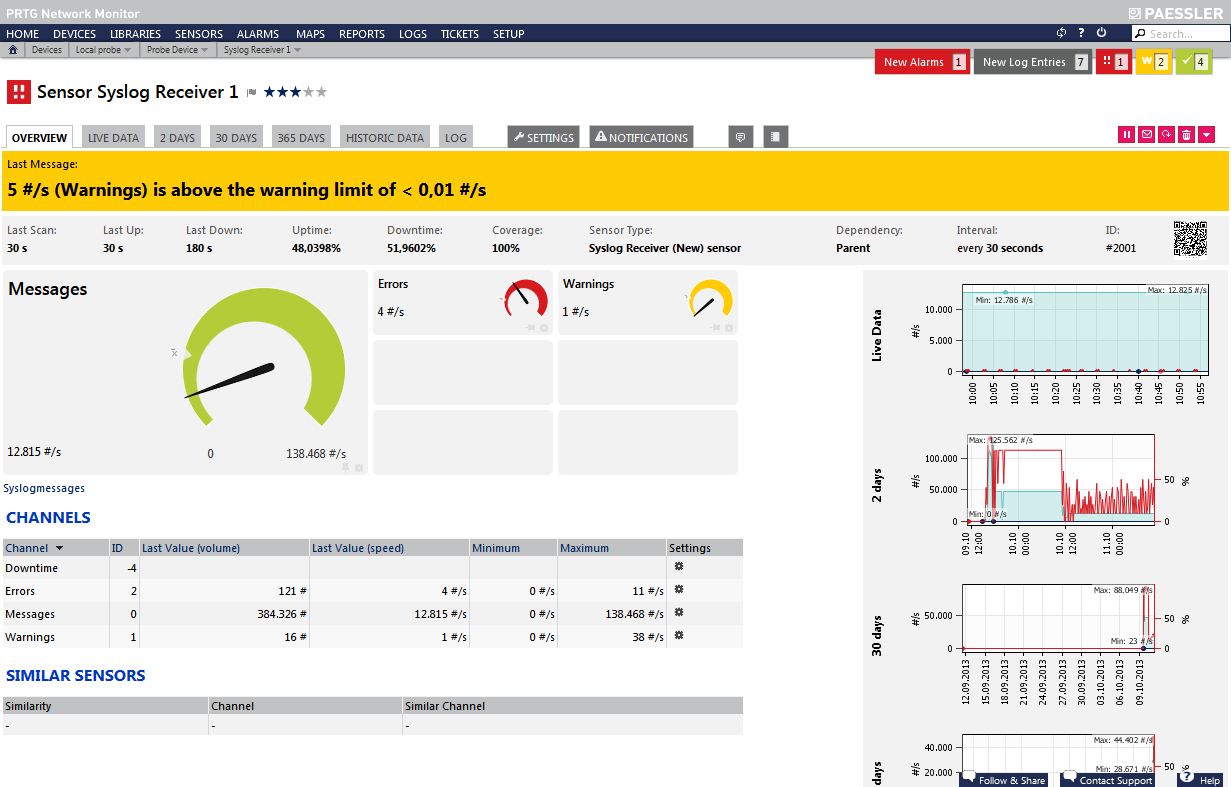 Download the Free Syslog Server
Downloading and installing your syslog monitor takes only a few minutes. PRTG runs on all Windows versions. An install wizard will take you through the installation process, and with auto discovery, your sensors can start monitoring your network in a matter of minutes.
PRTG - More than a Syslog Server for Windows
PRTG Network Monitor is much more than a syslog server for Windows: the powerful network monitoring solution by Paessler AG ensures the availability of network components, while also measuring traffic and usage. It can also be used to monitor Hyper-V and other virtual machines, as a server performance monitor, and even for Cisco ASA Netflow Monitoring.
Our network monitoring software is available in two editions. For basic, free bandwidth tracking and free syslog server functionality, the Freeware Edition may be downloaded and used for personal and commercial use completely free of charge. Need more sensors to monitor a larger IT infrastructure? See our commercial licenses here.
Video: What is PRTG?
This video shows you how PRTG Network Monitor will help you to improve network performance and avoid network issues.
Related Topics