"PRTG: Finally There Is a
Network Monitoring Tool
That Is Powerful And Easy
To Use!"
Network monitoring tool for professionals
Installed in a few minutes
Automatically discovers your entire network
Use as Free Network Monitoring Software with 100 sensors
Tool monitors your network 24/7
Alerts you before emergencies occur
Used by 200,000 administrators worldwide
PRTG fits into any budget and grows with your
needs. Try the PRTG Network Monitoring Tool
now and see how it can make your network more
reliable and your job easier.
Everything you need is contained in one simple
installer, no additional downloads are required.
We make it simple for you, now and later!
Unlimited version of PRTG for 30 days
After 30 days, PRTG reverts to a free version
Or, you can upgrade to a paid license anytime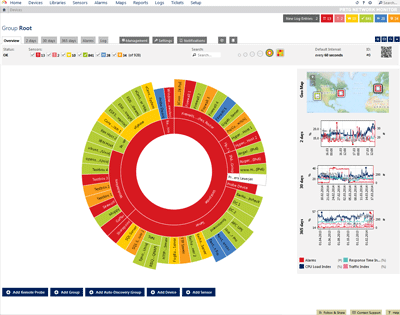 PRTG

Network Monitoring Software - Version 20.2.59.1689 (April 21st, 2020)

Hosting

Download for Windows and hosted version available

Languages

English, German, Spanish, French, Portuguese, Dutch, Russian, Japanese, and Simplified Chinese

Pricing

Up to 100 sensors for free (Price List)

Unified Monitoring

Network devices, bandwidth, servers, applications, virtual environments, remote systems, IoT, and more

Supported Vendors & Applications


More
Monitor Your Network With the Network Monitoring Tool PRTG
PRTG is a network monitoring tool that helps you to ensure that your computer systems are running smoothly and that no outages occur.
Network monitoring is also important to increase the efficiency of your network by knowing bandwidth and resource consumption.
With over 200,000 active installations, PRTG Network Monitor is Paessler's powerful and widely-used network monitoring software.
How our Network Monitoring Software Will Help You to Optimize Your Network Infrastructure
You should use PRTG if you would like to:
Increase profits by avoiding losses caused by undetected system failures.
Reduce costs by buying bandwidth and hardware according to actual load.
Eliminate server performance problems and bandwidth bottlenecks.
Improve quality of service through being proactive.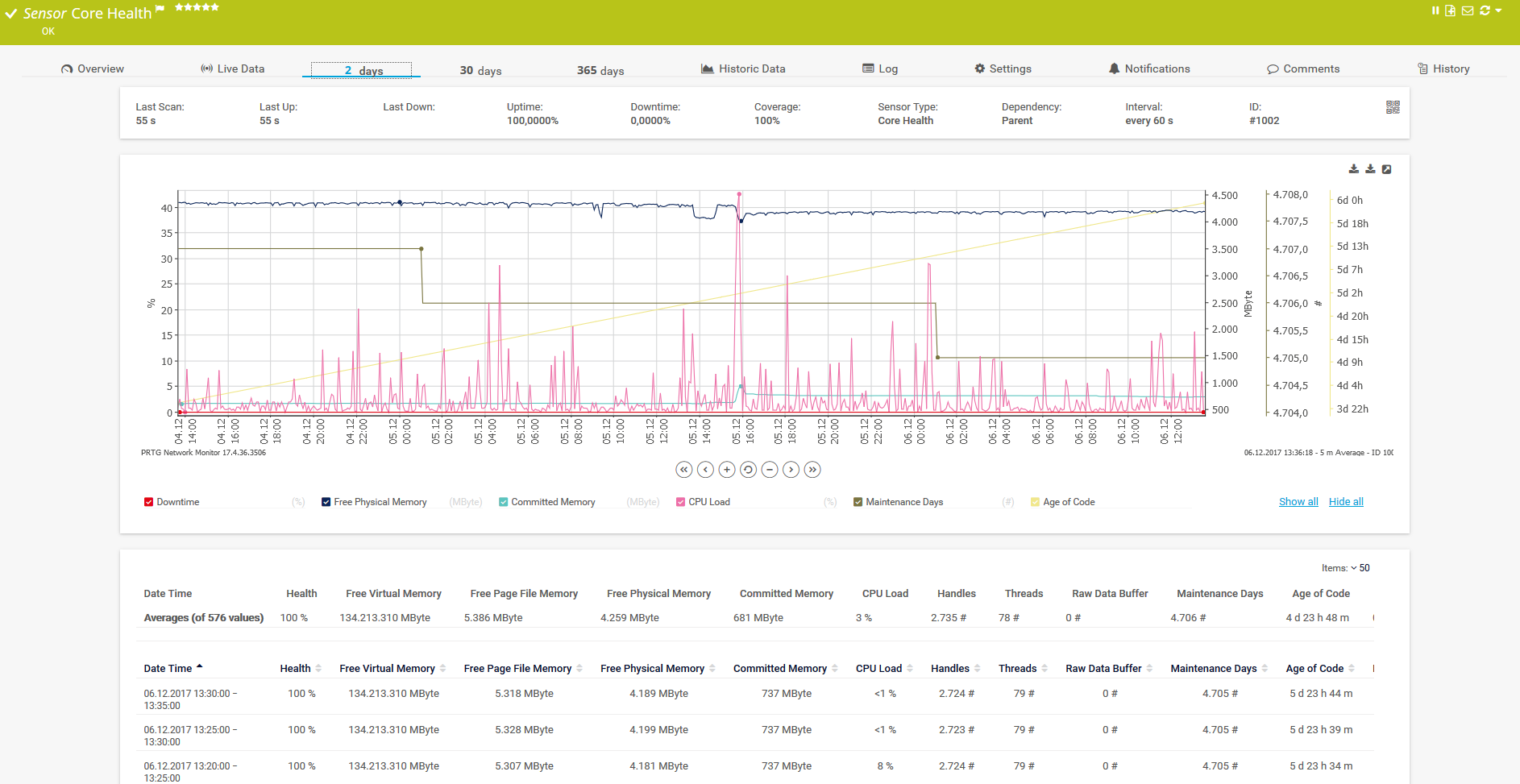 Requirements For a Network Monitoring Tool
A good network monitor should be easy to install and usage should be intuitive, so that there is no need for external consultancy and training. Further necessary requirements are:
Remote Management via web browser, PocketPC, or Windows client
Notifications of outages by email, ICQ, pager/SMS, and more.
Comprehensive sensor type selection
Multiple location monitoring
All common methods for network usage data acquisition (SNMP, Packet Sniffing, Xflow, IPFIX) ought to be supported.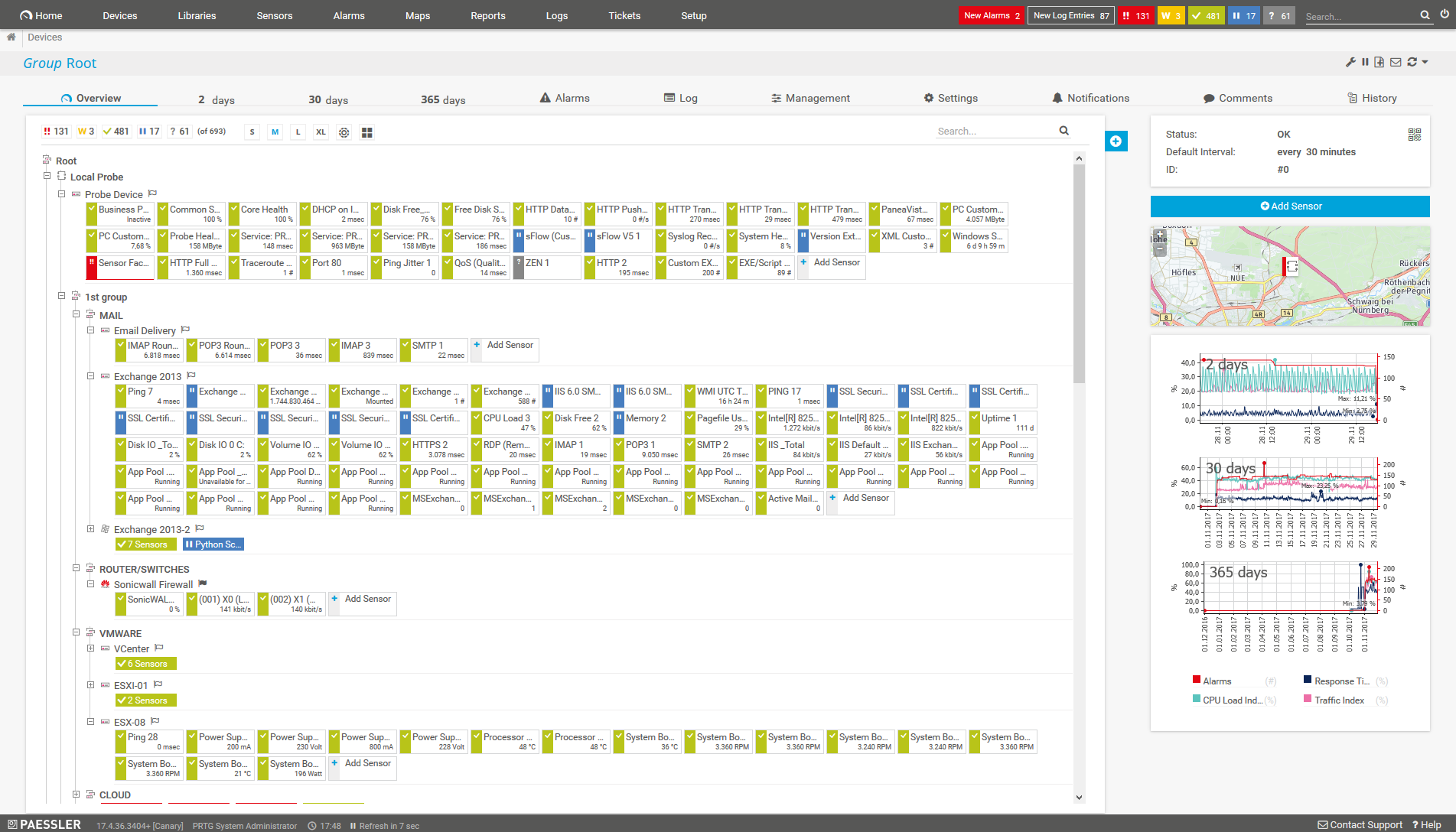 What should I monitor?
The mere implementation of a network monitor is not enough. The key to effective network monitoring in real time is to ensure that the chosen tool has been configured to monitor what are essentially a network's vital signs: availability, speed and usage.
Monitoring network availability allows both internal and external parties to access the services, including websites and you can determine whether the mail servers and leased lines are working.
Monitoring network speed with bandwidth monitoring prevents your websites and network services from losing visitors or frustrate users due to slow-loading pages, files or images.
Finally, usage monitoring enables you to accurately assess CPU load and learn just what sort of work the servers are doing at times of different the day.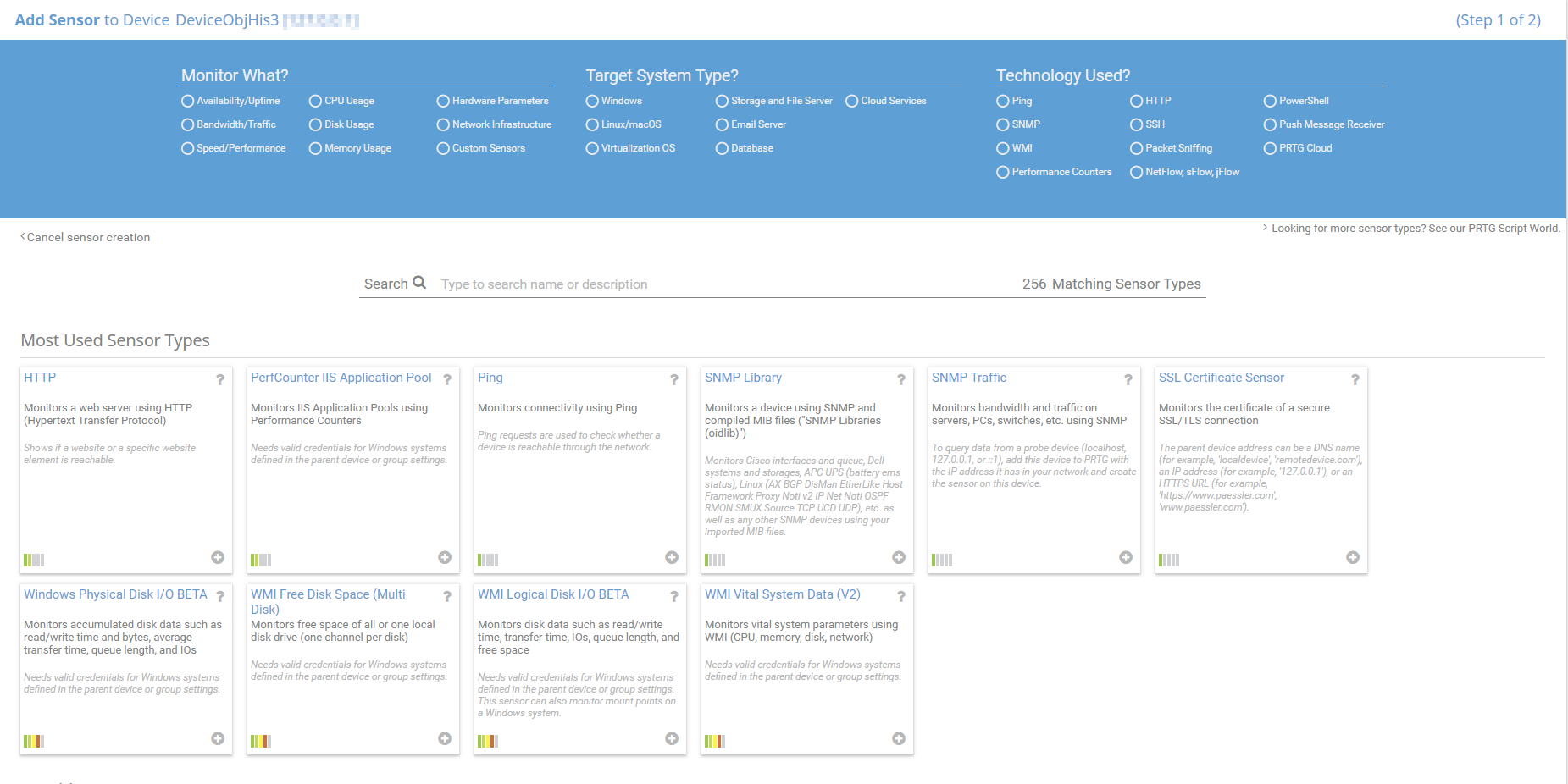 Optimize Your Network and Avoid System Downtimes with Paessler's Free Network Monitoring Software
Continuous network and server monitoring enables you to find problems and resolve them before they become a serious threat to your business. Our software helps your business to perform better:
Avoid bandwidth and server performance bottlenecks
Deliver better quality of service to your users by being proactive
Reduce costs by buying bandwidth and hardware based on actual load
Increase profits by avoiding losses caused by undetected system failures
Find peace of mind: As long as you do not hear from PRTG via email, SMS, pager, etc. you know everything is running fine and you have more time to take care of other important business
The free version of PRTG includes 100 sensors. You will need one sensor for each individual monitoring entity. One sensor monitors for example one network service, one URL, one network connection, one port of a switch, one NetFlow export stream, one CPU load or one disk drive.
So if you are looking for a free bandwidth controller, port sniffer or a tool for windows server monitoring or web site monitoring, PRTG Network Monitor is the perfect free network monitoring software for you. PRTG is easy to set up, configure and use – just download the installer, use the install wizard and set up your sensors with auto-discovery, and after a few minutes and just a few clicks, you are ready to monitor network activity, downtime of network devices or services, CPU load and much more.
Need more sensors to monitor a larger IT infrastructure? See our commercial licenses here.
You can download a 30-day-trial version of our commercial licenses for free. The trial version comes with unlimited sensors.
How to Set up the PRTG Network Monitoring Tool
With the various infrastructure options in use today it can sometimes be difficult to decide which monitoring technology is right to solve your problem. PRTG offers unified IT monitoring that is intuitive to use. The autodiscovery of our free bandwidth meter makes the setup quick and easy. With its preconfigured device templates, it selects the appropriate sensor settings for servers, applications and network devices. Of course you can configure PRTG manually, too.
Download the free 30 day trial network monitoring tool. The trial supports unlimited sensors!
Unlimited version of PRTG for 30 days
After 30 days, PRTG reverts to a free version
Or, you can upgrade to a paid license anytime
Related Topics