Load Test Tool Webstress
Load Test Software That Will Improve the Performance and Reliability of Your Web Servers
The free Webstress Tool is a load test tool that enables you to test how your web servers respond to normal and excessive loads. The load test software simulates hundreds or thousands of users who access your website at the same time. As in the real world, each user follows their own path independent of the other users. The test results are shown in detailed log files and graphs.
Why use a Load Test Tool?
Using the free Webserver Stress Tool when developing and running websites offers you a lot of advantages. The software helps you to detect and resolve web server performance and reliability issues before they result in costly downtimes, and to guarantee a good user experience. Thanks to its in-depth testing and analysis capabilities, the load test tool lets you determine exactly what resources you need.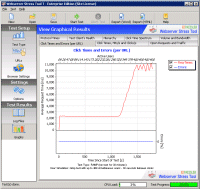 What Kinds of Load Tests are Supported?
Webstress supports load and stress tests. When conducting a load test, the tool simulates a realistic number of users. A load test becomes a stress test, when unusual high user numbers are simulated. The Webstress load test tool can also be used to test SOAP services.
PRTG Network Monitor - Another Powerful Tool by Paessler
Apart from the load test tool WebStress, Paessler also offers the comprehensive network and internet monitoring software PRTG Network Monitor, which includes a powerful NetFlow analyzer. It measures net bandwidth consumption using packet sniffing, SNMP and NetFlow (including support for Cisco Asa monitoring via NetFlow), tracks the availability of network devices and websites using a simple PING test, and offers many advanced sensors to monitor different kinds of servers and parameters. This way, the network bandwidth monitor PRTG helps you to keep track of what is happening in your network and to detect possible issues before they affect users or clients.
Unlimited version of PRTG for 30 days
After 30 days, PRTG reverts to a free version
Or, you can upgrade to a paid license anytime