Limits of a Download Server
for Large Downloads
Probing the maximum number of users without
deterioration of performance
In this test up to 100 users download a 32 MB file from the web server every 30 seconds. The web server is connected to the network with a GigaBit network card.
In the graph we can see that the download times per user are almost constant until about 50 users are active at the same time.
Conclusion
A maximum of 50 users can be active simultaneously until the server's and the network's limits are hit.
Test Results
| | |
| --- | --- |
| Maximum Pageviews | ~6.400 downloads pageviews per hour |
| Maximum Server Bandwidth | ~480.000 kBit/s |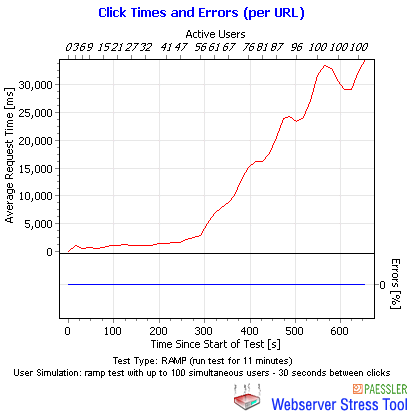 Test Setup
| | |
| --- | --- |
| Test Type | RAMP (number of users increases during the test time) |
| Number of Users | 100 |
| Click Delay | 30 sec |
| Tested Web Server | DELL Dimension, 1.5 Ghz Intel P4, 400 MB RAM, Windows 2003 Small Business Server, IIS6 (out-of-the-box installation), GigaBit Network |
| Test Client | DELL Poweredge 750, 2.8 GHz Intel XEON (Hyperthreading), 2 GB RAM, Windows 2003 Server, (out-of-the-box installation) (running Webserver Stress Tool) |