Work smarter, start monitoring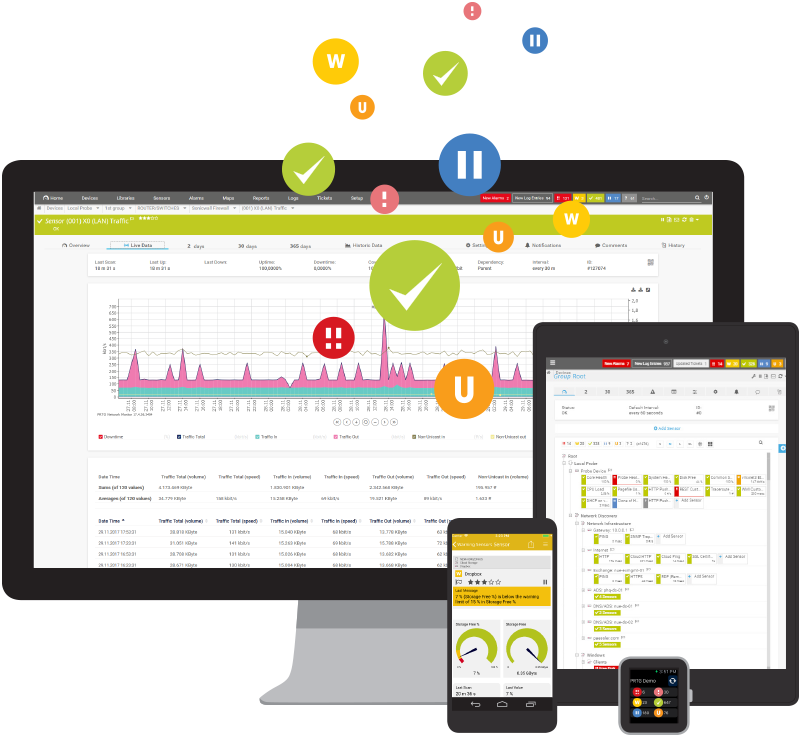 PRTG monitors your whole IT infrastructure 24/7 and alerts you to problems before users even notice. Find out more about the monitoring software that helps system administrators work smarter, faster, better.
PRTG
Network Monitoring Software
Version 18.4.46.1706 (November 7th, 2018)
Languages
English, German, Spanish, French, Portuguese, Dutch, Russian, Japanese, and Simplified Chinese
Unified Monitoring
Network devices, bandwidth, servers, applications, virtual environments, remote systems, IoT, and more


PRTG Features
PRTG comes packed with specialized monitoring features you'll love learning to use.

Monitor Everything
Do you want to know everything you can monitor with PRTG Network Monitor?

Transparent Pricing
No hidden costs, no add-ons. PRTG fits into any budget and grows with your needs.
Are you ready to move to the cloud?

Ready to use monitoring tool

Zero stress through automation

Scale as you grow, pay as you go
You want all the qualities of our great monitoring tool PRTG, but without having to maintain the system and manage the hosting yourself?
We're happy to announce the launch of our new cloud solution: PRTG hosted by Paessler, which can be set up in a matter of minutes. You'll benefit from automatic software updates and will be able to scale capacity up or down quickly thanks to our flexible subscription pricing. Ready to dive in yourself?
Monitor everything!

Thanks to PRTG you can monitor everything in your infrastructure including LANs, WANs, servers, websites, applications and much more.

Simplify Your Day With PRTG Network Monitor
Are you master of your network?
If not, then our videos will help you to be!
The Paessler support team offers videos to help you start monitoring your network. The topics cover installation and auto-discovery, setting up notifications, and background information on using remote PRTG in distributed networks.
Want to know what the IT Pros are saying about PRTG?
20 years of helping businesses grow! Over 200,000 happy customers!
Success stories from our customers
Discover companies like yours who found success with PRTG.
How can PRTG tune your IT infrastructure
to peak performance?
Software Made in Germany 
World Class Support 
Certified by Technology Leaders