Making complex IT landscapes at KTR Systems understandable with Paessler PRTG and Qbilon
About KTR Systems GmbH
KTR Systems GmbH, a globally recognized engineering company with over 1,200 employees and 24 subsidiaries, faced a major challenge in managing and documenting its complex IT infrastructure.
The need to monitor the IT systems of the company's headquarters and its numerous subsidiaries as well as to keep the workload for IT documentation under control prompted KTR Systems to look for a set of solutions. This case study shows how Paessler PRTG and Qbilon worked together to play an important role in Enterprise Architecture Management (EAM) and the automation of IT landscape documentation at KTR Systems.
Video: Why KTR Systems uses Qbilon and PRTG
The challenge: transparency across a growing IT landscape
With its extensive international presence, KTR Systems needed a robust system to efficiently manage its IT landscape across multiple sites and subsidiaries. Like many growing companies, KTR Systems found that as new locations and the number of systems grew, the size and complexity of its IT infrastructure increased significantly. Without a robust system to manage and document the evolving IT challenges, the company ran the risk of losing track of its documentation and system landscape.
With each new branch office and technology solution implemented, KTR Systems faced the challenge of ensuring seamless connectivity, managing hardware and software dependencies, and maintaining a comprehensive understanding of the system architecture. The existing IT documentation process was time and resource-consuming, and at times carried the risk of outdated information. The company needed comprehensive solutions to identify network and communication dependencies, streamline IT documentation, and facilitate efficient decision-making processes.


"The combination of PRTG and Qbilon brings great benefits for mapping our infrastructure, technical dependencies, and processes. We have been complementing our PRTG monitoring with Qbilon since 2019 – and I am 100% behind this product."

Olaf Korbanek, Head of IT Department at KTR Systems GmbH
The solution: The combined forces of PRTG and Qbilon
A high sum of data – without any interpretation – is rarely meaningful. Starting in 2019, KTR Systems recognized the potential of Qbilon early on and decided to use this solution to take its EAM and IT documentation to the next level. Qbilon taps into data from various tools via interfaces - these help KTR Systems gain a holistic view of diverse interconnected systems. With Qbilon, the company achieved a centralized architecture overview at different levels of abstraction, which ensures that all information about its IT landscape is always captured in a single repository and accessible to the appropriate IT teams and admins.
KTR Systems has been using PRTG's monitoring functionality for real-time insight into its network infrastructure since 2011. The coherent interaction of PRTG and Qbilon as well as the intelligent visualizations and detailed overviews enable the company to gain interpretative authority over its IT landscape. From servers and devices to applications and services, PRTG and Qbilon help KTR Systems get an up-to-date architecture overview, identify potential bottlenecks, and proactively resolve issues before they can impact IT system performance.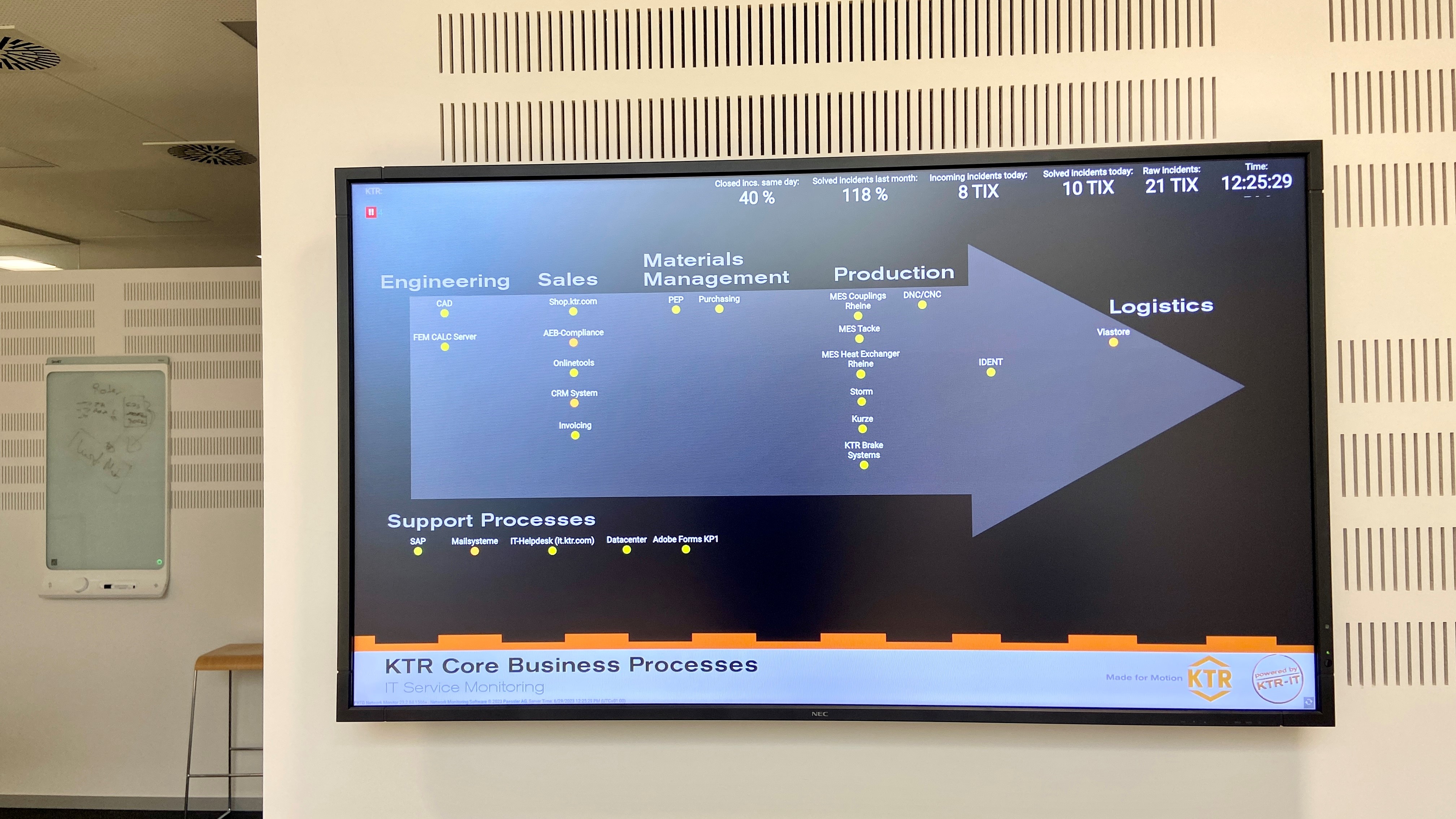 Automated documentation of the IT landscape
Documentation is one of the most unpopular tasks in IT and few things are as dangerous as so-called "shadow IT". By using PRTG and Qbilon, EAM tasks can be made much easier. Data synchronization enables KTR Systems to keep its IT documentation up to date without additional effort. Excel spreadsheets and manually created charts are a thing of the past. Admins can focus on day-to-day business and strategic initiatives – and trust the meaningfulness of the captured data.
Planning support for migration projects
Complexity and dependency representation in one system: With an overview of its IT landscape, KTR Systems received planning support for the replacement of legacy systems. Comprehensive dependency diagrams from Paessler PRTG and other sources enable the company to identify potential side effects and unexpected challenges during migration projects. Only the visualization of direct and indirect connections facilitates decision-making and transparent working with large data sets.
Automated reporting
More than a necessary audit task: PRTG and Qbilon enable KTR Systems to create automated reports for internal and external audits. The relevant information is automatically bundled into detailed yet easily accessible reports on the existing IT infrastructure as well as interfaces. Such convenient automation can not only save staff time and effort and increase overall audit readiness; it is also relevant for the creation of important emergency plans.

"Successful use cases like with KTR Systems show what a great addition Qbilon's solutions are for PRTG users. Complete transparency of IT factors can only be achieved with the best possible architecture overviews at different levels of abstraction. Whether for cloud transformation projects, security issues or cost optimization: PRTG customers get real added value with Qbilon."

Helmut Binder, CEO of Paessler AG
A close partnership for the years to come
The cooperation between KTR Systems, Paessler, and Qbilon has proven to be beneficial for all sides. KTR Systems was already convinced of the potential of Qbilon in 2019 and supported its development over the last years. This partnership fostered innovation and paved the way for a more efficient and reliable KTR Systems' IT infrastructure documentation process. Olaf Korbanek estimates that the combined strength of PRTG and Qbilon can lead to a reduction in documentation effort of up to 50%. He estimates the reduction in effort for an effective emergency concept to be at least 30%.
In May 2023, Qbilon became part of the Paessler Group. This acquisition allows Qbilon's strengths in architecture overview and network visualization to be combined even more closely with PRTG's decades of monitoring expertise.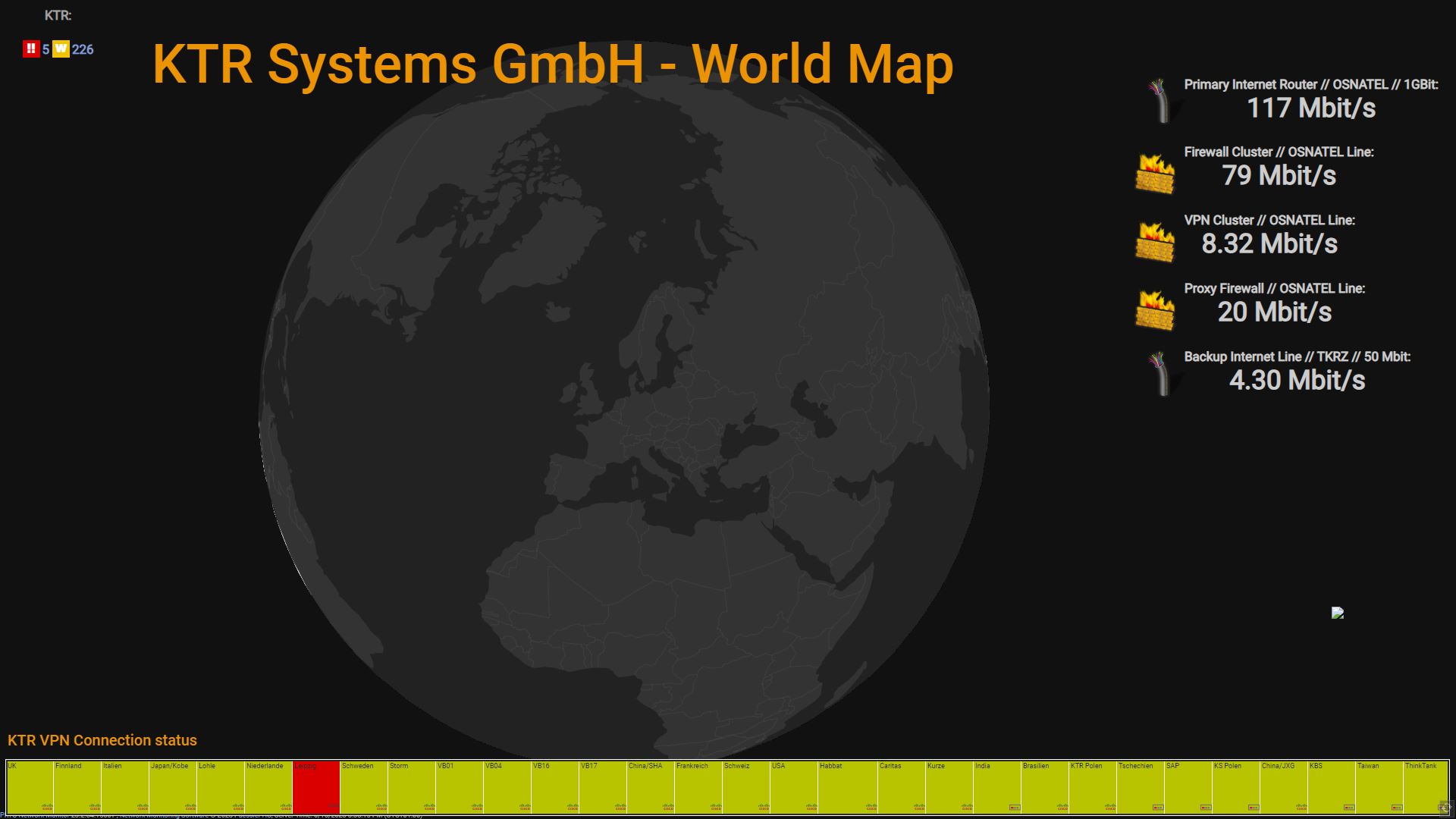 The combined strengths of PRTG and Qbilon
In addressing the challenges of EAM processes and managing a growing IT landscape, KTR Systems found a strong ally in the combination of PRTG and Qbilon. Both solutions give the company the tools to streamline operations, reduce complexity, and provide a foundation for further IT growth across numerous sites.
The interaction of PRTG and Qbilon provides KTR Systems with the insights to safely navigate its expanding IT landscape. Using visualization, detailed maps, and helpful notifications, KTR Systems gained a comprehensive understanding of its network resources, dependencies, and performance metrics.
This level of visibility continues to enable the company to proactively address issues, optimize resource utilization, implement cost optimization, and future-proof its IT infrastructure.

Qbilon was founded in 2019 by four former computer science students in Augsburg. While working with large companies, they noticed that enterprises are struggling with building up a meaningful data basis for critical IT decisions. Qbilon's software solution finally sheds light on organically grown, hybrid IT landscapes. The automatic capturing and linking of existing data enables IT decision makers to streamline and optimize their IT landscapes to eventually achieve an IT that matches their demands perfectly.
Conclusion
The synergies between PRTG and Qbilon were the catalysts that helped KTR Systems achieve effective EAM and a deep understanding of its IT architecture. Data alone is often not enough: Architecture overviews at different levels of abstraction and comprehensive documentation ideally complement PRTG's real-time monitoring and, together with the self-documenting emergency concept, lead to a level of overview and security that is essential for any growing multi-site enterprise.
Get to know more happy PRTG customers