Bandwidth Bottlenecks
PRTG Helps You to Detect and Prevent Bandwidth Bottlenecks
Unlimited version of PRTG for 30 days
After 30 days, PRTG reverts to a free version
Or, you can upgrade to a paid license anytime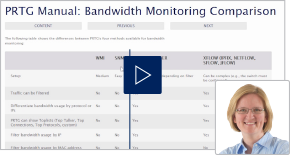 PRTG bandwidth monitoring methods
by Kimberley; Product Evangelist
In this video, you'll get a quick overview of the methods PRTG offers for bandwidth monitoring. Discover which method is best suited for your IT infrastructure.
What is a Bandwidth Bottleneck?
A bandwidth bottleneck is a phenomenon where the performance of a network is limited because not enough bandwidth is available to ensure that all data packets in the network reach their destination in a timely fashion. Thus, bandwidth bottlenecks lead to slow and unresponsive applications, and therefore to a loss of productivity and money.
How to Detect and Avoid Bandwidth Bottlenecks
A good bandwidth tool shows you your system's bandwidth usage, detects network congestion, and helps you to identify which resources you need in order to ensure sufficient bandwidth capacity.
PRTG Network Monitor is Paessler's powerful network and bandwidth monitoring software. The tool tracks Ethernet bandwidth usage, controls network traffic, and monitors the availability, uptime, and performance of network components.
Bandwidth Monitoring and Bandwidth Bottleneck Detection Using PRTG
PRTG utilizes SNMP, packet sniffing, and NetFlow / sFlow to report on bandwidth usage data. The functionality includes IP, protocol, and port monitoring. As VoIP traffic is especially sensitive to bandwidth bottleneck issues, the PRTG software also includes VoIP monitoring abilities.
More Than Bandwidth Bottleneck Monitoring
In addition to tracking bandwidth bottlenecks, PRTG is also an ideal tool for monitoring CPU and memory loads, tracing server uptime, and for troubleshooting network connections. PRTG gives you a complete view of your network and alerts you if a network device is down, a bandwidth bottleneck occurs or if a defined threshold is being crossed. This way, it helps you to approach network troubleshooting much more proactively, increasing user and customer satisfaction and boosting productivity.
PRTG Network Monitoring Software is available in two editions. A basic, free CPU temp monitor and bandwidth tool may be downloaded and used for personal and commercial use completely free of charge. Need more sensors to monitor a larger IT infrastructure? See our commercial licenses here.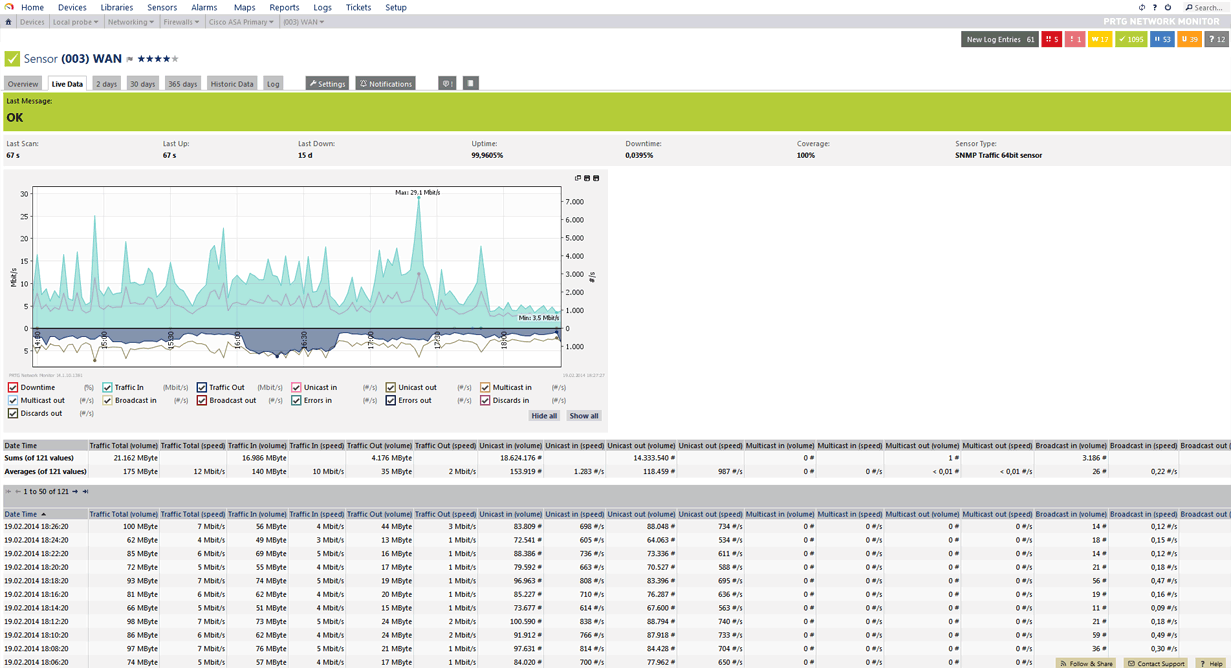 PRTG

Network Monitoring Software - Version 23.2.84.1566 (May 24th, 2023)

Hosting

Download for Windows and cloud-based version PRTG Hosted Monitor available

Languages

English, German, Spanish, French, Portuguese, Dutch, Russian, Japanese, and Simplified Chinese

Pricing

Up to 100 sensors for free (Price List)

Unified Monitoring

Network devices, bandwidth, servers, applications, virtual environments, remote systems, IoT, and more

Supported Vendors & Applications


More
Related Topics