Packet Loss Test Software
Minimize your packet loss using PRTG
Measure metrics such as delay, jitter, packet loss, ping, and latency
PRTG performs short and long-term analysis
Packet Loss Monitoring is an important part of network monitoring, especially if you are using streaming technologies, which are very sensitive to lost or reordered packets and require a certain network speed.
With PRTG's Quality of Service (QoS) and IP SLA sensor types, the Network Monitor is a powerful VoIP monitoring software. The built-in QoS monitoring sensor measures metrics such as packet delay, jitter, packet loss, ping, and network latency.
With PRTG, you ensure high-speed network and internet connection.
Why Perform a Packet Loss Test?
Packet loss is accountable for many network problems, especially in wide area networks (WANs) and in wireless networks. A packet loss test helps to establish whether network connectivity problems or low quality VoIP connections are caused by UDP packet loss.
PRTG Network Monitor is a powerful network monitoring utility which not only helps you to check lost packets, troubleshoot wireless packet loss and UDP packet loss issues, but can also be used to calculate bandwidth, check the availability of network devices, to monitor network utilization, scan IP addresses, and to keep track of internet and network performance. Its flexible alerting options allow you to determine exactly when and how you want to be alerted of issues that require your attention.
PRTG performs a reliable UDP packet loss test using the built-in QoS sensor, which takes its measurements by sending UDP packets between two remote probes. Apart from measuring lost packets, the QoS sensor monitors paramaters such as VoIP jitter, duplicate packets, packet delay, and Ethernet latency.
WAN and Wireless Packet Loss Test
Thanks to the utilization of remote probes, just one installation of PRTG allows you to monitor wide area networks, where packet loss measurement is especially important, as long distances from the data centers frequently result in lost packets. By placing remote probes in different parts of your wide area network, you can measure UDP packet loss across your WAN connections. If a wireless connection exists between the two probes, you can of course conduct a wireless packet loss test.
Another possibility to measure packet loss using PRTG is the PING sensor: it conducts a regular PING test from the server running PRTG to your network devices (by IP address or domain name, for example). It then measures the round trip time (in ms) and lost packets.
Unlimited version of PRTG for 30 days
After 30 days, PRTG reverts to a free version
Or, you can upgrade to a paid license anytime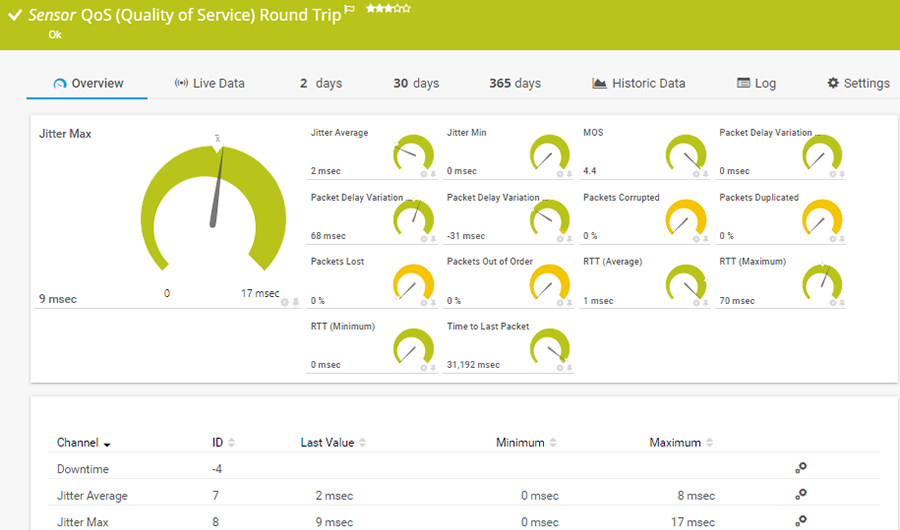 PRTG Network Monitor
Need more sensors to monitor a larger IT infrastructure? See our commercial licenses here. A free 30-day trial is available for evaluation purposes.
PRTG

Network Monitoring Software - Version 19.2.49.2018 (April 16th, 2019)

Hosting

Download for Windows and hosted version available

Languages

English, German, Spanish, French, Portuguese, Dutch, Russian, Japanese, and Simplified Chinese

Pricing

Up to 100 sensors for free (Price List)

Unified Monitoring

Network devices, bandwidth, servers, applications, virtual environments, remote systems, IoT, and more

Supported Vendors & Applications


More
Unlimited version of PRTG for 30 days
After 30 days, PRTG reverts to a free version
Or, you can upgrade to a paid license anytime
Related Topics