Ethernet Monitoring
Ethernet Bandwidth Analyzing with PRTG
PRTG Network Monitor is an ethernet monitoring system that helps you to take perfect control of everything that happens on the network of your company. Ethernet monitoring includes not only verifying the presence of cuts in the network devices, it also monitors the network performance and the use of its resources.

PRTG is a server monitoring system that can detect and automatically react to threats and performance problems in real time. It also helps to prevent possible failures in the future. Its functions include monitoring errors and availability, ensuring that all Ethernet devices are updated, in function and recording network activity.
Examples of Using Ethernet Monitoring
Monitoring network bandwidth: You can see in real time how much bandwidth is being used and identify bottlenecks
Network server monitoring: Monitoring of ethernet checks if the server is updated and running, the CPU load on the server, the temperature, etc.
VoIP monitoring: Measurement of packet loss, jitter noise, etc..
Web Monitoring: Check if your website is available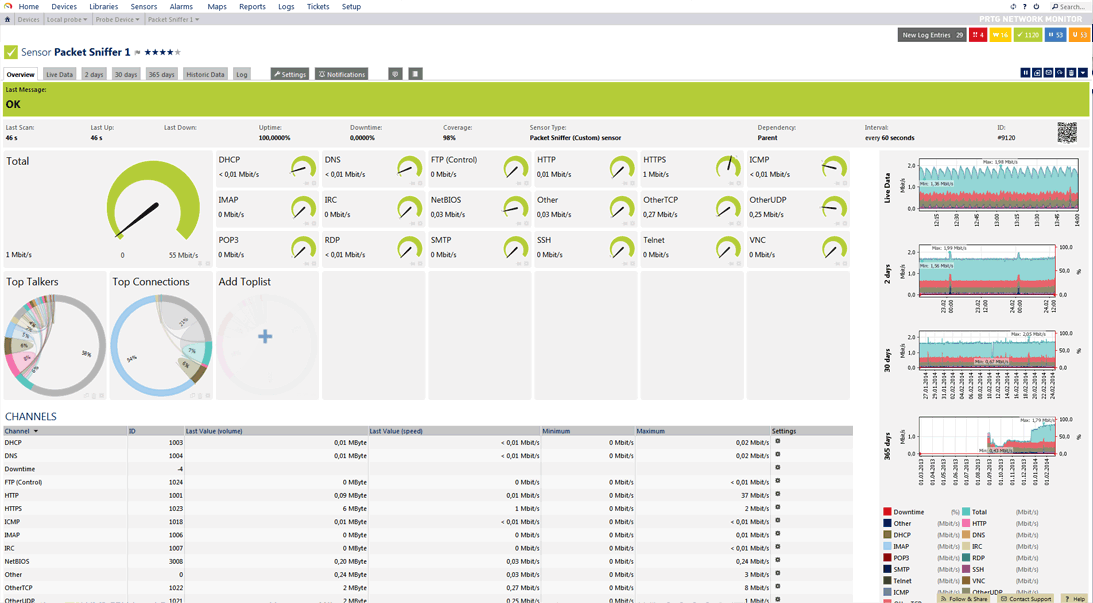 How Does the Ethernet Bandwidth Test Work?
PRTG uses SNMP, packet sniffing and NetFlow monitoring.
SNMP Monitoring: SNMP network monitoring is one of the most common technologies used in the field of network monitoring. It is easy to configure and requires only the bandwidth and CPU cycles minimum.
Packet sniffing: the packet esnifing is another method used by Ethernet monitoring. Thanks to the IP packet esnifing integrated PRTG can inspect all the data packets traveling in the network via its Ethernet traffic to calculate bandwidth.
NetFlow Monitoring: PRTG is certified by Cisco and can be used as performance monitoring Cisco. The software supports NetFlow protocol, which provides complete monitoring data in Cisco devices.
Since it is a predictor of advanced bandwidth NetFlow analyzer, PRTG also helps identify potential bandwidth bottlenecks that could affect the performance of Ethernet. The Ethernet performance monitoring displays only the bandwidth consumption accumulated, but allows you to view network activity for an extended period of time. In this way, you can determine Ethernet performance during peak hours where the load on your network could be much higher than average. And the tool soft limit value monitoring lets you set alarms that will notify you if a limit value is reached or is approaching.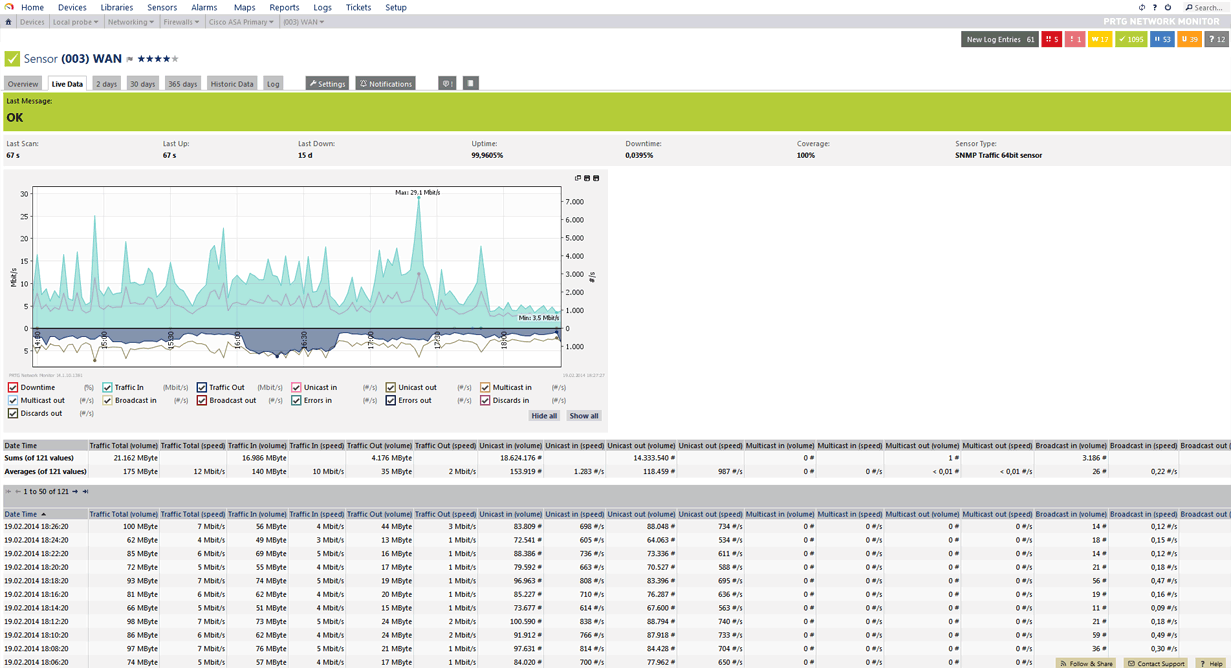 PRTG uses SNMP, packet sniffing, and NetFlow / sFlow to capture network traffic. SNMP is only suitable for a rather basic Ethernet bandwidth test. It shows you your overall bandwidth usage, which can be broken down by port. Packet sniffing and NetFlow / sFlow monitoring allow you to gain a detailed bandwidth control: these technologies show you which IP addresses and protocols use up most Ethernet bandwidth, enabling you to determine how much bandwidth is being used for ftp-uploads, internet surfing, or VoIP calls.
PRTG is More Than Ethernet Bandwidth Monitoring
PRTG is an all-in-one network monitoring solution: scans the devices on the network in a given IP range and set appropriate types of sensor devices based on templates, so that you can monitor Exchange or SQL servers. You can also monitor changes in files and folders, which will help you get the most from the log files of your applications. And Windows monitoring allows you to check the services and processes, because if a major service fails, the performance of the entire network can be affected. Ethernet Monitoring also allows monitoring of e-mail servers.
PRTG Network Monitor
The network monitoring software PRTG is available in two editions. For Ethernet and monitoring of free basic events, editing freeware may be discharged and used for commercial and private totally free. Need more sensors to monitor a larger IT infrastructure? See our commercial licenses here.. Here you can download a free version for 30 days with full functionality.
Unlimited version of PRTG for 30 days
After 30 days, PRTG reverts to a free version
Or, you can upgrade to a paid license anytime