Moxa and Paessler make industrial environments secure
Moxa is a leading manufacturer of network devices for industrial environments.
Together, MXview software by Moxa and PRTG by Paessler allow for the monitoring of industrial ethernets.
Central management and monitoring of industrial networks
In modern industrial settings, OT goes hand-in-hand with IT: machines must be able to communicate beyond the perimeter of the production environment. The comprehensive monitoring of machines, the IT environment, and the industrial ethernet is vital to ensuring infrastructures run smoothly and securely. Data must be transmitted between devices and the control center in real time, and automated systems must be able to communicate seamlessly over both wired and wireless networks.
Paessler and Moxa, two specialists in the field, have joined forces to provide for reliable communication in production environments by combining a comprehensive, tried-and-tested IT monitoring solution decades in the making with an equally established line of communication and automation products for industrial networks.
Moxa – the basis for connectivity and automation
Moxa develops software and devices that allow for multiprotocol connections between the field devices of various manufacturers, as well as for open, self-healing, and highly secure ethernet connections between field device networks and MES/SCADA systems – a basic requirement for functional and secure IIoT environments.
Its MXview network management software is designed to configure, diagnose, and monitor Moxa devices in industrial networks. This software allows for Moxa devices to be managed from one central location, and generates inventory reports or a dynamic topology view that shows the status of wireless connections and connection changes at a glance and automatically displays network devices and physical connections. The additional "MXview Wireless" module provides detailed device information and performance indicators for individual AP and client devices, and facilitates the basic troubleshooting of Moxa wireless network devices.
Moxa offers a comprehensive line of network security products and industrial cybersecurity solutions that fully protect these environments and secure industrial networks from cyber threats, thereby closing potential loopholes between OT and IT.
Paessler – monitoring of IT and OT
Paessler is the developer of PRTG Network Monitor, one of the leading IT monitoring solutions in the world. By supporting industrial methods and protocols such as JSON, MQTT, OPC-UA, and Modbus, PRTG expands the traditional IT portfolio and provides for a monitoring solution that works for both IT and OT. PRTG collects data on the availability and performance of devices, data traffic, and services. The software sends alerts when predefined thresholds are exceeded, and publishes monitoring data in dashboards and reports.
PRTG ensures problems with IT/OT infrastructures and data traffic are detected immediately, and that the appropriate employees are informed or alerted promptly (and reliably) so they can take action at once to prevent interruptions.
Centralized monitoring with PRTG and MXview
MXview comes with a RESTful API and web widgets. This makes it easy to integrate data from MXview into PRTG. It also allows for the entire IT and OT landscape to be monitored centrally with a single solution.
PRTG retrieves the aggregate data from MXview by way of its REST Sensor, a standard tool in PRTG that facilitates interaction with RESTful APIs in other software. The data is incorporated into the overall status of the infrastructure monitored by PRTG, allowing for centralized alerting that spans multiple departments. Thanks to a roles and permissions system in PRTG, dashboards, reports, and alerts can be personalized for the relevant employees. Web widgets such as the MXview Live Topology Map can be integrated into PRTG dashboards via the HTML Custom Map Object.
On the management side, MXview allows for the bulk deployment of device configurations and firmware, as well as a backup of the entire MXview database (topology, job scheduling, events, and device properties) with a single click. This backup can also be used to periodically back up configurations.
Management features for Moxa devices, including a history of configuration changes and a comparison tool for checking differences between two configurations, complement the centralized monitoring by PRTG.
MXview Security View – for enhanced security
Moxa MXview is designed in accordance with Moxa security guidelines, which are based on the latest IEC 62443-4-2 recommendations for components. Security View checks the security level of Moxa network devices. There are five levels for checking results in Security View:
High: IEC 62443-4-2 level 2
Medium: IEC 62443-4-2 level 1
Basic: General baseline
Open: Safety level below basic
Unknown: Devices without security-related information for MXview
The monitoring of Moxa devices via PRTG can therefore be expanded to include security-level checks based on the IEC 62443-4-2 recommendations for components. The aggregate data is presented with a special lookup file in the MXview Sensor.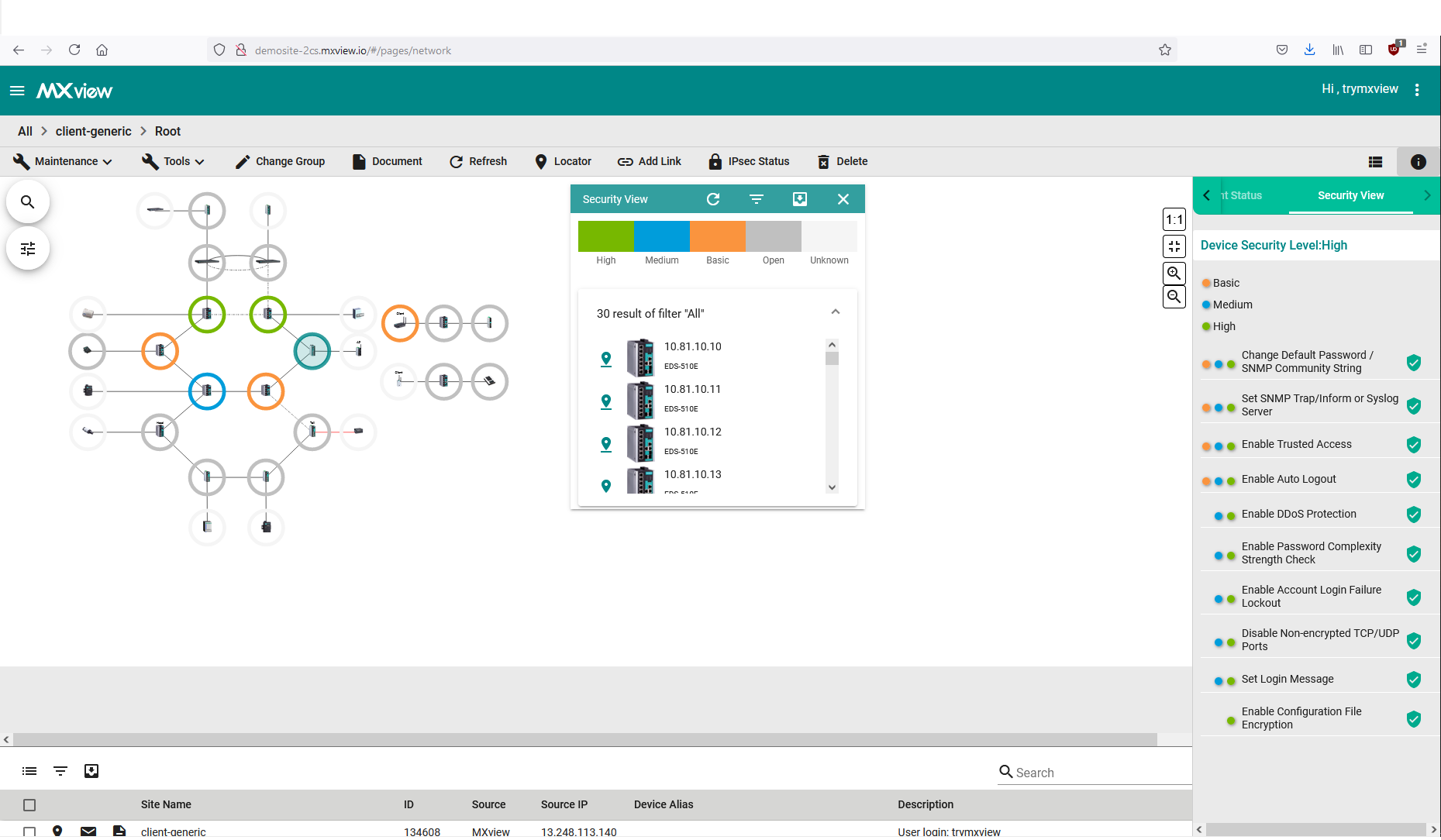 Paessler and Moxa: Working together to ensure the success of their customers
Together, Paessler and Moxa form the basis for success by helping their joint customers merge their IT and OT environments:
Quick troubleshooting thanks to cross-departmental root cause analyses
Centralized overview of IT and OT environments with customized dashboards and alerts
Increased security thanks to the integration of MXview Security View into the central monitoring of PRTG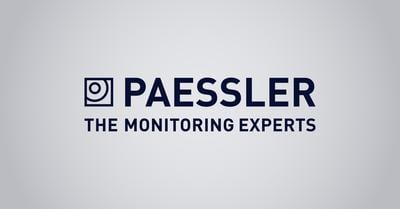 Since 1997, we offer monitoring solutions for businesses across all industries and all sizes, from SMB to large enterprises. Today, more than 500,000 users in over 170 countries rely on PRTG and other Paessler solutions to monitor their complex IT, OT and IoT infrastructures. We believe monitoring plays a vital part in reducing humankind's consumption of resources. Our products help our customers optimize their IT, OT and IoT infrastructures, and reduce their energy consumption or emissions – for our future and our environment.
Learn more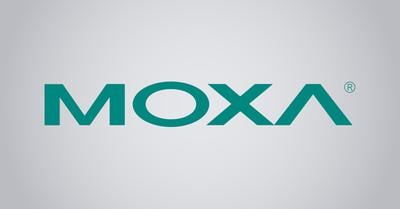 As a leading provider of automation solutions for industrial networks, Moxa helps drive the Industrial Internet of Things (IIoT). Boasting 30+ years of experience in the field, Moxa has connected over 71 million devices worldwide and operates a sales & service network that reaches customers in more than 80 countries.
Moxa offers a wide range of innovative, high-quality solutions for industries such as factory automation, smart rail, smart grid, intelligent transportation, oil & gas, marine, and mining. Moxa provides its industrial partners with the tools and expertise they need to benefit from the convergence of their automation networks and make their operations smarter, safer, and more efficient. Moxa provides for sustainable added value by supplying industry with reliable networks and comprehensive service for industrial communication infrastructures.
Learn more