bMS and PRTG:
IT management made easy
Together baramundi and PRTG create a secure, reliable and powerful
IT infrastructure where you have everything under control -
from the traffic in your firewall to the configuration of your clients.
Ensure the availability of your IT environment
baramundi Management Suite
The baramundi Management Suite (bMS) is a cross-platform, modularly structured, unified endpoint management solution that relieves administrators of IT tasks such as installation, distribution, inventory, protection, or backups in an automated manner. At the same time, it manages the entire lifecycle of all the endpoints used in the company, from the classic Windows client to the mobile terminal – across all industries, from a mid-sized company network to a global corporation
Paessler PRTG Network Monitor
With more than 500,000 installations worldwide, monitoring expert Paessler is the global market leader in IT infrastructure monitoring with its PRTG Network Monitor. The solution supports every relevant monitoring protocol and method, thereby enabling the inclusion of many different devices and systems in one central monitoring system. Using open interfaces, PRTG not only integrates endpoints beyond classic IT—e.g. from healthcare technology or IoT—but also other software solutions such as the bMS.
bMS and PRTG: IT management made easy
Based on feedback from joined customers and partners baramundi and Paessler established a close partnership to create a technical integration of their solutions to deliver a powerful, easy to use, and affordable IT infrastructure monitoring and management solution.

Endpoint management with bMS
The baramundi Management Suite helps administrators manage all the endpoints in the company network – from the classic Windows operating system to mobile operating systems. As a result, administrators significantly reduce overhead for routine work, reduce costs and gain time and resources for strategic projects.
IT monitoring with PRTG
Through continuous and reliable monitoring, PRTG Network Monitor ensures the performance and availability of the entire IT environment: from switches, routers, servers and storage systems to classic applications like databases, mail and web servers and even virtual environments and cloud services.
The technical integration in detail
The baramundi Job Sensor displays the status of baramundi jobs in the context of a specific endpoint as well as across the entire IT environment.
The baramundi Endpoint Sensor provides information about the respective device and the various jobs running on it.
The baramundi Endpoint Summary Sensor displays the state of the whole of the endpoints. It provides, for example, an overview of active or inactive endpoints and which terminal has been inactive for the longest time.
Using customizable threshold values, the user can define notifications and alarms, thereby ensuring that they are actively and reliably informed about all the important events in bMS.
bMS and PRTG: Your benefit
Together, baramundi and PRTG create a secure, reliable and powerful IT infrastructure where you have everything under control – from the traffic in your firewall to the configuration of your clients. Intuitive, simple and made in Germany.

In-depth inventory details

Overview of the status

Definable threshold values
Custom sensors for monitoring bMS endpoints in PRTG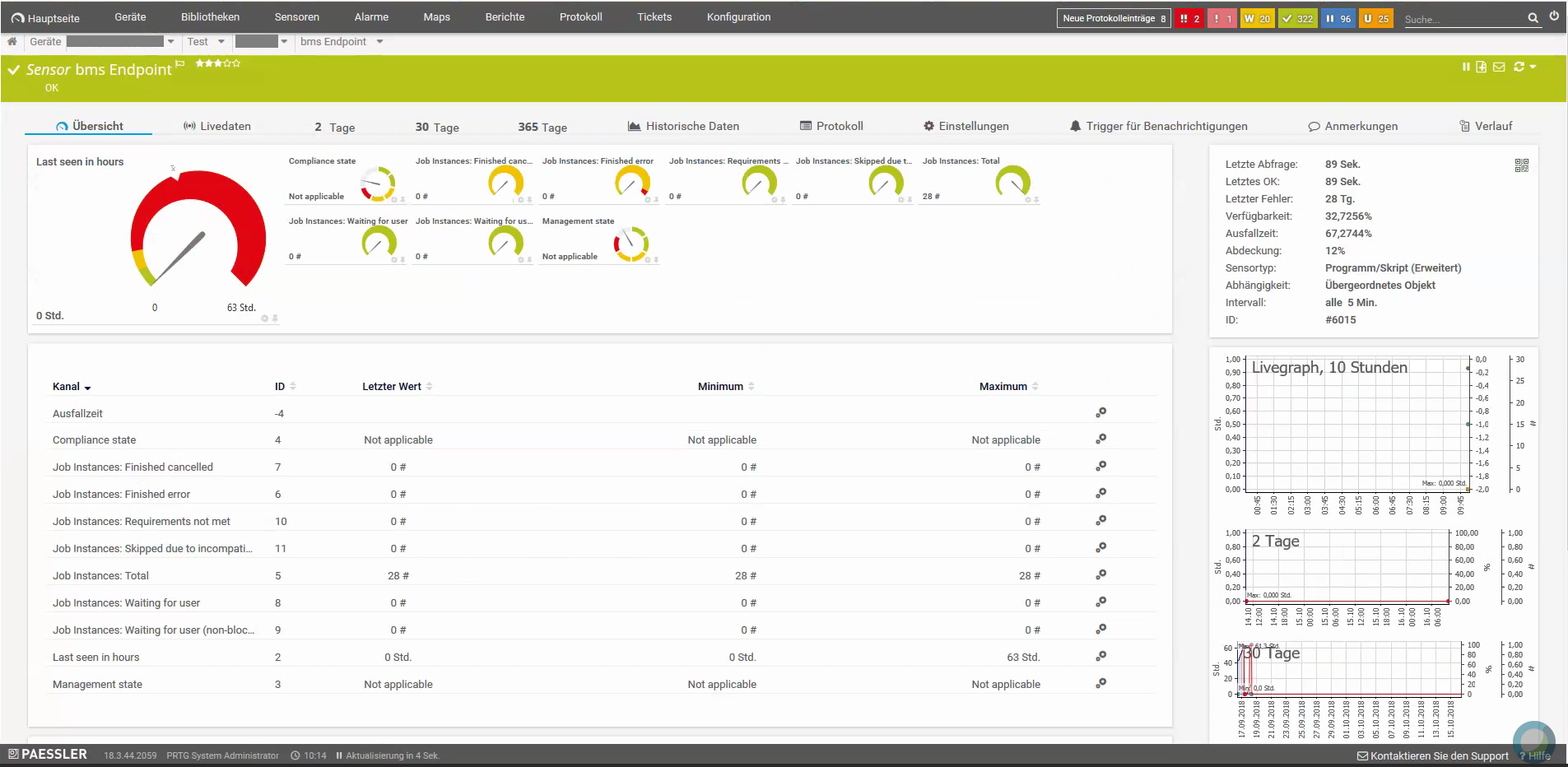 The supplied sensors can be used to monitor several aspects of a bMS installation through PRTG. You want to know more about the prerequsites, installation, configuration and sensor creation? Get access to everything you need in the Github Repository.


Addtional information about how to monitor the baramundi Management Suite (bMS) with PRTG is also available in our Paessler Knowledgebase.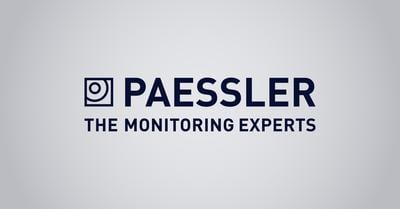 Since 1997, we offer monitoring solutions for businesses across all industries and all sizes, from SMB to large enterprises. Today, more than 500,000 users in over 170 countries rely on PRTG and other Paessler solutions to monitor their complex IT, OT and IoT infrastructures. We believe monitoring plays a vital part in reducing humankind's consumption of resources. Our products help our customers optimize their IT, OT and IoT infrastructures, and reduce their energy consumption or emissions – for our future and our environment.
Learn more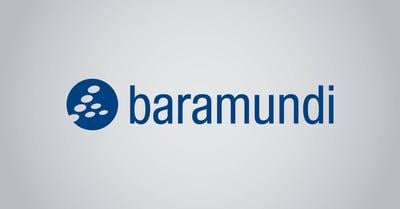 More than 3,000 customers from all industries and of all sizes globally benefit from the German manufacturer's years of experience and excellent products. The following are summarized in the baramundi Management Suite according to a holistic, forward-looking unified endpoint management approach: Client management, mobile device management and endpoint security are carried out via a unified interface, in a single database and according to uniform standards.
By automating routine work and providing a comprehensive overview of the state of all endpoints, it eases the burden of IT administrators and ensures that the required rights and applications are available to users on all platforms and form factors anytime and anywhere. Since 2000, baramundi software AG has been developing and selling the unified endpoint management software, "baramundi Management Suite". baramundi software AG is headquartered in Augsburg, Germany, and the company's products and services are fully made in Germany.
Learn more