Paessler PRTG keeps an eye on IT's circulatory system at Schüchtermann Klinik
About Schüchtermann Klinik
Schüchtermann Klinik is a German clinic that specializes in the diagnosis and treatment of cardiovascular diseases. Experts at the clinic are trained in cardiology, cardiac surgery, anesthesiology, and rehabilitation, allowing patients to benefit from comprehensive heart care under a single roof. Incorporating medical, nursing, and therapeutic care, Schüchtermann Klinik ensures patients quickly get the treatment they need without having to switch hospitals or clinics.
Even medical clinics sometimes need to be diagnosed by a professional – especially if their IT environment is ailing and the cause cannot be identified immediately. Deciding prevention was best, Schüchtermann Klinik in Bad Rothenfelde installed PRTG Network Monitor software from Paessler AG to serve as the "physician" for its network infrastructure.
Schüchtermann Klinik specializes in cardiovascular diseases. Its many years of experience are backed by extremely concrete figures. Since its creation in October 1973, the clinic has performed more than 100,000 heart cath procedures and over 42,000 heart surgeries with cardiopulmonary bypass machines. Patients of the clinic receive ongoing and comprehensive treatments, from acute care, heart caths, and diagnoses, to major cardiac surgery and professional postoperative care including rehabilitation.
In order to ensure all these treatments always run smoothly, Schüchtermann Klinik needed a perfectly functioning software tool that could keep an eye on its technical systems and immediately sound the alarm in the event of a problem. The clinic's IT managers therefore decided to implement a comprehensive network monitoring solution.
"The software immediately provides us with an overview of the current state of our IT landscape. PRTG helps us analyze bandwidth bottlenecks, detect anomalies in the network, and measure availability. Most of the time, we're able to fix problems before anyone notices something is wrong. And that makes for happy employees. In short, we can all work with greater peace of mind knowing that our systems are being monitored continually."
Markus Puke, Network Administrator at Schüchtermann Klinik
Schüchtermann Klinik was in the market for a tool that could monitor its entire infrastructure. The concept was not new. The clinic was already using a network monitoring solution, theGuard! Network Manager from Realtech. However, the IT team was unsatisfied with the software's features, and therefore started looking around for a new tool. After a lengthy search, the team narrowed down their list to WhatsUp Gold from Ipswitch and PRTG from Paessler AG.
For the IT managers, it was important that the software use state-of-the-art technology to reliably monitor the network, promptly detect IT problems (such as bottlenecks), analyze data flows, and generate reports. In addition, they wanted to be able to seamlessly integrate the tool into the existing (heterogeneous) IT environment, which consisted of the following elements (among others):
HP ProCurve and Cisco switches
Routers from Cisco and other manufacturers
Fibre Channel SAN switches from Brocade
SAN arrays from Hitachi and EMC
Servers from Fujitsu, DELL, and HP
WLAN components from Lancom and Cisco
UPSs from APC and other manufacturers
Room sensors for temperature, humidity etc.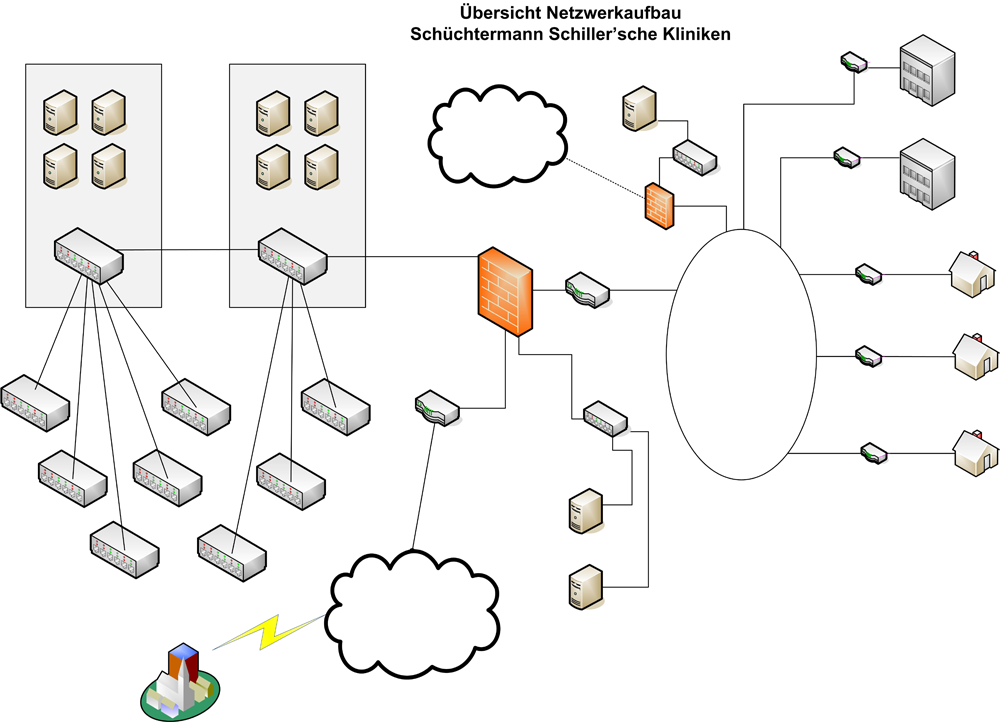 On the basis of these systems, the tool was to provide comprehensive monitoring with sensors for sFlow, NetFlow, RAID statuses, HDD statuses, uptime, memory utilization, and CPU, as well as for environmental parameters such as fan statuses and temperatures. Moreover, Schüchtermann Klinik wanted to be informed of the availability of web pages (including the exact number of web page views) and Windows services. In total, the tool was to collect detailed and reliable data from around 500 devices and systems, allowing the IT admins to keep a constant eye on the entire IT environment of the clinic, and to quickly take action in the event of malfunctions, bottlenecks, and other anomalies.
After an in-depth evaluation of the shortlisted network monitoring solutions, only PRTG proved capable of this demanding mission, in particular because Schüchtermann Klinik also wanted to professionally monitor its virtualized environments and quality-of-service (QoS) parameters. The IT managers were especially impressed with the wide selection of PRTG sensors. Among other things, PRTG came with a QoS Round Trip Sensor, WMI Security Center sensors, and manufacturer-specific hardware sensors for some of the Dell, HP, and APC devices in use at the clinic. Last but not least, the software's outstanding price-performance ratio was an important factor in the decision to go with PRTG.
IT problems: diagnosis and cure
It was important that PRTG be set up quickly to avoid IT-related emergencies in the future. Thanks to the software, Schüchtermann Klinik can now immediately take action if its predefined thresholds are exceeded, thereby stopping potential failures and disruptions in their tracks. If an IT emergency does in fact occur, PRTG quickly (and reliably) displays the affected systems.
Around 3,150 PRTG sensors collect detailed and reliable data, allowing admins to keep a constant eye on the clinic's entire IT infrastructure.
Schüchtermann Klinik also makes use of the PRTG app for desktop to increase scalability. With this user interface, admins can manage multiple PRTG installations from one central location. Furthermore, the monitoring software was connected to an existing Active Directory, which simplified its administration significantly. Another highlight: flow monitoring is already included, saving the clinic the need for a separate license.
The clinic is also prepared for new network requirements in the future as PRTG allows for the monitoring of IPv6 infrastructures. Admins can choose between IPv4 and IPv6 at the device level, and monitor the transition of the network from the very beginning.
Conclusion
Since implementing PRTG, the IT managers at Schüchtermann Klinik have enjoyed a reliable, comprehensive, and up-to-date overview of their entire IT environment. When testing the solution, the clinic was especially impressed with the software's wide selection of sensors, intuitive configuration of settings, professional flow monitoring (including analyses), and straightforward scalability, as well as the professional support it received from SCI Systems. In a short period of time, the IT team has reduced its response times significantly and spent much less time on troubleshooting.
Markus Puke, Network Administrator at the Schüchtermann Klinik, concludes: "We're extremely satisfied with PRTG monitoring and the support we receive from SCI Systems. At first, we were not aware of all the possibilities of the new software. Since working with the tool and the experts at SCI, we've increased our know-how considerably. We now use sensors for monitoring scenarios that were once unthinkable. For example, we use PRTG to monitor the validity of all our SSL certificates so we are informed well before they expire and can plan updates accordingly. We also use sensors to trigger notifications when changes are made to the contents of certain directories. With PRTG, it's even easy to monitor our many interfaces designed for multiple programs."
About SCI Systems
Once the right tool was found, it was then time for Schüchtermann Klinik to find a local service provider to help with the integration. The clinic went with SCI Systems, an experienced Paessler partner who had already been familiar with PRTG software for many years and was able to expertly oversee and support the implementation of the tool. SCI Systems plans and implements advanced IT systems, relying exclusively on high-quality hardware and software to create added value by way of sophisticated IT. SCI Systems also monitors its own data center with PRTG.
Get to know more happy PRTG customers