Networks of Littlebit Technology AG run like Swiss clockwork with Paessler PRTG
About Littlebit Technology
Littlebit Technology AG (formerly Littlebit IT Services AG), a company based in Root, Switzerland, was founded in March 2014. Nexanet GmbH, an established IT service provider with its own data center, was recently acquired by Littlebit Technology. Today, both companies are backed by more than 15 years of successful development in the Swiss IT market. Littlebit Technology offers a wide range of IT services, including software and system development, product engineering and assembly, and various after-sales services. In Root, the company operates its own data center equipped with a high-performance internet connection and advanced air-conditioning and emergency power units, making it perfect for business-critical systems. The company's service portfolio is complemented by data center services such as hosting, housing, rack space, and virtualized IT infrastructures.
Littlebit Technology sees itself as a full IT service provider. In addition to programming, on-site support, repairs, and data center services, the company offers managed services such as professional network monitoring with PRTG Network Monitor from Paessler AG. Littlebit Technology also uses this software for its own infrastructure, in particular to monitor hardware, software, virtualized environments, applications, and devices outside the scope of traditional IT. 2,500 or so measuring points ("sensors") in the network provide the necessary overview, immediately signaling disruptions and errors.
Littlebit Technology has been a partner of the Nuremberg-based Paessler AG since November 2014. Possessing first-hand knowledge of PRTG, the service provider from Root is uniquely qualified to assist its customers with the tool. In the past, the company deployed a different solution, which eventually proved inadequate due to its inability to pinpoint and display errors affecting multiple systems. During its search for a new monitoring solution, Littlebit Technology used a variety of criteria to test several different tools, including open-source software such as Zenoss. Above all, the company wanted a tool that could provide an extensive, visual overview of its processes and networks. Littlebit Technology also placed great value on the quality of the respective software provider's technical support.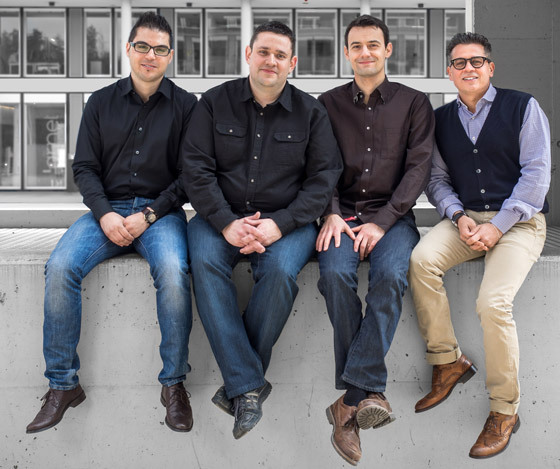 "PRTG is the perfect companion for our daily operations. For us, the most important feature is the overview of the current status of our network and systems. We can also provide customers who benefit from our monitoring as a managed service with an accurate picture of their networks – as well as suitable recommendations for optimizations."

Roman Carlin, CTO, Littlebit Technology
Monitoring distributed networks
PRTG from Paessler proved to be more than sufficient. In particular, Littlebit Technology was impressed with the software's visual overview of its IT infrastructure, as well as the straightforward installation and administration of the tool and the technical support it received from Paessler. The Littlebit Technology IT team proceeded to configure a core PRTG server with multiple external remote probes. These probes make it possible to monitor networks at different sites (e.g., the branches of a company) from a single location, or to keep an eye on separate company networks (e.g., DMZ and LAN).
Littlebit Technology uses remote probes to monitor the networks of its customers as part of its "managed services." The remote probes collect the monitoring data, then send it to the core PRTG server for analysis. They can be installed in the same network as the core server, or set up at other locations. As its name suggests, the core server is the "core" of the PRTG installation. It evaluates the monitoring data, presents the results, and alerts when necessary.
For IT devices and more
Internally, the company uses its own Axxiv servers and servers from other manufacturers with VMware. In this environment, PRTG is used to monitor servers, routers, firewalls, and switches. In addition, the IT experts use the tool to keep an eye on parts of the VMware environment. Services and applications such as DNS, web, mail, FTP, and RDP are also integrated into the monitoring. Littlebit Technology started with 1,200 sensors, but recently increased this number to 2,500 to monitor even more elements of its infrastructure. The most common sensors in use are SNMP, VMware, Windows, and NAS sensors. With these sensors, the team gains precious insight into the IT infrastructure, and can, among other things, monitor uptime/downtime, bandwidth (based on SNMP), applications, LANs/WANs/VPNs, and multiple sites. Last but not least, PRTG enables the team to monitor devices outside the scope of traditional IT. At Littlebit Technology, UPS parameters, door statuses (open/closed), and temperature sensors are included in the monitoring. If it gets too hot in the data center and a threshold value is exceeded, then PRTG sounds the alarm immediately.
Mobile data via the app
The Littlebit Technology IT team can view the alerts on their computers via the web interface, or while on the go in the PRTG app for iOS. The PRTG smartphone app provides workers with mobile access to details and overviews, and lets them acknowledge alerts or even pause the monitoring. It also consolidates data into graphs and illustrates overviews as so-called "maps." The app regularly checks the PRTG server (running in the background), and displays new alerts. By tapping on the alert, the worker can see the affected sensor and all the important details, such as the moment the alert was triggered, the corresponding message and graphs, and whether other devices are also affected. The web interface can be configured even further to set threshold values for alarms, integrate new sensors, view historical data, create maps, and more.
"PRTG is the perfect companion for our daily operations. For us, the most important feature is the overview of the current status of our network and systems," explains Roman Carlin, CTO at Littlebit Technology. "The transparency created by the elaborate network of sensors provides us with brand-new insights into our infrastructures. We can also provide customers who benefit from our monitoring as a managed service with an accurate picture of their networks – as well as suitable recommendations for optimizations. If an error occurs in the network, PRTG lets us promptly take action and prevent more serious issues such as crashes.
In addition, thanks to the tool's intuitive graphic user interfaces, we can now quickly and easily identify and get to the root of network problems. Since expanding our system with more sensors, we're now considering introducing more probes and maybe even a cluster. Last but not least, we couldn't be any happier with the top-notch technical support we receive from Paessler AG – its experts played a crucial role during the installation of the software, and continue to help with our day-to-day operations.
Conclusion
Littlebit Technology uses PRTG to monitor its IT infrastructure, as well as the IT infrastructures of its customers. The tool's comprehensive monitoring functions, combined with its easy-to-read overviews and reliable notifications in the event of disruptions, prevents disruptions and helps eliminate problems before they arise. Littlebit Technology now benefits from a network that runs like Swiss clockwork, in particular thanks to PRTG features such as the iPhone app, the integration of environmental parameters into the monitoring environment, and top-notch technical support from the manufacturer Paessler AG. With PRTG, Littlebit Technology has found a flexible, all-in-one monitoring solution that also comes with remote probes, allowing the IT service provider to conveniently monitor the networks of its customers and thereby expand upon its business.
Get to know more happy PRTG customers