Agentless Monitoring
PRTG Combines Agentless and Agent-Based Monitoring to Provide You With Maximum Insight Into Your Networks
What is Agentless Network Monitoring?
Agentless monitoring refers to the monitoring of network devices without the need to install software agents in the devices to be monitored. Instead, the network management systems use various protocols to gather the monitoring data. PRTG Network Monitor is a powerful agentless monitoring tool which supports protocols such as SNMP, WMI, HTTP, POP, FTP, NetFlow, sFlow, IP SLA, packet sniffing, etc.
Additional Agent-based Monitoring
In addition to agentless monitoring, PRTG also supports agent-based monitoring. Remote probes can be used to monitor network devices within the same network, or networks in other locations which are connected to the data center via a standard internet connection.
Advantages of PRTG Network Monitor
PRTG Network Monitor is very easy to deploy: it takes just a few mouse clicks to download and install the agentless monitor software. Using PRTG's auto-discovery, agentless monitoring can be set up in a matter of minutes and will start gathering monitoring data right away.
Data Provided by PRTG Agentless Monitor
Agentless monitoring can be used for computer monitoring (including windows memory usage or CPU load), Windows, Unix and Linux network monitoring. It can also measure network throughput, monitor log files, etc. Generally speaking, agentless monitoring allows you to track network devices and network traffic within your network, as well as the availability of your website, etc.
Using Agent-Based Monitoring
You will need to use agent-based monitoring to monitor networks that are separated from your PRTG installation. Remote probes can additionally be used to monitor the quality of a network connection, or to distribute loads.
PRTG Network Monitor: Powerful Network Monitoring Software Thanks to Agent-Based and Agentless Technologies
The use of both agent-based and agentless monitoring is included with any PRTG license at no extra cost - even in the network management freeware, which includes 100 sensors and up to 3 remote probes. The free network software includes the full functionality only excluding NetFlow / sFlow support, and can therefore be used for basic bandwidth, SNMP, and WMI monitoring in home networks or very small companies.
Need more sensors to monitor a larger IT infrastructure? See our commercial licenses here.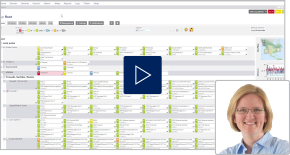 PRTG - Quick Overview
by Kimberley, Senior System Engineer
See how PRTG looks like and learn how it works. Good for a first impression of PRTG. Helps also for a quick start if you're a new user.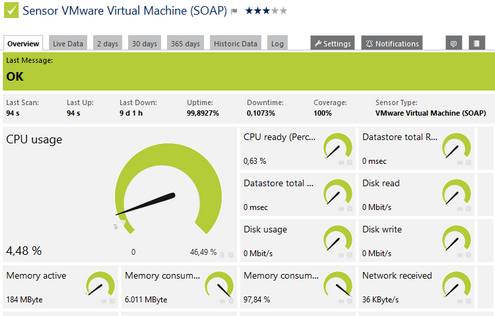 PRTG

Network Monitoring Software - Version 22.4.81.1532 (November 29th, 2022)

Hosting

Download for Windows and cloud-based version PRTG Hosted Monitor available

Languages

English, German, Spanish, French, Portuguese, Dutch, Russian, Japanese, and Simplified Chinese

Pricing

Up to 100 sensors for free (Price List)

Unified Monitoring

Network devices, bandwidth, servers, applications, virtual environments, remote systems, IoT, and more

Supported Vendors & Applications


More
Unlimited version of PRTG for 30 days
After 30 days, PRTG reverts to a free version
Or, you can upgrade to a paid license anytime