Monitoring industrial devices
using Modbus TCP

Availability and status
of programmable logic
controllers (PLCs)



Power consumption metrics like usage, capacity, voltage,
and frequency
 

Data from Modbus devices like device temperature and
switching status
PRTG: the all-in-one solution for monitoring Modbus TCP data
What is Modbus?

Modbus is a data communications protocol originally published in 1979 for use with its programmable logic controllers (PLCs). Modbus has become a standard communication protocol and is now a commonly available means of connecting industrial electronic devices. Modbus is popular in industrial environments because it is openly published and free. It was developed for industrial applications, it is relatively easy to deploy and maintain compared to other standards, and it places few restrictions on the format of the data to be transmitted.
Modbus uses RS-485 or Ethernet as its wiring type. It supports communication to and from multiple devices connected to the same cable or Ethernet network. For example, a device that measures temperature and a different device that measures humidity, both of which communicate their measurements to a computer. PRTG offers a native Modbus sensor:
The Modbus TCP Custom sensor
 The Modbus RTU Custom sensor
Get an overview of OT network components in your supervisory and control systems
You want the FULL overview of your OT environment in your supervisory and control systems – including the network components like routers, switches, firewalls, and more. Paessler PRTG OPC UA Server brings monitoring data from your OT network and the IIoT into your control overview to give you centralized monitoring and alarms. See everything in one place.
The advantages of monitoring
Modbus TCP data with PRTG
The ability of PRTG Network Monitor to monitor Modbus TCP data means that it is an all-in-one monitoring
solution to get an overview of all your devices using Modbus TCP.
What is Modbus monitoring?
Modbus is probably the most frequently used communication protocol in companies when it comes to data exchange between different devices. By integrating Modbus TCP into PRTG and monitoring it, you can get information about the status of PLCs or detailed information from energy metering systems.
More devices
The ability of PRTG to monitor devices using Modbus TCP as a protocol also allows you to obtain information from your data center's devices such as HVAC (heating, ventilation, and air conditioning), backup generators, or UPS (uninterruptible power supply).
PRTG advantages
With Industry 4.0, the number of IIoT devices is constantly increasing. The focus is on intelligent gateways, devices for monitoring temperature and humidity, and the availability and status of PLCs. With PRTG as an all-in-one monitoring solution, you always have a complete overview of all devices and you can be notified individually according to defined values.
What is IIoT?
IIoT stands for the Industrial Internet of Things and refers to a network of connected devices in the industrial sector. It is a subset of the Internet of Things (IoT). The defining characteristic of connected devices on IIoT networks is that they transfer data without human-to-human or human-to-computer interaction. Read more
IT/OT convergence with PRTG Network Monitor
PRTG Network Monitor is a fully featured IT monitoring software that integrates a comprehensive set of features with ease of use and maximum flexibility. In addition to out-of-the-box support for all common IT standards, PRTG offers a RESTful API as well as MQTT, OPC UA, and Modbus support for the simple integration of shop floors, IoT devices that monitor environmental parameters, and other IT devices and applications that do not use conventional standards.
Modbus TCP – how does it work?
Device communication
Modbus devices use regular Ethernet cables and switches to communicate with each other. The difference with Modbus TCP is that an MBAP (Modbus Application Protocol) header is added to the start of each message. The MBAP header contains all the identifying information needed to route the data to the addressed device.

Modbus uses Port 502 for TCP/IP communication, which is important if your data needs to go through a firewall. The TCP/IP network consists of the client connected to a switch or series of switches, to which all the servers on the network are also connected.
Client-server architecture
The server processes a request from the client and acknowledges the request with a success message (response), which may include requested data or status information, or with an error message containing information about the cause of the error. The processing of this request runs completely transparently for the user in the background. In common implementations, no application program is required on the client side.
Get your free white papers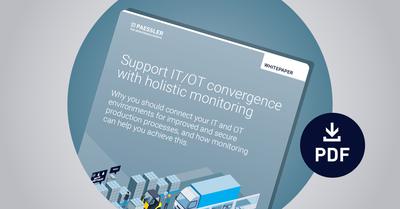 In modern industrial IT, the right teams need the right data. Our guide shows how to implement holistic monitoring that brings elements from IT, OT and IIoT into your dashboards.
Download white paper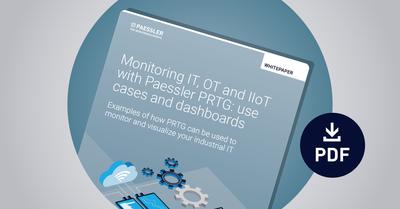 Our second guide gives you inspiration and ideas for dashboards that feature IT, OT and IIoT data – all in one place. We show you what truly convergent industrial dashboards look like!
Download white paper
The Modbus TCP sensor
and what it monitors

How PRTG defines sensors
In PRTG, "sensors" are the basic monitoring elements. One sensor usually monitors one measured value in your network, e.g. the traffic of a switch port, the CPU load of a server, the free space of a disk drive. On average you need about 5-10 sensors per device or one sensor per switch port.
Modbus TCP Custom sensor
The new Modbus TCP Custom sensor monitors values that your Modbus TCP server returns. With this new sensor type, you can keep an eye on your peripheral devices such as cooling units, power supply, backup generators, and temperature. This helps you to ensure your infrastructure always runs at its best.
This sensor enables you to monitor your peripheral equipment. The sensor is in beta status. The operating methods and the available settings can change in the future.
Modbus RTU Custom sensor
The new Modbus RTU custom sensor connects to a Modbus RTU server and monitors up to five returned numeric values.
Keep industrial monitoring
professional with PRTG
IIoT, Industry 4.0, M2M – digitalization of manufacturing is currently happening and has become a crucial factor in maintaining global competitiveness. Traditionally isolated shop floors and machines need access to the internet for logistics, predictive maintenance, and customer-individualized production. All this requires overall communication that is only possible through classic IT. IT/OT convergence, the merging of production and classic IT, is the result. It is vital to avoid risks, overcome obstacles, and establish new processes.
Get more industry-specific information here!
Would you like to discover more about industrial IT monitoring?
Then be sure to check out our blog posts and webpages.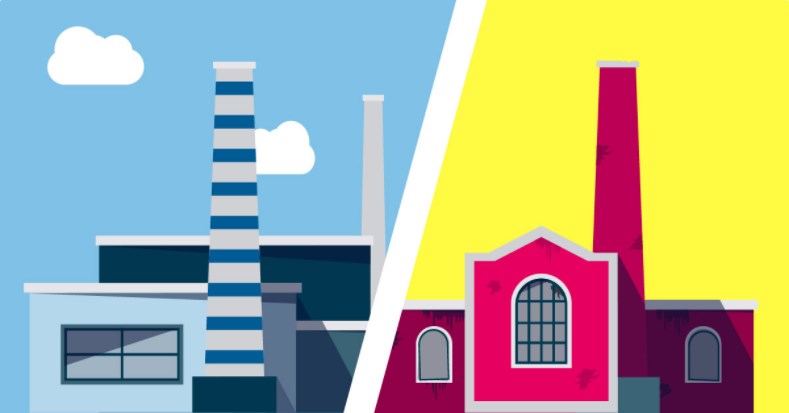 The production environment continues to prepare for the digital, more efficient future and in the sector this is very often paraphrased with the initially cryptic, but then meaningful terms greenfield and brownfield.
Read blog article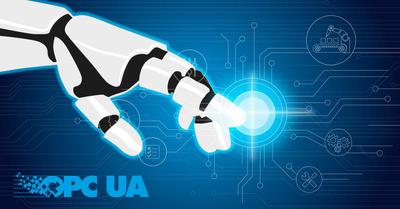 PRTG provides sensors that enable you to monitor OPC UA servers as well as individual values. The advantages are obvious – monitoring IT and OT devices with one overview
Get more information
Using a combination of PRTG Network Monitor, MQTT, and smart industrial gateways, you have more options to bring OT data into your IT monitoring concept.
Get more information