IIoT monitoring with PRTG
Industry 4.0, smart manufacturing, IIoT…whatever you call it, the digitalization of factories has revolutionized
the industrial sector.
And the basis for this revolution: the IIoT sensors that record and transmit data.
IIoT monitoring is crucial! PRTG, the monitoring software by Paessler, monitors your IIoT devices and
brings their data into your monitoring concept. Find out how!
What is IIoT?



The IIoT, or Industrial Internet of Things, refers to IoT technology used in industrial environments. The main goal is to collect data about the factory floor and facilities. This data can either be used to trigger production events or analyzed in external systems (like ERP systems) to further optimize and automate the production processes.
IIoT sensors can measure everything from vibration levels and number of motor rotations through to air temperature and geographic location of equipment.
Here are

some of the ways the

IIoT

is used in modern factories
Retrofitting
IIoT sensors can be used to make older equipment "smart". Many factories have machines that are not capable of connecting with external systems, or they only offer analogue transmission possibilities. However, replacing these machines can be costly and often unnecessary if the machines still function well. In this case, retrofitting machines with IIoT sensors that communicate machine data to external systems can be a cost-effective solution.
Energy consumption management
IIoT sensors can be used to measure the power consumption of individual machines or even entire circuits. This data can be used to identify which aspects of the production process are not energy efficient, and where valuable resources can be saved through more effective energy management.
Predictive maintenance
Modern factories are moving away from reactive maintenance strategies (in other words, repairing and servicing machines once they malfunction) to more proactive strategies (using data to predict when a machine needs to be serviced to prevent malfunctions). Data is crucial to a proactive maintenance strategy, and this data is provided by IIoT sensors.
Automation of processes
Automation is driven by data: firstly, data is needed to understand current processes and to identify triggers for events, and secondly it is needed to implement automation procedures. This data can be delivered by IIoT sensors from all areas of the manufacturing processes.
Measuring environmental metrics
Environmental conditions can be a vital part in ensuring efficient and safe operations in a factory. These could be the temperature and humidity of a factory floor, the operating temperature of a machine, dust levels, barometric air pressure, vibration levels, and much more.
Environmental sensors
Used to monitor environmental conditions of machines, industrial enclosures, rooms and areas. These sensors can be used to maintain a safe environment for workers (e.g. by monitoring air quality or checking for dangerous gases), ensure optimal conditions for equipment (ensuring operating temperatures remain within reasonable temperatures or that humidity is not too high), or indicate when there has been a failure (e.g. by checking for water leaks or rising temperatures).
Accelerometer sensors
Used to sense or measure changes in velocity. This can either be linear acceleration (velocity change in a single direction) or centrifugal acceleration (velocity change caused by an object moving in a circle). In manufacturing, these are commonly used to measure vibration of rotating equipment, such as turbines, bearings or fans.
Gyroscopic sensors
Used to measure the rotation of an object as well as its angular velocity. These sensors can help to determine the object's orientation without having to actually observe it.
Inertial measurement unit sensors
Although not a class of sensors on its own, the term "inertial measurement units" refers to measuring an object's orientation and velocity using a combination of output metrics from various sensors, such as from accelerometers and gyroscopes.
Location tracking sensors
Used to track the geographic location of an object. This is useful for tracking shipments, vehicles, machines, and more.
IIoT

device connectivity

,

protocols,

and networking
Connectivity
Options available are cellular, Wi-Fi, Long Range Wide Area Network (LoRaWAN), Zigbee and Bluetooth. The solution used depends on the requirements and the resources available. For example, if data needs to be transmitted over long distances, then cellular – which has a range of over 100 miles – could be used. Zigbee provides low power, low-data transmissions within 400 feet, and LoRaWAN is good for low power devices communicating at larger distances.
Protocols
The protocols used by IIoT devices are M2M communication standards that facilitate low power usage. The most common protocols are MQTT, AMQP and CoAP.
Gateways
In any single IIoT environment, there might be several different protocols in use. Gateways are crucial for receiving data from the sensors in the network, converting protocols and forwarding data to connected systems for processing and analysis.
Monitoring IIoT devices with PRTG
IIoT device monitoring has two primary purposes: to ensure that they are up and running, and to monitor data from your factory floor. Paessler PRTG monitoring software provides you with out-of-the-box functionality as well as customizable flexibility to achieve these goals.
Monitor the status and health of

IIoT

sensors
With PRTG, you have several options for ensuring that the IIoT sensors are functioning and transmitting data. For example: in MQTT environments, you can use the MQTT Round Trip sensor to not only check on the availability of sensors, but also measure how long it takes to send and receive messages from IIoT devices. If any IIoT device goes down, PRTG will trigger an alarm and notifications will be sent using the mechanism of your choice (e.g. SMS, Email, push notifications, etc.)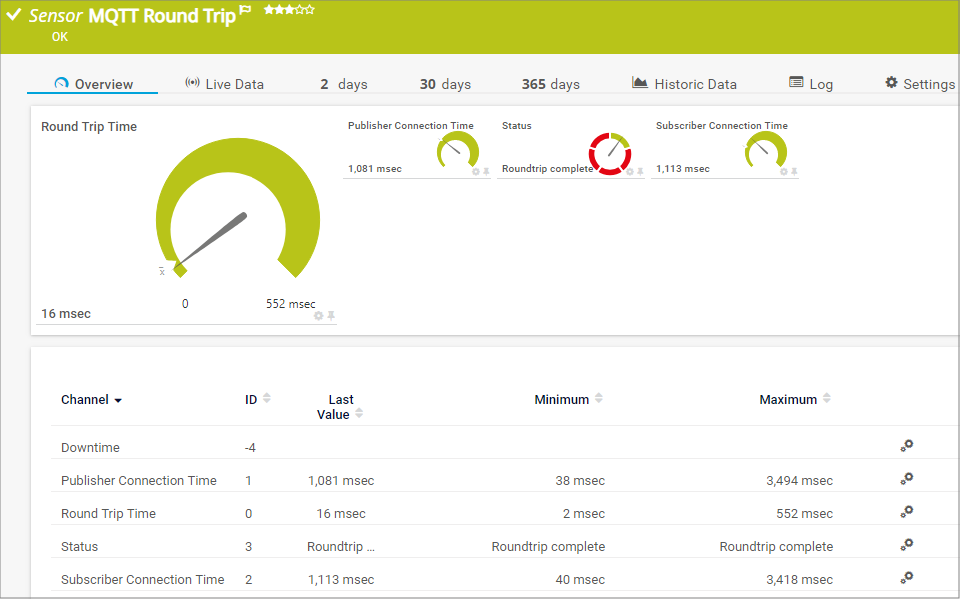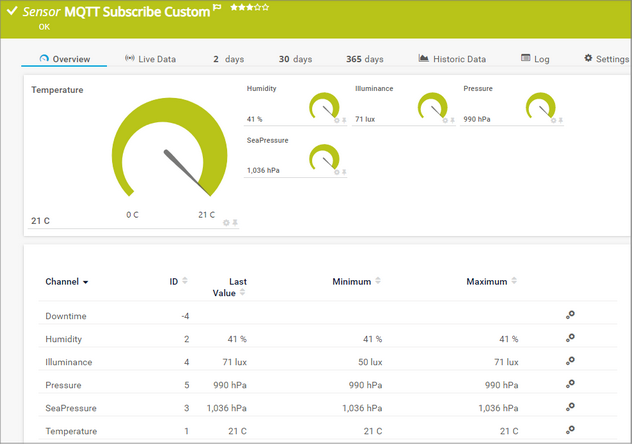 Monitor data from the factory floor
Depending on the sensors in use, it is possible for PRTG to retrieve data about the factory floor measured by the IIoT device. For example: the MQTT Subscribe Custom sensor in PRTG can receive up to 10 data values from a specific topic that it is subscribed to. For example: if an IIoT device measures temperature, air pressure and humidity of a certain area of the manufacturing floor, you can get monitor these metrics in PRTG.
PRTG also offers other options for retrieving data from IIoT devices, such as using webhooks or querying industrial gateways using standards like OPC UA.
Bringing the

IIoT

into your monitoring view
In OT, IT and IIoT convergence, the bigger picture is important: you need to have all your monitoring data in a single place. PRTG gives you tools to monitor right across your industrial environment. More importantly: you can bring elements from all areas into the same customized dashboards to ensure that the right teams get the right data – and the full view.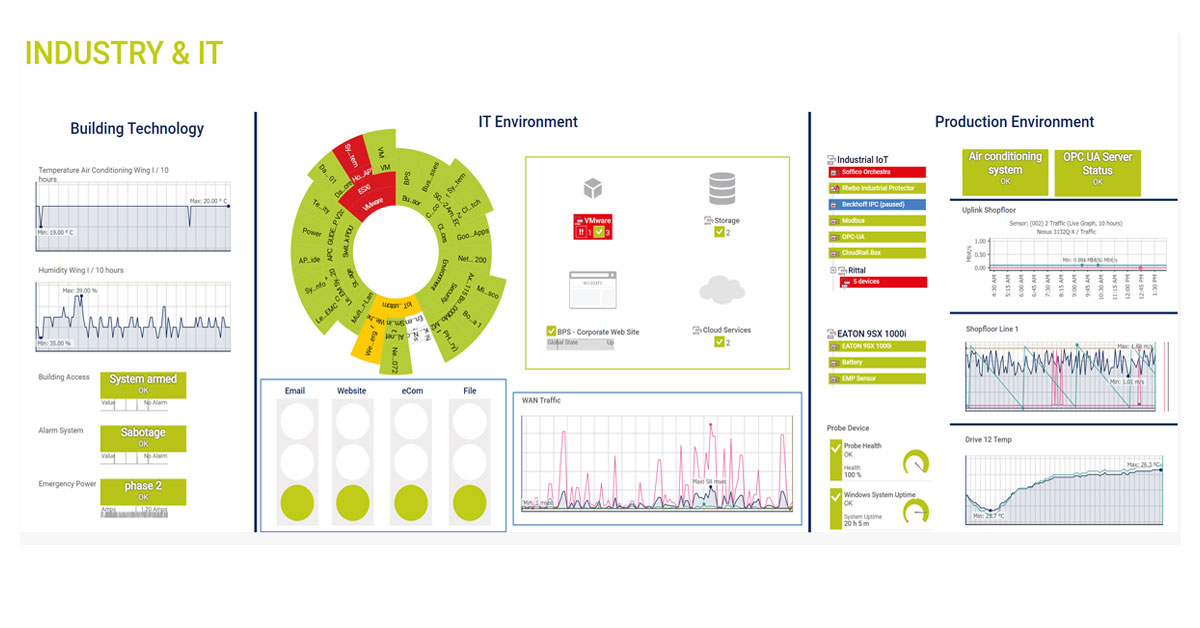 You also benefit from other

features of holistic monitoring with PRTG

Alerts and notifications can be configured to let you know when devices or connectivity fail – and even before they fail.

Track trends over time to identify patterns across all aspects of your infrastructure.

Easy to install and easy to use.
"Easy to implement and configure with good technical support."
R. v. S., ICT Manager at Heinen & Hopman Eng BV
Success stories from our customers
Companies around the world trust PRTG Network Monitor when it comes to ensuring that their IT systems run smoothly.

F.T.P. relies on Paessler PRTG for high-performance monitoring
F.T.P. has 20 years of experience providing IT consulting to the most established automotive companies in Italy's Motor Valley. System integration, cyber security, managed services, and industrial technology are their main areas of expertise. From a strong focus on the enterprise environment to the world of SMEs: F.T.P. offers high-value monitoring services through PRTG and enters new markets, including OT.

Kennedy Industries helps keep communities safe & operational with Paessler PRTG
For more than 60 years, Michigan-based Kennedy Industries has helped municipalities across the state keep water clean and available to residents with its pumps, valves, repair, field service, controls and specialty products for water and wastewater facilities. They monitor more than 500 unique locations across the state with PRTG.

Carambar & Co Group increased productivity with Paessler PRTG
The food and beverage group Carambar & Co was founded in May 2017. To run this new company of more than 1000 employees, an Information System had to be created from scratch with an on-site SAP ERP and a number of applications in the cloud. To stabilize, improve the reliability, and optimize the performance of the system, the company decided to install PRTG as their IT monitoring solution.
Get your free white papers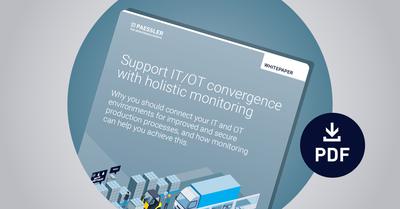 In modern industrial IT, the right teams need the right data. Our guide shows how to implement holistic monitoring that brings elements from IT, OT and IIoT into your dashboards.
Download white paper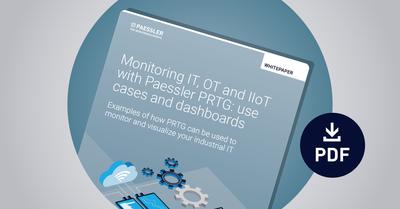 Our second guide gives you inspiration and ideas for dashboards that feature IT, OT and IIoT data – all in one place. We show you what truly convergent industrial dashboards look like!
Download white paper