F.T.P. dives into the world of IT/OT monitoring with Paessler PRTG
About F.T.P.
F.T.P. has 20 years of experience, gained in the enterprise and SMB world providing IT and OT consulting to the most established automotive companies in Italy's Motor Valley. System integration, cyber security, managed services and industrial technology are their main areas of expertise.
Founded in 2005 in Modena's Motor Valley, F.T.P. Srl supports the technological transformation of many long-standing Italian companies. Specializing in the automotive industry and historically with a strong focus on the enterprise context, F.T.P. was born from the meeting of technicians combining their various skills to support clients in managing change and innovation.
Infrastructure, networking and cybersecurity are the pillars on which the Modena-based system integrator's activities were built. Starting with solution design and project implementation in an enterprise context, F.T.P. has gradually shifted toward services for a wide variety of IT requirements. Since 2012, the company has also embarked upon a new path aimed specifically at the world of SMEs, where the mission remains the same: to provide qualitatively unparalleled standards of service.
"In addition to continuing our collaboration with Paessler in the enterprise sector, F.T.P's future projects include using PRTG in the implementation of services to support the industrial world. The major advantage of PRTG lies in its ability to offer a single tool for both the IT and OT domains. This is our added value, along with our promise of providing high-quality combined offerings."
Stefano Talami, CEO at F.T.P.
From entering the world of SMEs to working with Paessler
When F.T.P. began targeting SMEs in 2012, they encountered a very fragmented environment and saw a general need for a range of technologies and concepts, including monitoring.
Additionally, the heterogeneous model already used by F.T.P. in an enterprise environment covered various areas (including networking, system uptime and performance), but it reconciled poorly with the idea of a targeted offering for SMEs.
As such, and specifically to meet the needs of small and medium-sized businesses, F.T.P. started searching for monitoring solutions. The goal was to find a tool that, firstly, would monitor every element and device connected to a grid, including networks, features, infrastructures, services, servers, performance, storage, switches, certificates, connectivity and cameras.
Secondly, it was important that the solution be flexible and scalable, so that it could be chosen as the sole option and would allow for the intuitive and customizable display of maps and dashboards.
Fundamentally, it also had to be agentless and searchable on a mobile version via the app, in addition to being capable of handling all major technologies (SNMP, Netflow) and monitoring protocols to satisfy various customer needs. And finally, F.T.P. needed a solution that would guarantee distributed infrastructure monitoring with a probe that's close to the customer and a core, centralized repository for monitoring all clients.
F.T.P.'s central idea, however, was to maintain the service itself. This way, it could apply its own algorithms and optimization mechanisms as well as its own expertise to refine the configuration of thresholds or types of alarms. Only then could the company ensure optimized, highly-efficient and high-performing installations. This approach would avoid leaving the direct management of the solution to the client and averting the (very significant) risk that the product would be "abandoned" and lose its effectiveness, turning into a mere alarm system.
The answer to all these needs came in the form of Paessler PRTG monitoring software. After an initial test implementation at F.T.P., the company decided to adopt Paessler PRTG Enterprise Monitor as a monitoring tool, whether for its own infrastructure or by offering it to its clients in MaaS (Mobility-as-a-Service) mode, increasing from its initial 2,500 sensors to more than 20,000 today.
360-degree monitoring with PRTG
When setting up monitoring of IT environments, whether in enterprise or SME environments, F.T.P.'s main goal is always to prevent issues with basic elements, such as servers, data centers and RAM disk space. Through PRTG, F.T.P. serves approximately 40 Italian clients with centralized solutions, while always remaining proactive.
Thanks to PRTG, F.T.P. guarantees that its clients are in control of everything that's business critical. Depending on the client, the type of service provided and the level of criticality, a decision is made on what to monitor along the perimeter.
They generally start with uptime monitoring (reachable/unreachable, on/off) and basic verification of RAM device usage (where preventive as well as reactive actions can be taken). Then they focus on monitoring of various application elements, including bandwidth usage, the performance of switches (or even of individual ports), server performance, server exchange queues, the availability of wireless connectivity and the success of backups.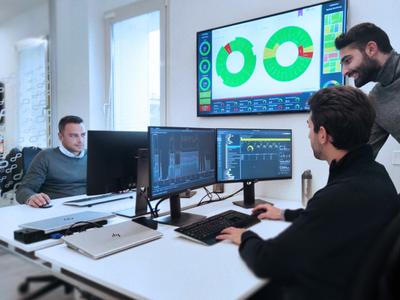 One of the main results achieved through the implementation of PRTG is undoubtedly a dramatic reduction in calls for downed servers as well as the preventive identification of misconfigurations and related tuning of some technologies (such as misconfigured elements within an infrastructure).
In this case, problems occurring in remote branches or locations or bandwidth usage events related to outages or security issues can be intercepted. Significant results were also achieved with respect to monitoring the environmental sensors of some clients to identify and resolve anomalies leading to excessive energy consumption (for example, when servers are working under suboptimal conditions).
F.T.P.'s future also lies in the monitoring of OT environments
In 2019, F.T.P. also began successfully using PRTG in the automotive industry, monitoring production lines in some plants of a well-known car manufacturer. A decision came in 2021 to continue along this path and enter the world of industry, thus becoming the first Paessler Industrial Partner in Italy.
Similarly, for industrial network monitoring services, PRTG is their only choice. Paessler has expanded the area of expertise of PRTG to Operational Technology and IIoT to help companies manage the convergence of IT and OT in industrial environments. This helps them collect monitoring data from production departments, the front office and IIoT sensors into a single tool.
"In addition to continuing our collaboration with Paessler in the enterprise sector, F.T.P's future projects include using PRTG in the implementation of services to support the industrial world," explains F.T.P. CEO Stefani Talami. "The major advantage of PRTG lies in its ability to offer a single tool for both the IT and OT domains. This is our added value, along with our promise of providing high-quality combined offerings. Additionally, being able to rely on a partner like Paessler, who provides us with quality technical support, is a critical element of taking on this new challenge with absolute peace of mind."
Conclusion
Starting with designing secure industrial networks and securing industrial infrastructure, F.T.P. is raising their clients' awareness of network monitoring of industrial environments, many of which are not yet ready for the leap into Industry 4.0.
"For proper infrastructure management, we at F.T.P. believe that control is fundamental, and control is partly achieved through monitoring. Monitoring activities should preferably take place through a single solution that enables the provision of centralized control services, like PRTG," concludes Talami.
Get to know more happy PRTG customers
We are happy to help!
Do you need more information, a live demo of PRTG Enterprise Monitor, or a formal quote?
Leave us your contact details and we'll reach out to discuss your individual setup.