Kennedy Industries ensures available and clean water with the help of Paessler PRTG
About Kennedy Industries
For more than 60 years, Michigan-based Kennedy Industries has helped municipalities across the state keep water clean and available to residents with its pumps, valves, repair, field service, controls and specialty products for water and wastewater facilities.
They monitor more than 500 unique locations across the state. The term "continuous improvement" is at the core of who they are as a company, which is evident in the innovative solutions they bring to market.
Beginning in 2010, Kennedy Industries System Master (KISM), a managed services division of Kennedy Industries, built and still continuously improves a state-of-the-art SCADA (Supervisory Control and Data Acquisition) system with multiple datacenter locations, redundant servers, fire walls, VPNs (Virtual Private Network), APs (Access Points) and security.
Using Paessler PRTG Network Monitor, KISM monitors its clients' entire infrastructure to ensure the pumps, valves, controls and specialty products it sells and installs in water and wastewater facilities for more than 70 municipalities across Michigan continue to operate. They also serve industrial and transportation organizations in a similar fashion.
How Kennedy Industries uses PRTG
Keeping water treatment plants running smoothly to ensure communities have clean water
Monitoring the infrastructure that hundreds of IoT devices depend on to operate properly
Reducing the number of employee complaints and increase productivity with a fast, reliable ERP system
Saving customers' money by reducing errors in alarm triggers
"The biggest benefit of PRTG is that it keeps eyes on the system 24/7 so we don't have to. It monitors everything we care about."
Mitchell Sobel, IT Administrator at Kennedy Industries
Shifting from the last to know to the bellwether
Ben Manlongat wears many hats at Kennedy Industries. As the IT Manager, he is responsible for the company's infrastructure which also includes collaborating with ERP, operations and integration teams. He also serves as the Vice President and CTO for its KISM division. Mitchell Sobel is Kennedy Industries' IT Administrator who manages over 100 end points as well as a sophisticated core infrastructure.
The backend consists of a robust network with multiple co-locations for backup. What the two of them don't have is a lot of time to manually monitor those systems.
According to Sobel, "The biggest benefit of PRTG is that it keeps eyes on the system 24/7 so we don't have to. It monitors everything we care about."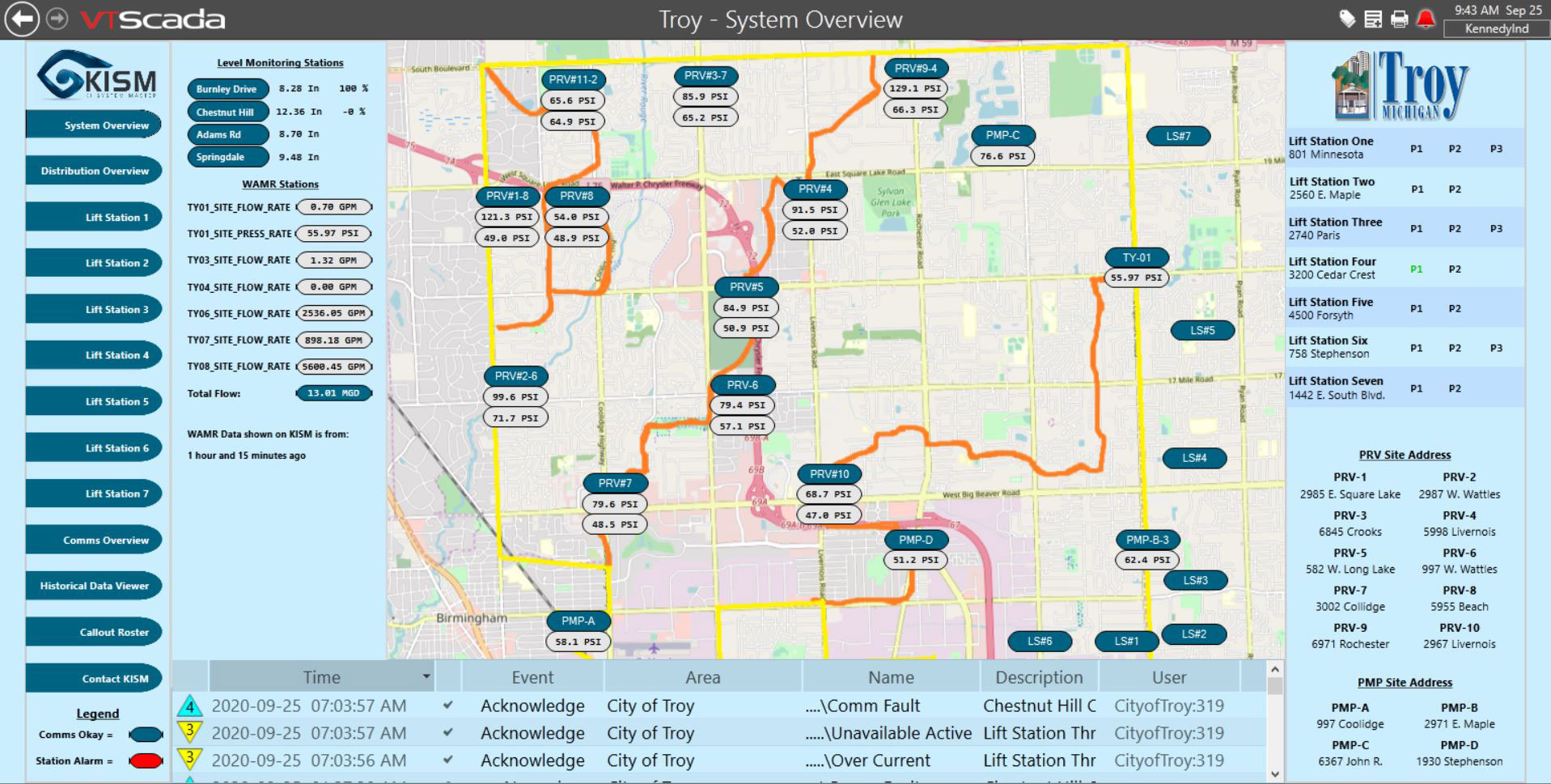 Kennedy Industries credits PRTG for giving them a competitive advantage. They originally purchased PRTG to assist with their cloud product offering, KISM, that they built from the ground up to provide SCADA to Michigan municipalities.
KISM monitors critical infrastructures, ensuring that municipal operations can successfully deliver water to and retrieve water from the community. Each client has a custom dashboard where they can view their water infrastructure and can be alerted to problems to avoid disasters, such as boil water alerts or basement flooding.
Early on in developing the cloud infrastructure, they only knew about problems the moment their clients contacted them to say alarms had gone off, that the website was down or they couldn't access the server. They needed a solution that would enable them to stay ahead of potential problems so they could address it before a client called.
What is good for the customer is also good for the company
"We are extremely happy that we chose PRTG for KISM. We catch things and fix them before the customers even know about it. It has been a huge success and has prevented many problems. So much so that we implemented it into both of our headquarters locations' infrastructures," said Manlongat.
They monitor the company's entire network from top to bottom – from router, switches, servers, Wi-Fi, access points, CCTV cameras and some end-user workstations in their machine shop that need to regularly access the ERP system.
Kennedy Industries' ERP system, like most companies, is its lifeline. It is where their ordering, billing and CRM functions all live. Before using PRTG, they were not aware when different parts of the system would go down, causing extreme slowness and a reduction in employee productivity, which resulted in 30-40 complaints per month. After installing PRTG, complaints are down to zero and productivity is no longer affected.
Stopping false alarms to save money and brand reputation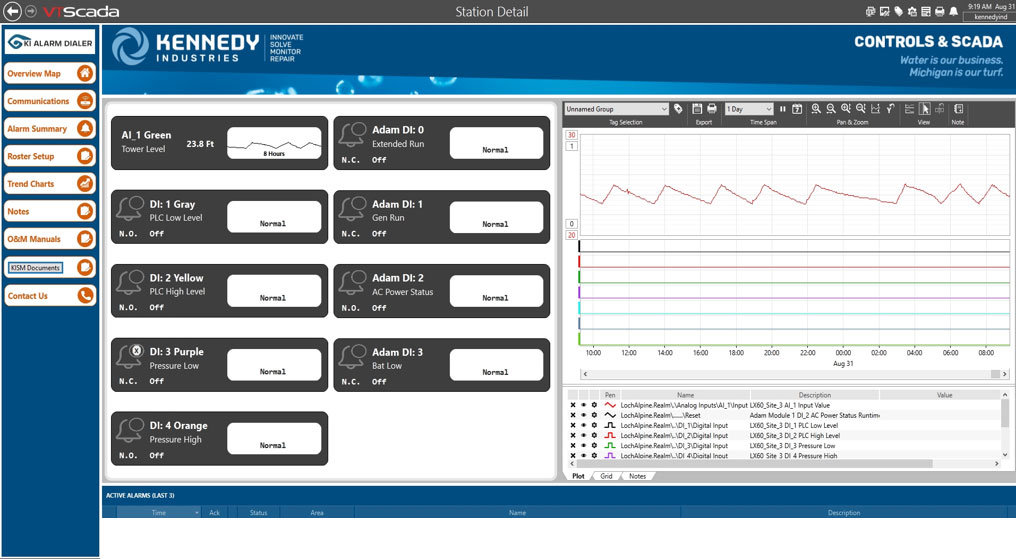 PRTG also monitors Kennedy Industries' site-to-site VPN tunnels. Before they had PRTG, they had two different datacenters that require a continuous connection so that one server in the first datacenter was the primary and the other server in the second datacenter would be for backup.
"PRTG allows us to monitor that connection, and if it fails, we get a notification to turn off the secondary backup server to stop split-brain from happening and aggravating customers," said Manlongat.
"We can't win jobs if our brand has a poor reputation. We have won millions of dollars in business because of the reliability of PRTG."
Taking PRTG to the next level
For the first seven years Kennedy Industries used PRTG, the basic features were more than enough for their needs. Once Sobel participated in Paessler's advanced Monitoring Camp, he learned how to stop nuisance alarms from monitoring customers' public IP addresses. Their team used to receive 20 calls a month in the middle of the night, requiring double overtime payment for downed customer site VPNs.
He now has more insight into how traffic is flowing into and out of the network thanks to PRTG, which helps detect rogue devices on the network. Tracking down specific problems and building trends of where traffic is going―even outside the network to unknown IP addresses that could be connected to a nefarious threat―is priceless.
He monitors bandwidth of the site-to-site mirroring to a co-location for Kennedy Industries' backup files. For many months, they were receiving high overage bills for sending too much traffic to the datacenter that were two to four times more than normal. PRTG captured the data to verify traffic, which showed that it was indeed the case. Sobel set up alerts so if the traffic went above a certain threshold, they were notified before major overages were incurred.
Solving problems in seconds, not hours
The most important thing Manlongat and Sobel focus on is providing an exceptional end-user customer experience. When asked what it would be like if Kennedy Industries did not use PRTG to monitor its technology, Sobel said, "I would hate it."
Manlongat seconded that by saying, "We would be fighting fires all the time. If you have a lot of issues that cause pain for your customers, it causes mistrust and anxiety that is hard to change. With PRTG, as soon as I have a problem, there are 1,000-2,000 sensors that easily identify where the issue is. I am now solving problems in seconds from an app on my phone versus hours."
Ensuring functionality of IoT devices in the field
KISM's datacenters, servers and equipment connect over cellular to IoT monitoring points in the field. PRTG tracks how the infrastructure is functioning, which allows municipal operators to know how their systems are performing.
The IoT devices that are dependent on the infrastructure that PRTG monitors include level sensors, flow sensors, pump status, valve sensors, radar sensors, security sensors (motion, door/window alarms) to even milk level monitoring in dairy transportation tankers and cathodic protection for oil and gas pipelines to prevent leaks and explosions.
Providing critical services to communities
PRTG provides critical infrastructure insight into KISM's ability to monitor water levels in elevated tanks and towers, which is critical to municipalities. On the clean water side, not being able to alert an operator of a system failure could be serious.
It could mean that firefighters would not have water to put out fires; people would not have water to drink; and communities could be poisoned if water pressure goes below a certain PSI and no boil alert was issued.
On the dirty water side, if they are not alerting their customers about pumping systems issues, communities could have flooded basements and dirty water could fill industrial plants.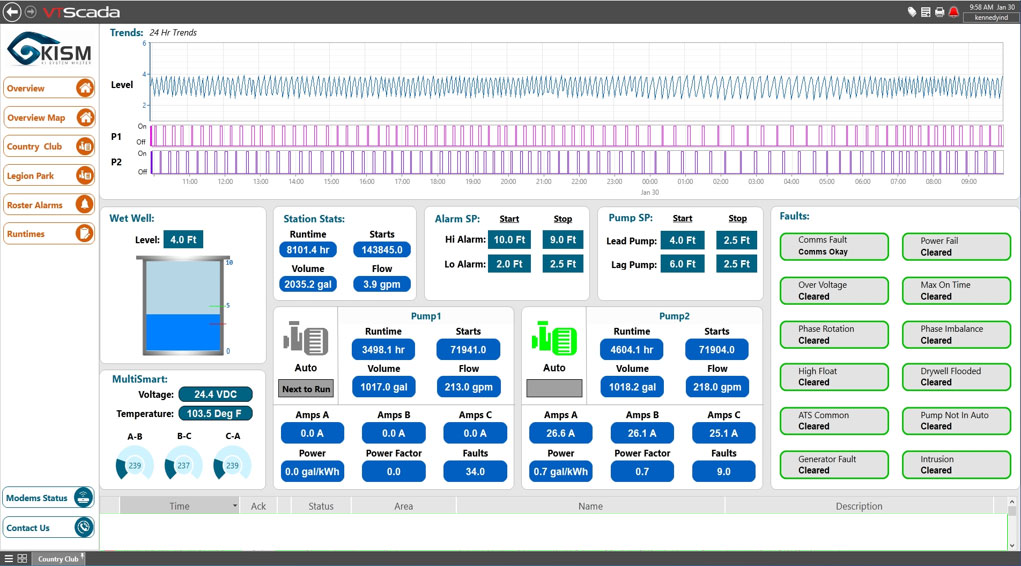 Conclusion
From an environmental sustainability standpoint, KISM helps communities preserve natural water resources and prevent contamination by using PRTG to keep infrastructure running seamlessly.
"We are our customers' peace of mind. If we didn't have PRTG, the worst-case scenario is if one of our servers shuts down, people can die. PRTG alerts us before an issue becomes a disaster so we can remedy the situation before it escalates."
Get to know more happy PRTG customers