Better working conditions at Noris Inklusion thanks to Paessler PRTG
About Noris Inklusion
Inclusion is one of the most important social issues of our time. People with disabilities want – and can – make a contribution to society. Noris Inklusion, a company based in Nuremberg, Germany, has been helping them do so for more than 40 years with production facilities for 500+ employees, residential projects, educational support, and other initiatives.
One of the prerequisites for its success is a functioning IT infrastructure. In this domain, Noris Inklusion relies on PRTG Network Monitor, the world's leading monitoring solution created by the Nuremberg-based software specialist Paessler AG.
Andreas Nachtrab, Head of IT, and Damir Karacic, IT Administrator, originally used the open-source monitoring solution Nagios at Noris Inklusion. At the time, the tool was implemented by a service provider. In theory, the Nagios framework offered many different possibilities. But in practice, the operation, maintenance, and expansion of monitoring with Nagios proved to be far too difficult for the IT team at Noris Inklusion. The team therefore sought a new solution that would allow for comprehensive monitoring while being easy and intuitive to use.
One day while surfing the Internet, Karacic discovered PRTG: "We decided to try PRTG, and immediately found it easy and efficient. In particular, we were aided by the wide range of easily accessible manuals, tutorials, and videos. PRTG quickly met all our monitoring needs. We were especially impressed with its Auto Discovery feature and usability. It didn't take long before we were sold on the all-in-one monitoring solution. The fact that Paessler AG, an internationally renowned manufacturer of monitoring solutions, is also based in Nuremberg, was simply the icing on the cake. No questions about it – we rated PRTG 10/10."
"With so many sites, we need to be able to locate errors immediately and with precision. After all, we don't have IT teams in all our workshops and housing units. Instead, in the case of an emergency, we have to leave our office and head to the location with the anomaly. Thanks to PRTG, we always know where that is."
Damir Karacic, Administrator at Noris Inklusion
More than just default software
Karacic uses PRTG by default to monitor his infrastructure and network. In addition to switches, firewalls, and other network components, Karacic also monitors Noris Inklusion's VMware and Citrix systems. PRTG easily covers all his bases. When other software needs to run first, PRTG impresses with its comprehensive functionality – and above all, its flexibility.
Karacic explains: "PRTG meets just about all our requirements – out of the box. What's more, its interfaces and templates make it extremely easy to customize the software. Once you grasp the flexibility of PRTG, you can (with a little imagination) use the tool for tasks that go far beyond regular infrastructure monitoring." According to Karacic, there's no shortage of ways that PRTG benefits the team and the company, with little to no effort at all.
Door-locking systems and data protection
The monitoring of door-locking systems is a perfect example. For data protection reasons, these systems cannot be monitored directly. Nevertheless, they still must be monitored. Instead of monitoring the systems themselves, Karacic monitors their accessibility via radio. If the radio connection to a door-locking system is down, then something is wrong and someone has to fix the problem. PRTG can therefore alert to the malfunction, without violating data protection regulations.
PRTG also monitors time-recording (attendance) systems, all the while complying with data protection regulations in this area as well: the software only monitors the availability of the time clocks, without accessing the recorded data.
Increased security via monitoring
Although monitoring solutions are not necessarily focused on security, the right tool can also make a premise significantly more secure. In fact, Karacic uses PRTG to improve the security of his IT. He checks the number of administrators that are logged on to the domain, as well as the number of incorrect password entries. If the latter are unusually high, then this could be evidence of a hacker attack.
As an added security measure, Karacic places empty files in strategic locations on the infrastructure he monitors with PRTG. Changes to these files can be a sign of an encryption attack. Karacic explains how PRTG helps improve security: "When it comes to security, we do of course use classic tools such as firewalls, virus scanners, and intrusion detection systems. However, these are no longer enough today. PRTG provides for additional security by detecting unusual behavior which may be a sign that a hacker has outsmarted our security systems."

Environmentally friendly temperature management with PRTG
Damir Karacic's supervisor Andreas Nachtrab also uses PRTG. As the person responsible for quality assurance, Andreas regularly receives automated emails from PRTG with all the relevant data on the availability of Noris Inklusion's IT system groups. These reports also provide key figures on the indoor and outdoor temperatures of workshops and offices.
As a result, PRTG has enabled Nachtrab to optimize the workshops in an extremely concrete manner. During the hot summers of recent years, employees often complained about the extreme heat in the workshops. Long-term temperature data collected by PRTG in the workshops and offices showed that the outside temperature dropped significantly at night, and that thorough ventilation in the morning would be sufficient to lower the temperature in the workshops so they were bearable during the day.
However, such ventilation was impossible as the workshops were surrounded by offices inside the building. The buildings were therefore restructured such that the workshops could be ventilated in the morning to keep the indoor temperature relatively low, even on hot summer days. An air-conditioning system (the original idea) could be avoided, thereby saving money in the long term and protecting the environment.
Multiple locations, one solution
Noris Inklusion's IT is distributed across many different locations, including a data center, offices, an administrative building, six production sites, and various housing units.
According to Karacic, this is simply another good reason to use PRTG: "PRTG lets us use as many remote probes as we need – at no extra cost. These probes collect monitoring data at the individual sites, then send the data securely (via TSL encryption) to the central PRTG server, where it is stored and analyzed. This makes it extremely easy for us to set up centralized monitoring to cover all our locations, which would be next to impossible without PRTG, for budgetary reasons alone."
By monitoring network traffic at the various sites via packet sniffing, and checking the availability of devices via ping, Karacic has created a system that lets him quickly pinpoint problems: "With so many sites, we need to be able to locate errors immediately and with precision. After all, we don't have IT teams in all our workshops and housing units. Instead, in the case of an emergency, we have to leave our office and head to the location with the anomaly. Thanks to PRTG, we always know where that is."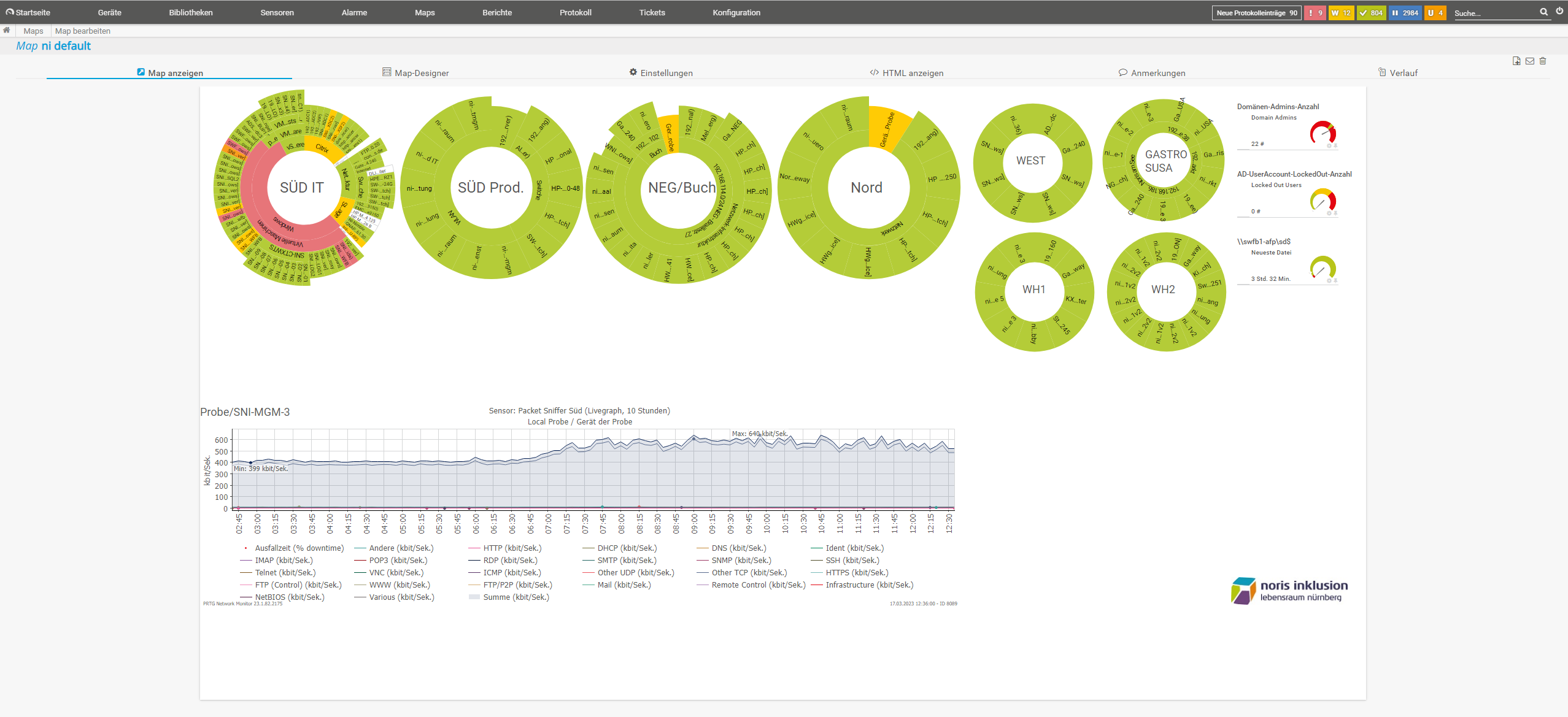 Andreas Nachtrab sums up: "As a regional social welfare organization with a limited budget and multiple locations, we needed a cost-effective solution that could monitor our distributed IT systems and help us with general quality assurance. With its wide range of features, flexibility, and fair pricing and licensing models, PRTG met all our requirements. PRTG ensures our IT and our IT-related processes are always operational, and thereby allows us to fulfill our primary mission of helping people with disabilities to participate in society."
Get to know more happy PRTG customers