BBS Holzminden relies on monitoring with Paessler PRTG for school digitalization
About BBS Holzminden
BBS Holzminden (Georg-von-Langen School) is a certified vocational training center in Lower Saxony, Germany, with approximately 110 teachers.
The center offers more than 50 apprenticeship programs and full-time courses in a wide range of occupational fields, allowing its 1,650 students to acquire first-rate, future-proof skills for a successful career.
Among other things, school employees must perform administrative processes, retrieve digital learning content, work as a team, and perform research on the Internet. For all these tasks, a highly functional and powerful IT infrastructure is indispensable. Nevertheless, since schools usually lack the resources to hire IT specialists, experienced teachers are often entrusted with the everyday monitoring of systems and troubleshooting of issues. In order to keep a constant eye on its IT, quickly respond to problems, and relieve its teachers, BBS Holzminden relies on PRTG Network Monitor, a monitoring tool developed by Paessler AG.
"On any given day, we rarely have time to keep an eye on all our systems. We therefore decided to monitor our school's IT environment with a centralized network monitoring tool."
Stefan Roschewitz, teacher and IT administrator at BBS Holzminden
Monitoring as the basis for successful digitalization in schools
In today's world, the fail-safe operation of IT systems has become essential to ensuring smooth everyday routines at educational institutions. In addition to classic IT (e.g., administration and email), other areas of use are also becoming crucial. More and more educational content is being offered via the Internet, in particular in the context of homeschooling and distance learning. In addition, web portals are now commonly used for the organization of everyday curricula. If one of these vital systems fails – whether due to a software error, a hardware defect, or a hacker attack – school operations can be affected, and in some cases, even halted completely.
Depending on the failure, the secretary's office may no longer be able to send emails, wireless printers may be unable to print out tests and teaching materials, or learning content, lesson plans, and teacher substitution schedules may no longer be accessible via the Intranet.
Previously, BBS Holzminden monitored with a variety of custom scripts. The new tool was to provide for the comprehensive monitoring of the availability and performance of all the IT systems in the network. In addition to traditional hardware such as printers, hard drives, routers, servers, and switches, the monitoring was to encompass LANs & WANs, virtual environments, cloud services, and network parameters such as bandwidth. The school also wanted to keep an eye on the storage capacity of devices and systems in order to promptly detect potential bottlenecks.
The ideal solution would be a centralized tool that allowed for the monitoring of all these areas, all the while being easy to install and use. Already familiar with Nagios, the IT instructors initially considered this software. But when the configuration became too complex, they switched to the free version of the monitoring solution PRTG, which proved to be a much simpler alternative to the open-source Nagios tool.
Stefan Roschewitz and his coworkers found that PRTG provided an excellent cost-performance ratio and met all the requirements of the school.
"We strive to equip our systems with state-of-the-art technology to safeguard our educational practices for the future," explains Stefan Roschewitz, teacher and IT administrator at BBS Holzminden. "Part of this includes ensuring that all our systems run smoothly at all times. At BBS Holzminden, three IT instructors are responsible for the school's internal network and external connectivity, including all digitization issues. On any given day, we rarely have time to keep an eye on all our systems. We therefore decided to monitor our school's IT environment with a centralized network monitoring tool."
IT instructors install the tool
Once BBS Holzminden determined which license best met its needs, PRTG was installed by the school's three IT instructors on a server that already provided web services. Since this caused problems with the ports, PRTG was eventually installed on a separate virtual server. "Once PRTG was installed, the biggest challenge (independent of the tool) was to select the right sensors and values. We ran the Auto Discovery feature in PRTG and found sensors we hadn't even considered. Some sensors – such as those for special services on our Windows servers – were then added manually, while irrelevant sensors were deleted," explains Stefan Roschewitz.
In the beginning, another challenge involved the transfer of data. It was found (for example) that the hardware sensors did not relay data immediately. After a check, it turned out the error was due to an incorrect user login. In addition, the transmission of data across the various networks and firewalls of the school's distributed infrastructure did not work right away. This was resolved by setting all the routes and customizing the firewall to allow the PRTG server to access the appropriate ports.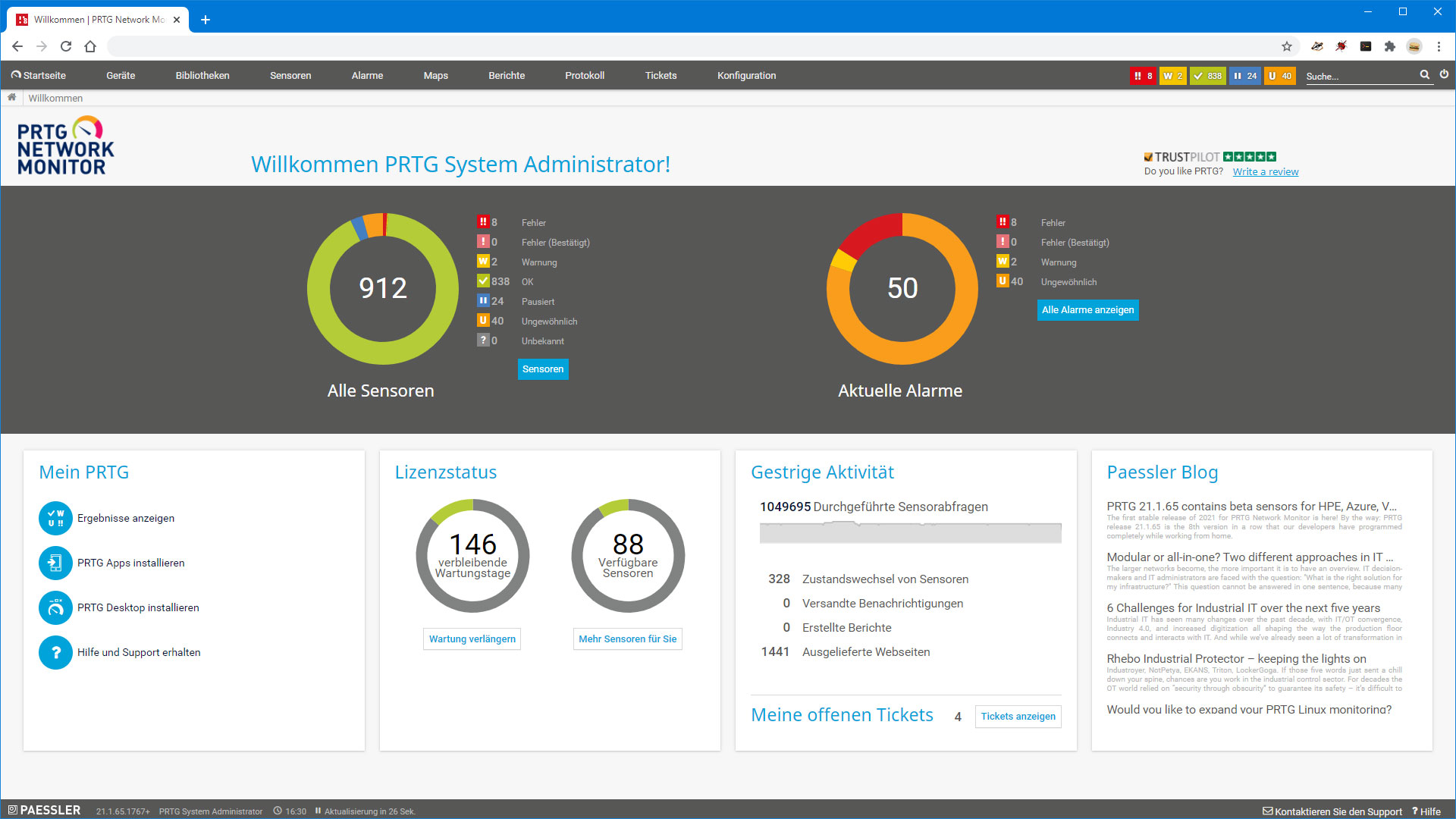 1,000 sensors for monitoring the school infrastructure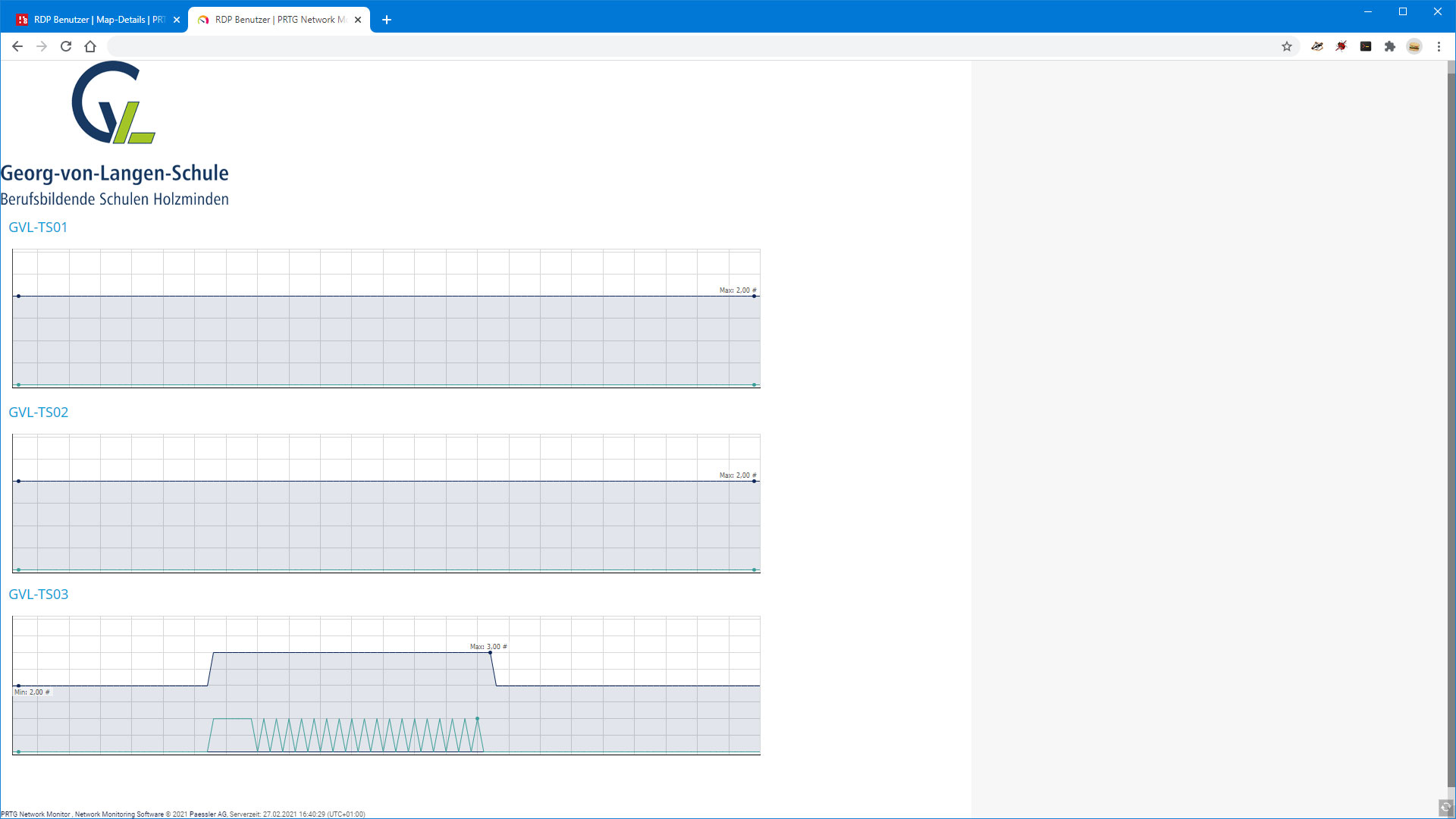 BBS Holzminden uses around 1,000 sensors to keep an eye on all the relevant IT components in its infrastructure. These sensors (SNMP, ping, WMI, HTTP, memory sensors, etc.) automatically send real-time information on the status of applications, devices, and systems to the main PRTG server. All the data is neatly displayed on a web interface.
From the beginning, Stefan Roschewitz customized the PRTG dashboard in accordance with his tasks and processes to make his daily work more efficient. He also defines threshold values in the tool, allowing the worker in charge to be immediately informed if these thresholds are reached (or exceeded). With PRTG, Stefan can choose to be alerted by email, SMS, or push notification. As a result, he can keep a constant eye on the IT infrastructure without having to constantly look at the dashboard. And this, of course, provides for much more time and flexibility. When it comes to troubleshooting, Stefan is immediately shown the source of the problem (without having to search for it) and can take action accordingly.
He explains: "PRTG not only allowed us to centralize and optimize our monitoring environment, but also shed light on correlations between our services. As a result, we have a much better understanding of our IT and have been able to reduce downtime considerably. PRTG has been instrumental in helping us promptly identify – and subsequently prevent – impending memory bottlenecks. Overall, the tool lets us be more proactive and troubleshoot more quickly."
Conclusion
Like many other educational institutions, BBS Holzminden lacked a special IT department to keep a constant eye on every aspect of its complex IT infrastructure. With PRTG, BBS Holzminden now benefits from a centralized, all-in-one, easy-to-use tool that comprehensively monitors its heterogeneous IT landscape. PRTG provides the teaching staff (as well as future IT specialists) at the school with much more time and flexibility, allowing them to meet growing demands and rectify issues at an early stage – or prevent problems from occurring altogether.