Let PRTG take care of monitoring your ERP system
Monitor all components of your ERP system in real time
Optimize server & database performance to ensure availability
Keep an eye on all business processes in a single tool
Why choose PRTG ERP system monitoring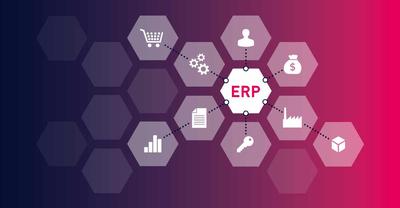 PRTG makes ERP system monitoring easy
Custom alerts and data visualization make it easy to monitor, identify, and prevent ERP system issues.

3 reasons why you need an ERP monitoring tool
A slight drop in the performance of your ERP system can cause a tremendous loss of revenue, especially if it's not resolved in time. Maintaining a business infrastructure with good health and availability is imperative for any company, but monitoring such complex environments can be pretty challenging. This is where an ERP monitoring software can come in handy.
Understand your interconnected ERP environment
ERP systems can be quite complex, with many interconnected modules for scalability. At the same time, the multitude of modules can make monitoring and troubleshooting hard, particularly if a problem in one module causes issues in other dependent modules.
Thus, it's always a good decision to use an ERP monitoring tool like PRTG by Paessler to get a better overview of your ERP system and understand how different components interconnect and work together.
Visualize your data in a single pane of glass

Enterprises often opt for implementing different ERP solutions based on their needs. A common solution that many companies use is an SAP ERP system. Regardless of whether you choose SAP or other ERP suites, however, having a holistic and detailed view of how your ERP is performing is key to monitoring your ERP system's infrastructure.
With PRTG ERP monitoring software, you can therefore not only track and view important metrics of your ERP system in real time, but also visualize all data in highly customizable dashboards and maps.
Avoid unnecessary downtime


An ERP monitoring tool can also help ensure peak performance and uninterrupted availability so that you avoid costly downtime and make sure you meet your company's SLAs. You can monitor the KPIs that are crucial for your ERP modules, such as the events and tasks running on the underlying system and information about the according business processes.
You can view these KPIs on a dashboard and get an overview of all the important events in just one place. And with PRTG, you can even customize the dashboards according to your needs.
PRTG is compatible with all major vendors and manufacturers
Start ERP monitoring with PRTG and see how it can make your infrastructure more reliable and your job easier.


Your ERP monitoring at a glance – even on the go
PRTG is set up in a matter of minutes and can be used on a wide variety of mobile devices.


PRTG monitors these vendors and applications, and more, in one view!
PRTG: The only ERP monitoring tool you need
Monitoring your ERP system with PRTG is the best way to stay on top of things and deal with problems before they cause real trouble and even become business critical. Here's why PRTG is the ideal solution for you.
How PRTG defines sensors
In PRTG, "sensors" are the basic monitoring elements. One sensor usually monitors one measured value in your network, e.g. the traffic of a switch port, the CPU load of a server, the free space of a disk drive. On average you need about 5-10 sensors per device or one sensor per switch port.
Get started quickly & easily
There's no need to hire ERP system consultants to help you get started with PRTG. Our agentless monitoring solution is easy to set up and takes just a few minutes to install. Use the automatic network discovery to automatically scan your network for devices and applications that make up your ERP system.
Keep your database healthy
The database is perhaps the most crucial component of the ERP system since it contains all business-critical data. This is where PRTG has got you thoroughly covered. It offers preconfigured sensors for commonly used databases (MS SQL, MySQL, Oracle, PostgreSQL) out-of-the-box. If your ERP system runs a native database, you can also use the custom ADO SQL v2 sensor or the EXE/Script Advanced sensor.
Check business processes
An ERP system is responsible for the smooth running of business processes, which makes them crucial to monitor. With the Business Process sensor of PRTG, you can get an overview of your whole ERP system. The sensor consolidates monitoring data from the different applications, processes, devices etc. that you add to it. And if there's a problem and you need to check a process, PRTG alerts you in time so that you can remediate the issue.
Use dedicated SAP sensors
SAP is one of the biggest and most commonly used ERP systems and thanks to some of our partners, we offer custom sensors for SAP with our ERP monitoring tool. What's more: These sensors come with a 30-day trial, so you can first test the solution to determine if it matches your business needs before going ahead with the investment.
Identify bottlenecks in real time
Our PRTG ERP monitoring solution makes it easy to identify problems that slow down your ERP applications. Configure thresholds for performance to know things are going south as soon as there's a drop in performance without going through a vast collection of logs. Perform root cause analysis and benefit from live alerting to instantly respond to crucial events and resolve problems faster.
Monitor server hardware
In case of an outage, it's important to determine the exact cause and location of the problem, whether your ERP system is running in the cloud or on-premises. To do that, you need to make sure that the server your database relies on has sufficient resources. This means you need to monitor all the physical and virtual server involved, as well as networking devices like firewalls, routers, and switches.
Easily find the source of the problem with our PRTG ERP monitoring solution
Real-time alerts and custom notifications make it easy to solve issues with your ERP system.
We asked: would you recommend PRTG?
Over 95% of our customers say yes!
Paessler AG conducted trials in over 600 IT departments worldwide to tune its network monitoring software closer to the needs of sysadmins.
The result of the survey: over 95% of the participants would recommend PRTG – or already have.
Still not convinced?
More than 500,000
sysadmins love PRTG
Paessler PRTG is used by companies of all sizes. Sysadmins love PRTG because it makes their job a whole lot easier.
Monitor your entire IT infrastructure
Bandwidth, servers, virtual environments, websites, VoIP services – PRTG keeps an eye on your entire network.
Try Paessler PRTG
for free
Everyone has different monitoring needs. That's why we let you try PRTG for free.
Start ERP monitoring with PRTG and see how it can make your infrastructure more reliable and your job easier.
PRTG

Network Monitoring Software - Version 23.3.88.1393 (September 20th, 2023)

Hosting

Download for Windows and cloud-based version PRTG Hosted Monitor available

Languages

English, German, Spanish, French, Portuguese, Dutch, Russian, Japanese, and Simplified Chinese

Pricing

Up to 100 sensors for free (Price List)

Unified Monitoring

Network devices, bandwidth, servers, applications, virtual environments, remote systems, IoT, and more

Supported Vendors & Applications


More