What is MySQL?

MySQL is an open source database management system based on structured query language (SQL). Along with being available for free, MySQL has the advantage that is runs on almost all platforms. MySQL is one of the most widely used database systems in the world, and many dynamic websites are built around it. Along with the open source variety, there is also a commercial version of the database system. To use MySQL for a commercial product, you will need to purchase a license.
The advantages of MySQL
Large market share
MySQL boasts the largest market share of any open source database. Consequently, there is no shortage of books, articles, and support on MySQL.
Simple administration
Compared to other databases, setting up and administrating MySQL is easy. Tools such as MySQL Administrator are available to help you get started.
High speed
One of the biggest advantages of MySQL: It's lightning quick! Thanks to its simple structure, MySQL is extremely efficient when it comes to resources and uses nearly no memory.
MySQL performance: The basis for a number of other services
If your database runs at a snail's pace, returns errors for certain queries, or is not available at all, then the performance and quality of all applications dependent on that database will also suffer. To ensure your applications are always available and can be accessed as quickly as possible , you will need to monitor your MySQL databases. By doing so, you will create, by way of your database, the basis for the availability and performance of all your services in the tiers.
Why PRTG is the ultimate MySQL monitoring tool
Less downtime
If your website, online store, or web application relies on a MySQL database and something goes wrong with this database, then the site itself will suffer: it may be displayed incorrectly, certain parts may not be available, or it may not load at all.
PRTG lets you keep a constant eye on the availability of your MySQL database. With PRTG, you will reduce database downtime and be able to immediately react to disruptions. As a result, you will enjoy greater customer satisfaction and improved worker productivity.
A concise overview
PRTG's comprehensive MySQL monitoring tool not only monitors the availability of your databases, but also other MySQL performance data. To do so, PRTG automatically queries databases and measures the time required for establishing a connection, executing an SQL query, handling a transaction, and disconnecting. Your PRTG dashboard provides easy-to-read stats on the total request time.
A detailed look
PRTG also lets you monitor specific datasets from your MySQL database. You can, for example, have certain information from your online store or ticket database displayed. To do so, simply define your own SQL queries in PRTG and monitor their return values.
Along with these return values, PRTG MySQL Monitor will show you the execution time of the query and how many rows were queried in the data tables. Use customizable threshold values to trigger automatic alerts and receive notifications, such as when an item in your online store is about to run out of stock.
Custom reports
One of PRTG's many useful features is the creation of custom reports. You're free to configure the content of your reports any way you please, and can then call up the reports "on the fly" or create them automatically (daily, weekly, or monthly), before having them sent by email, for example.
PRTG allows you to create reports with all the data that is important for your work. The reporting feature is also the perfect way to keep your colleagues and superiors in the loop. Simply choose the relevant information and have the reports sent to the corresponding managers automatically. For example, you can forward the most important website stats to the marketing team or have the number of open tickets sent to the support team automatically.
Built-in alarm feature
PRTG MySQL monitoring software includes an alarm feature. If your database is unavailable or if certain queries do not return the desired values (or return incorrect ones), then you can choose to be notified by PRTG automatically.
This alert may take the form of an email, SMS, or push notification to your smartphone. You'll be informed promptly, before the problem escalates. Thanks to the PRTG API, you can also create user-defined notifications and have scripts or HTTP actions executed automatically.
Enjoy the feeling of complete control with PRTG!
PRTG lets you keep a constant eye on
your MySQL databases – even while on the go
PRTG can be started within minutes and it's compatible with most mobile devices.
Switching to PRTG is safe and easy
There are many MySQL server monitoring tools on the market. PRTG has the following advantages:
No hidden fees
With a license you can use PRTG in its entirety. Included are all sensors, as well as the notification system. We offer the utmost in transparency during the purchasing process. The free trial version comes with 100 free sensors, and during the trial you can also try all the sensors PRTG has on offer.
Ease of use
Open source tools like Nagios have certain advantages. But they also come with the drawback that you have to develop a great deal on your own if you hope to enjoy sophisticated monitoring solutions. With PRTG, you get comprehensive, professional software with speedy support.
Extensive monitoring
Many administrators use a variety of different monitoring tools for special situations. Managing such a combination of tools takes time and energy. And that translates into countless working hours which could be spent more efficiently. Moreover, you usually don't get a concise overview.
How to monitor your MySQL database with PRTG
All it takes are a few short steps to get started with PRTG MySQL Monitor. PRTG comes with a pre-defined sensor for MySQL monitoring. In general, you can start using the sensor immediately to monitor some basic information regarding your database, such as availability and execution time.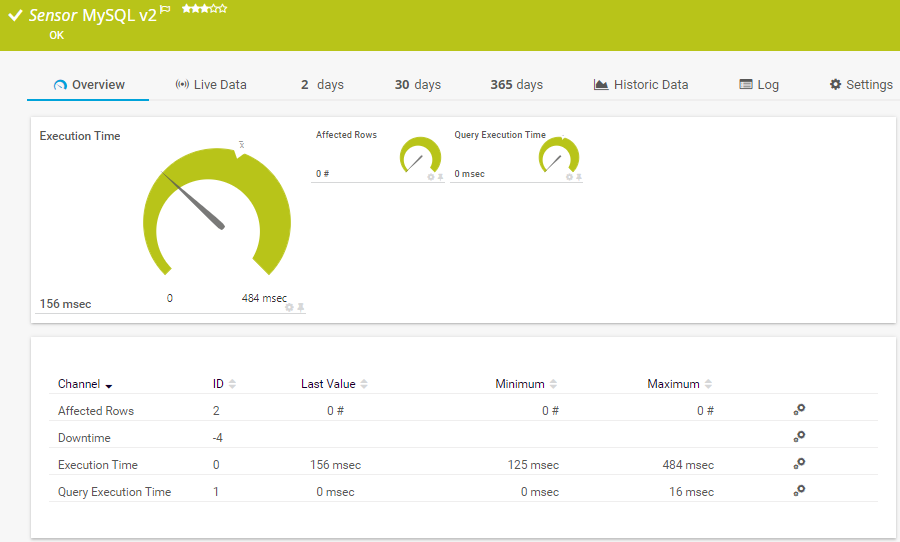 For a more detailed look, add your own SQL queries by way of a separate file.
Configuring the MySQL sensor is quick and easy:
1. Create an SQL query
Use self-defined SQL queries to monitor a variety of KPIs, such as:
The number of website visitors
Sales figures from the online store
Open tickets for customer support
The possibilities are virtually endless. The only requirement: You must define an appropriate SQL statement.
Here is an example of what this might look like:

SELECT count(idorder), sum(value), avg(value), GROUP_CONCAT(customer SEPARATOR ', ') from test.order
2. Save the script
Save your entire SQL statement in a separate query file on your hard drive in the PRTG program folder. Be sure to use the .sql file extension for the file and select the following path:
C:\Program Files (x86)\PRTG Network Monitor\Custom Sensors\sql\mysql
3. Create the sensor in PRTG
Before adding the sensor to PRTG, check to make sure your environment meets the requirements (for more information, see our manual). Be especially careful to enter the correct access data in the device's settings, as the device will represent your database in PRTG.
Click on "Add sensor", on the device which is to receive the sensor, search for MySQL and choose the MySQL-v2-Sensor. In the dialog box that follows, enter the sensor name and the name of the database that is to be monitored.
Then choose the SQL file which contains your SQL statement (from step 2) and configure the sensor however you please. Decide, for example, if you simply wish to monitor the query execution time or if you would also like to analyze and process data table values. If you choose the latter, then specify which values should be read from the table.
The PRTG sensor is added once you close the dialog box. The sensor will look something like this:
PRTG simplifies your day
Our monitoring software works for you and promptly notifies you of potential issues.
It frees you to concentrate on your day-to-day tasks with peace of mind.
PRTG saves time
With PRTG, you get one central monitoring tool for your servers and entire network. Enjoy a quick overview of your whole infrastructure via our dashboard and app.
PRTG saves worry
Customizing PRTG is a breeze. Getting started or switching from another network monitoring tool is easy thanks to PRTG's auto-discovery and pre-configured device templates.
PRTG saves money
80% of our customers report substantial or even exceptional cost savings in the area of network monitoring. The experience shows that the costs for licenses have paid for themselves within a matter of weeks.
Over 95% of our customers recommend PRTG
Paessler AG worldwide trialled PRTG in over 600 IT departments.
The aim was to tune the network monitoring software closer to the needs of the administrators.
The result of the survey: over 95% of the participants would recommend PRTG - or already had.
Award winning solution
We work hard on making our software as powerful and easy-to-use
as possible for our customers each and every day.
Of course it makes us proud when we get awards for that.
PRTG is a comprehensive database monitoring tool
PRTG not only supports MySQL, but is also suitable for monitoring other database software. Preconfigured sensors are available for all the major database environments, including Microsoft SQL, Oracle SQL, and PostgreSQL. And our ADO SQL Sensor can be used with almost any other database system. This sensor will monitor any data source that is available via OLE DB or ODBC.
PAESSLER AG –
German Quality
Engineering
Made in Germany: The PRTG Network Monitoring Tool is the fruit of an engaged team. The company was founded by Dirk Paessler. PAESSLER AG's headquarters are located in the city of Nuremberg, in the heart of Germany. We combine typical German virtues such as high quality standards, industriousness, and commitment with international, cosmopolitan flair. Read more about our firm here. By the way: We are regularly looking for new recruits.
Case Studies: Airports, utility companies, banks, colleges, hospitals: PRTG is present in every industry. For each of our customers, business and organizational processes depend on the proper functioning of the network infrastructure. PRTG's customer satisfaction is close to 100%. Read in our case studies how our customers use PRTG.
Product tests: It goes without saying that we are convinced by the quality of PRTG. But what about the others? PRTG has always performed extremely well in tests. PRTG user "LanLine" sums it up best: "PRTG was already good several years ago, and has gotten better from version to version ever since." Such has been our steadfast and sincere goal. Read more about monitoring software product tests and comparisons here.
Support: Our support team works hard every day to help customers solve their monitoring problems. Our goal is to resolve all inquiries within 24 hours (on business days). We've drafted a comprehensive manual and built up an extensive knowledge base featuring videos, webinars, and FAQs. All support, of course, is also included!
Getting started is easy: The trial version is free, which means you can try our monitoring tool risk-free. To switch to another version of PRTG, simply search for an appropriate license. You can upgrade any time you like.
PRTG

Network Monitoring Software - Version 17.4.36.3595 (December 12th, 2017)

Hosting

Download for Windows and cloud version (PRTG in the cloud) available

Languages

English, German, Spanish, French, Portuguese, Dutch, Russian, Japanese, and Simplified Chinese

Pricing

Up to 100 sensors for free (Price List)

Unified Monitoring

Network devices, bandwidth, servers, applications, virtual environments, remote systems, IoT, and more...

Supported Vendors & Applications


More >>