PRTG Network Monitor:
The perfect alternative
to SolarWinds
All-in-one monitoring instead of a complex combination of tools
PRTG is user-friendly and intuitive
Quick setup and minimal hardware and software requirements
PRTG is your all-in-one network monitoring tool
PRTG incorporates all your network monitoring necessities into one simple tool. As a result, you won't have to purchase any upgrades to acquire individual functions. SolarWinds, on the other hand, is built modularly, which means you must buy a separate pack to benefit from certain features (such as Flow monitoring).
Transparent licensing
and fair prices

Full range of functions with every license
The purchase price of PRTG depends on the number of sensors you will need for your monitoring. Each version comes with the full range of PRTG functions and features. Server monitoring, VoIP monitoring, bandwidth monitoring including flow for top talkers and top protocols are all included at no extra charge, thus saving you the agony of trying to decide if certain functions are worth the extra money.

Save big with PRTG
Since many of the features of SolarWinds are only available at an additional charge, it's often extremely difficult to come up with just the right software bundle. If certain requirements change and the sysadmin must perform new tasks, the company usually has to purchase a new module. With PRTG, you will never face this problem. Every PRTG license contains all the tool's functions. Our prices are more than fair and easier to fit into your budget than the costs for SolarWinds monitoring software, which can quickly run into the tens of thousands.
The Doosan Group, for example, saved $ 30,000 by using PRTG instead of SolarWinds.
Read the full case study here.
Hardware and software

Minimal hardware and software requirements
To install PRTG, you only need one computer to act as a server. We recommend installing the PRTG Core Server on a computer that is no more than two years old and equipped with Windows Server version 2012 R2 or higher. SolarWinds can only be used with a SQL server. This results in additional costs, as well as more time spent on the software configuration. PRTG uses its own database, which has been specially designed to meet the demands of network monitoring. Internal tests have shown that the PRTG database is much faster than SQL.

A slick alternative: The hosted version of PRTG
The hosted version of PRTG comes with even fewer requirements. The tool is hosted by us, and can be accessed around the clock from anywhere in the world via the Internet.
PRTG is user-friendly
and intuitive
Network monitoring should be quick and easy. Cumbersome and complicated software creates unnecessary work for the administrator. Our goal is therefore to make PRTG as user-friendly as possible. If our customer feedback is any indication,
then we are very close to meeting this objective. Independent tests also continually emphasize the user-friendliness of PRTG.
When compared to other network monitoring software such as SolarWinds, PRTG always rates as the most intuitive and
easiest-to-use tool.
An introduction to network monitoring with PRTG
A few facts to demonstrate the user-friendliness
of PRTG:
Installation usually takes less than 10 minutes
The Auto Discovery and Smart Setup features make PRTG extremely easy to configure
Custom dashboards are created in no time at all
The PRTG interface is fast and easy to use
A constant overview of your network
– even while on the go
PRTG can be started within minutes and it's compatible with many mobile devices.


PRTG monitors these vendors and applications, and more, in one view!
PRTG comes with expert technical support
By purchasing a PRTG license, you also get unlimited technical support. If you have a problem or question, our technical support department will respond within one business day. You'll be offered a solution that addresses your own particular situation, and can therefore forgo having to spend hours browsing through online forums. PRTG saves you both time and worry!
PRTG simplifies your day
Our monitoring software works for you and promptly notifies you of potential issues.
It frees you to concentrate on your day-to-day tasks with peace of mind.

PRTG saves time
With PRTG, you get one central monitoring tool for your servers and entire network. Enjoy a quick overview of your whole infrastructure via our dashboard and app.

PRTG saves worry
Customizing PRTG is a breeze. Getting started or switching from another network monitoring tool is easy thanks to the PRTG auto-discovery and pre-configured device templates.

PRTG saves money
80% of our customers report substantial or even exceptional cost savings in the area of network monitoring. The experience shows that the costs for licenses have paid for themselves within a matter of weeks.
Unlimited version of PRTG for 30 days
After 30 days, PRTG reverts to a free version
Or, you can upgrade to a paid license anytime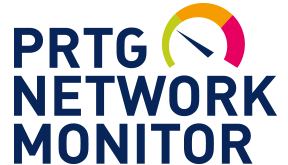 Notification system –
be alerted instantly

Flexible
PRTG features a variety of alert types: E-mail, Pager, Apps, running an external application, etc. You can specify when and how each person is to be informed about network issues. To do so, you can add contacts and edit, delete, or pause your notifications at any time.

Integrated
The notification system is built into the hosted monitoring software and is available at no extra charge. Because of its integrated quality, configuring the alert feature is done in just a few clicks.

Proactive
PRTG won't wait to let you know if your "network is on fire." You define your own thresholds. If these are crossed, you'll receive a corresponding notification. This means you can intervene promptly before clients or coworkers are aware of any problems.
Award winning solution
We work hard on making our software as powerful and easy-to-use
as possible for our customers each and every day.
Of course it makes us proud when we get awards for that.

PAESSLER AG –
German quality
engineering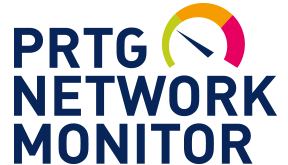 Free Download
Unlimited version of PRTG for 30 days
After 30 days, PRTG reverts to a free version
Or, you can upgrade to a paid license anytime
Most administrators want to test a tool for free before deciding to make an investment.
The many advantages of PRTG:
1. Free trial version: Take the time to explore PRTG so you can determine if it satisfies your needs and meets your expectations. Once the trial is over, it's easy to upgrade your already configured version of PRTG, which means you're much less likely to make an incorrect purchase.
2. One tool, one overview: Administrators often use a variety of monitoring solutions for their network or for the individual components of their infrastructure. But using several different tools every time you want to create an overview costs time and energy. PRTG is an "all-in-one" solution. Our dashboard and app provide a comprehensive overview, whenever you want it.
3. Quick customer support: Got a question? Stuck on a problem and need a hand? PRTG is backed by a dedicated development and support team. We do our utmost to answer every customer inquiry within 24 hours (on business days). Browse all our support topics here.
Configure your PRTG today. The trial version is free of charge. Save time, worry, and money with our monitoring tool designed for your network and entire infrastructure.
PRTG

Network Monitoring Software - Version 18.4.47.1962 (December 11th, 2018)

Hosting

Download for Windows and hosted version available

Languages

English, German, Spanish, French, Portuguese, Dutch, Russian, Japanese, and Simplified Chinese

Pricing

Up to 100 sensors for free (Price List)

Unified Monitoring

Network devices, bandwidth, servers, applications, virtual environments, remote systems, IoT, and more...

Supported Vendors & Applications


More >>