PRTG: More than just
an alternative to ManageEngine
All-in-one network monitoring solution
User-friendly with easy-to-understand displays
Monitoring of distributed networks
Quick and efficient Tier 1 support
An all-inclusive tool that eliminates the need to select modules

PRTG comes with the whole kit and caboodle
PRTG is an all-in-one tool. It includes all the functions you'll need for comprehensive network monitoring. And when it comes to costs, PRTG licenses are both fair and transparent. With ManageEngine OpManager, you're stuck with the cumbersome task of selecting modules. And if you need an upgrade, you'll have to pay for it. With PRTG, you simply choose the license that best suits the size of your network and the number of things you wish to monitor.
If you decide on OpManager, you'll have to think about exactly which functions are worth the extra cost before you go through with the purchase.

Monitoring that doesn't break the bank
Despite its comprehensive range of features, PRTG is extremely affordable. When you put together a software package with ManageEngine OpManager, the purchase price can quickly go through the roof. And this price will, of course, have to be approved beforehand by your higher-ups.
Many of our customers have enjoyed significant savings by switching from ManageEngine OpManager to PRTG.
You too are sure to find that PRTG quickly pays dividends. Over the long run, our network monitoring tool saves you a great deal of time and money. In fact, a PRTG license usually pays for itself in an average of only 3 and 1/2 months.
PRTG makes it easy to monitor distributed networks

As companies often operate from numerous locations, monitoring its networks can be something of a challenge. With most monitoring tools such as ManageEngine OpManager, several licenses and add-ons are required to perform this monitoring. With PRTG, the monitoring of distributed networks is easy thanks to remote probes.

Scenario 1: Monitoring several locations from one central IT environment
PRTG remote probes make it easy to monitor distributed networks.
Simply install the PRTG Core Server in your main network. Remote probes will gather your monitoring data and send this data back to the Core Server for analysis. These probes can be in the same network or in different locations. The only requirement is that they be able to communicate uninterruptedly with the Core Server via the Internet.

Scenario 2: Monitoring customers as an MSP
With a PRTG license, you can also offer monitoring services to your customers. PRTG lets you monitor the networks of several customers, and thereby provide maximum security at minimal cost.
A comprehensive role and rights management system allows you to decide which parts of the monitoring they can access.
PRTG is intuitive and user-friendly
As a sysadmin, you'll save the most time when your monitoring software is easy to configure and operate.
With PRTG, sensors and evaluation parameters can be added with just a few clicks. Thanks to automated searches and easy-to-understand setup instructions, PRTG is ready to use in no time at all. Graphs such as the "Sunburst View" let you determine the status of your network at a glance.
Not only do our customers find our tool to be extremely user-friendly and intuitive, but independent tests also demonstrate the outstanding usability of PRTG. Compared to other monitoring tools such as ManageEngine OpManager, PRTG always ranks as the most user-friendly software.
An introduction to network monitoring with PRTG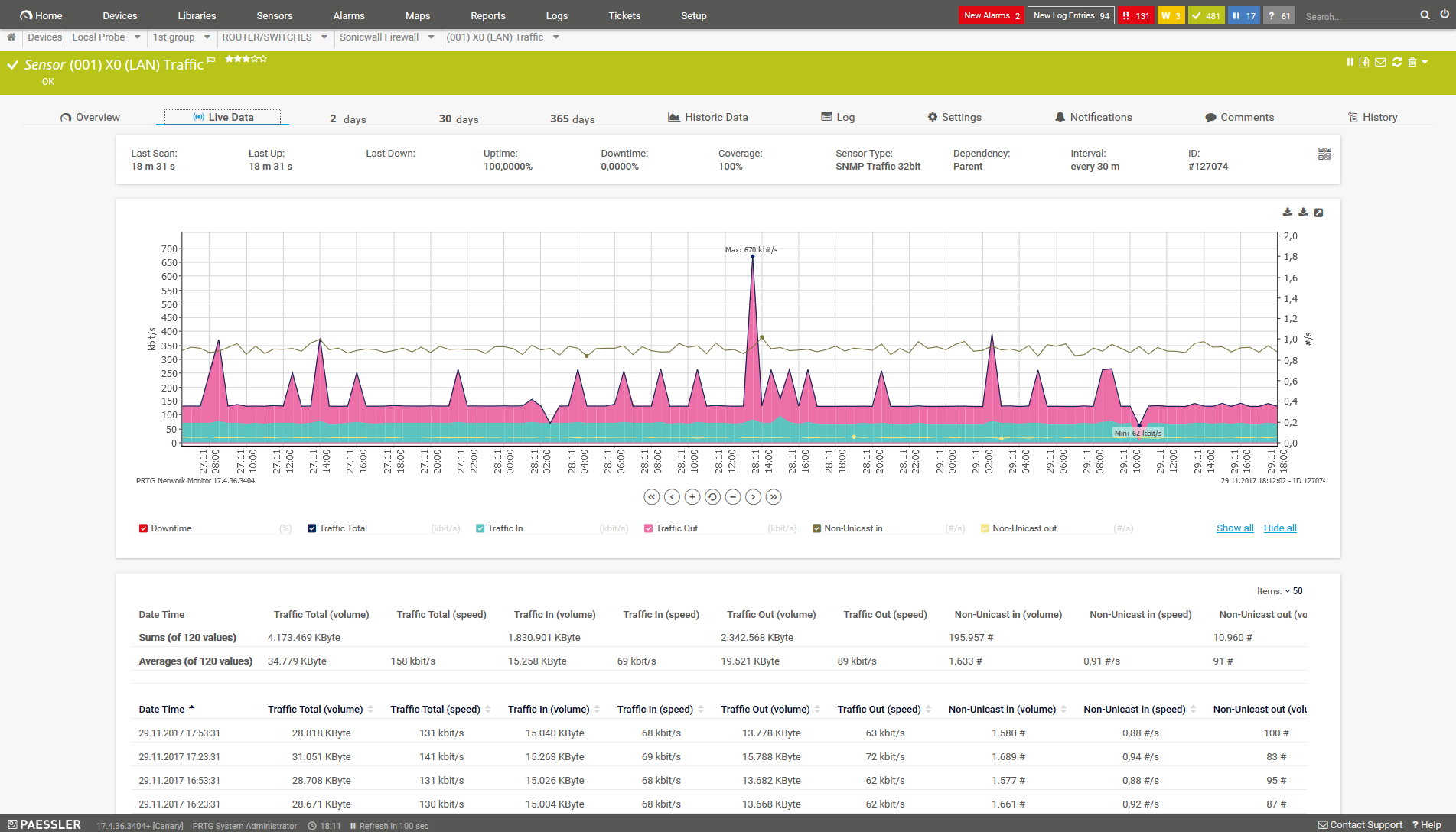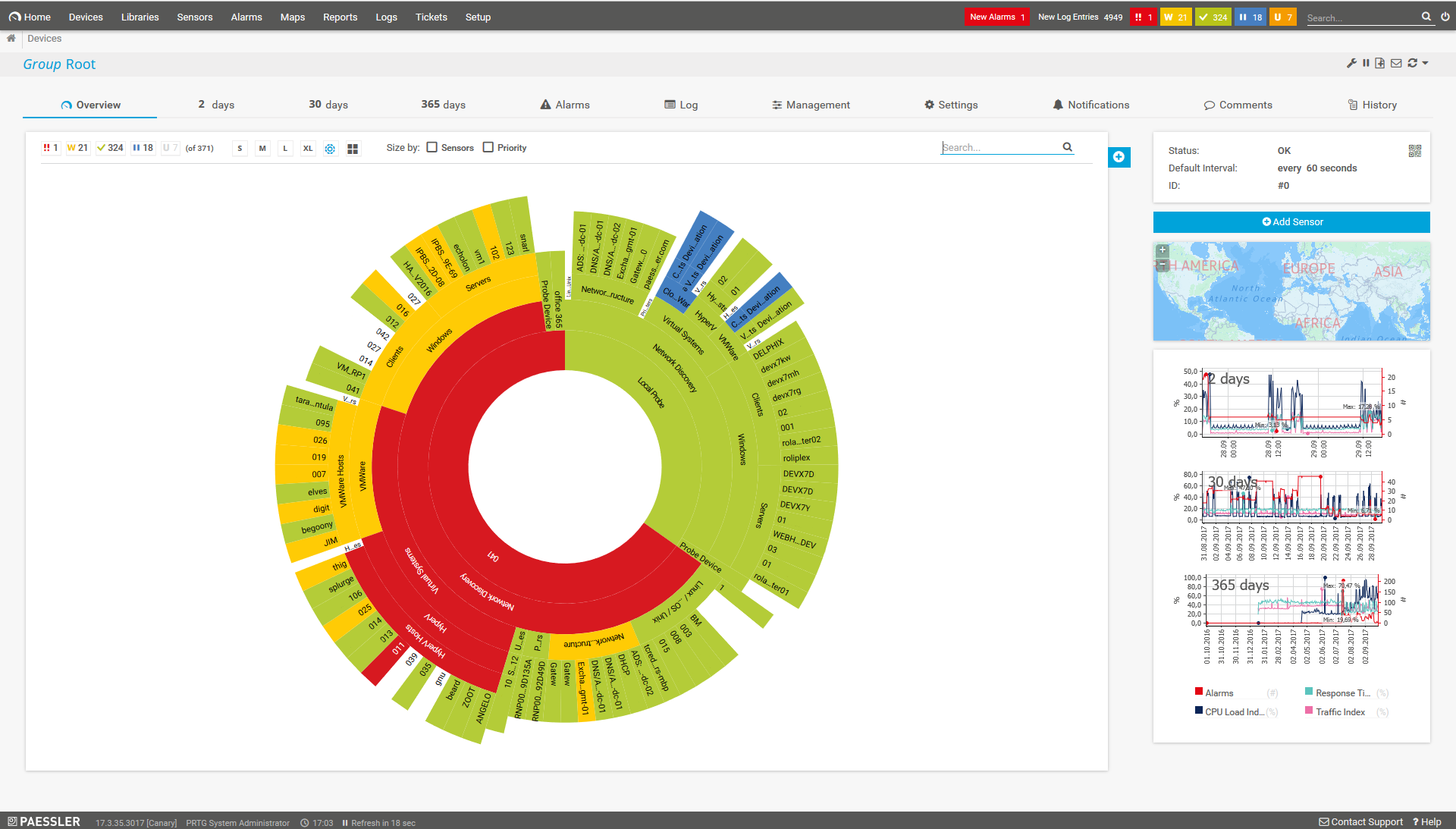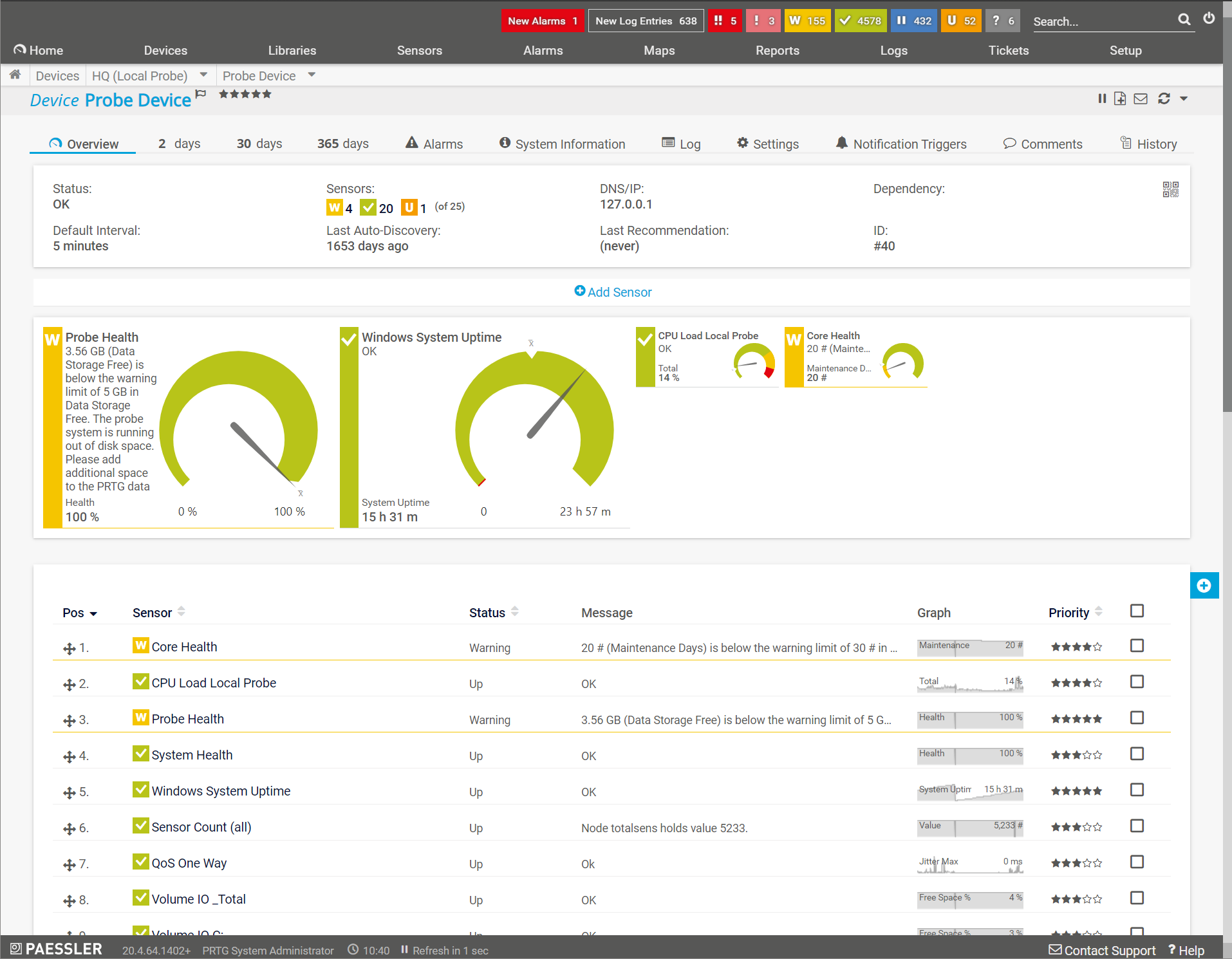 PRTG simplifies your day
Our monitoring software works for you and promptly notifies you of potential issues.
It frees you to concentrate on your day-to-day tasks with peace of mind.

PRTG saves time
With PRTG, you get one central monitoring tool for your servers and entire network. Enjoy a quick overview of your whole infrastructure via our dashboard and app.

PRTG saves worry
Customizing PRTG is a breeze. Getting started or switching from another network monitoring tool is easy thanks to the PRTG auto-discovery and pre-configured device templates.

PRTG saves money
80% of our customers report substantial or even exceptional cost savings in the area of network monitoring. The experience shows that the costs for licenses have paid for themselves within a matter of weeks.
200,000 system administrators worldwide
trust our software. Every day.
We have compiled some reviews for you.
Unlimited version of PRTG for 30 days
After 30 days, PRTG reverts to a free version
Or, you can upgrade to a paid license anytime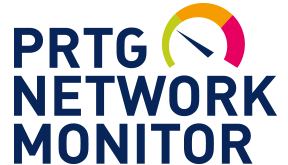 A constant overview of your network –
even while on the go
PRTG can be started within minutes and it's compatible with many mobile devices.


PRTG monitors these vendors and applications, and more, in one view!
Efficient Tier 1 support and extensive technical assistance on our website
You can find the answers to many of your questions already in our how-to guides, manual, knowledge base, and video tutorials.
PRTG licenses come with comprehensive technical support. The price of a PRTG license includes free maintenance and support for one year, multi-year maintenance (24 or 36 months) is subject to a fee.
If you'd rather call our technical helpline, we'll be happy to help. At Paessler, we place great importance on providing efficient Tier 1 support. As a result, your inquiries are usually answered by our software experts within 24 hours on business days.
Notification System
Responsive alerts

Flexible
PRTG features a variety of memory alerts: E-mail, SMS, Pager, Apps, running an external application, etc. You can specify when and how each person is to be informed. To do so, you can add contacts and edit, delete, or pause your notifications at any time.

Integrated
The notification system is built into our firewall monitoring software. There are no additional costs.
And because the alarm feature is integrated, it only takes a few clicks to set it up.

Prompt
PRTG won't wait until the firewall is "on fire" before notifying you. You set your own threshold values. If these are exceeded, you'll be informed accordingly.
You can therefore intervene quickly, before employees and customers notice something is wrong.
Award winning solution
We work hard on making our software as powerful and easy-to-use
as possible for our customers each and every day.
Of course it makes us proud when we get awards for that.

PAESSLER AG –
German quality
engineering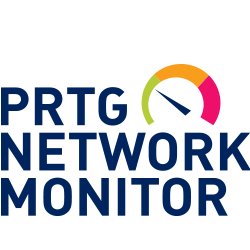 Free Download
Unlimited version of PRTG for 30 days
After 30 days, PRTG reverts to a free version
Or, you can upgrade to a paid license anytime
Most administrators want to test a tool for free before deciding to make an investment.
The many advantages of PRTG:
1. Free trial version: Take the time to explore PRTG so you can determine if it satisfies your needs and meets your expectations. Once the trial is over, it's easy to upgrade your already configured version of PRTG, which means you're much less likely to make an incorrect purchase.
2. One tool, one overview: Administrators often use a variety of monitoring solutions for their network or for the individual components of their infrastructure. But using several different tools every time you want to create an overview costs time and energy. PRTG is an "all-in-one" solution. Our dashboard and app provide a comprehensive overview, whenever you want it.
3. Quick customer support: Got a question? Stuck on a problem and need a hand? PRTG is backed by a dedicated development and support team. We do our utmost to answer every customer inquiry within 24 hours (on business days). Browse all our support topics here.
Configure your PRTG today. The trial version is free of charge. Save time, worry, and money with our monitoring tool designed for your network and entire infrastructure.
PRTG

Network Monitoring Software - Version 19.3.51.2830 (September 10th, 2019)

Hosting

Download for Windows and hosted version available

Languages

English, German, Spanish, French, Portuguese, Dutch, Russian, Japanese, and Simplified Chinese

Pricing

Up to 100 sensors for free (Price List)

Unified Monitoring

Network devices, bandwidth, servers, applications, virtual environments, remote systems, IoT, and more

Supported Vendors & Applications


More