Airport operator relies on professional network monitoring software Paessler PRTG
About Flughafen Münster-Osnabrück (Münster-Osnabrück Airport)
Flughafen Münster-Osnabrück (FMO) officially opened its doors in May of 1972. In its first year of operation, the airport welcomed 25,000 passengers. In 2011, more than 1.3 million travelers passed through FMO. The airport is located directly at Germany's A1 and A30 freeways, making it a hub for western Lower Saxony, North Rhine-Westphalia, and the eastern Netherlands. A total of 5,000 people are employed by the FMO Group, with 1,600 working at the airport itself. The airport offers flights (including low-cost flights) to a variety of different destinations. Passengers also use FMO to reach major airports (such as Frankfurt and Munich), where they can transfer to any number of international destinations. FMO offers several non-stop flights per day to more than 20 destinations in Europe.
100 planes take off and land at the airport every day. It is one of 19 international commercial airports in Germany and serves a significant catchment area of around seven million people. With 40 check-in counters, 20 gates, and 398 flight connections per week, maintaining an overview is essential. In addition, the cargo area handles 14,000 tons of freight per year. In 2011 alone, FMO welcomed more than 1.3 million passengers.
Not surprisingly, a well-oiled IT infrastructure is absolutely vital for ensuring check-ins, baggage handling, and many other airport processes run smoothly. Several years ago, the airport's IT team installed network monitoring software to provide admins with an overview of this infrastructure. This software gradually became outdated, prompting the managers to begin to look for an alternative in line with today's needs and requirements. They decided to go with PRTG Network Monitor, a monitoring tool developed by Paessler AG.
"You need in-depth experience with PRTG to set up and configure the software quickly. At P&W, we have this experience.Nevertheless, even without such experience, PRTG is extremely easy to use, making its setup (as well as the creation of sensors) both quick and intuitive for one's own individual needs. In addition to the installation, we're also responsible for providing Level 1 support to the FMO team, but so far this hasn't really been necessary."
Ulrich Puschmann, Managing Director of P&W Netzwerk GmbH & Co. KG
Outdated monitoring

FMO previously used the SNMPc 7 network management system to keep an eye on its IT. This tool made it possible to visualize, monitor, and manage the network infrastructure. In addition, the IT team used Microsoft Operations Manager (MOM), an end-to-end service management tool that monitored the performance of the network environment while reporting and analyzing events. However, as the number of passengers grew at the airport, so did the network infrastructure – and its corresponding monitoring requirements. In addition, both tools were about to be discontinued, greatly undermining future prospects in terms of manufacturer support and availability. For those in charge, it was clear: with the tools now obsolete, the IT team risked overlooking failures and malfunctions in the future, which was an unacceptable source of danger for the airport group.
PRTG: Outstanding price-performance ratio
The IT team at FMO GmbH quickly began to look for alternatives. During their search, they were aided by the IT system specialists P&W Netzwerk from Haltern, Germany. P&W suggested the company try the monitoring tool PRTG. After a lengthy trial, FMO was convinced by the software's price-performance ratio (among other things). They also enjoyed the quick and easy setup of PRTG in the existing system, as well as the fact that no further maintenance of the system was needed.
4,300+ sensors installed
FMO's IT team worked closely with the experts from P&W beforehand to make sure all the technical requirements were fulfilled. This allowed the P&W team to benefit from the best possible conditions while installing PRTG, which they were able to do in a single day during regular airport operations.
Since then, PRTG has been used to monitor the airport's entire network, including its Cisco and VMware products, Windows servers, video systems, and bandwidth. A total of 4,350 sensors were set up for this purpose, including sensors for hard drives, Windows services, IP cameras, and network cards and printers. FMO's IT team currently runs PRTG on a VMware machine. In order to be best equipped for the long term, FMO decided upon a PRTG license with a sufficient number of sensors for the coming years. The FMO managers were especially pleased with the scalability of the Paessler tool, as well as the software's compatibility with VMware and DataCore.
When it came to consulting, the FMO team also felt they were in good hands with P&W Netzwerk thanks to the latter's extensive experience with PRTG. Finally, an exclusive Paessler podcast that clearly covers the tool's technical requirements and features was decisive to the FMO's decision to go with PRTG.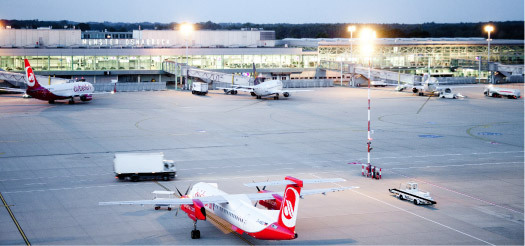 A constant eye on critical areas in the system
PRTG provides for a comprehensive overview of all the FMO's important processes, machines, and activities. If a malfunction or failure occurs, the monitoring tool immediately notifies the respective admin by SMS and email. Thanks to these prompt alarms, the IT team can quickly get down to troubleshooting, saving the airport both precious time and (hardware) resources. PRTG also sounds the alarm when disk utilization reaches or exceeds a specified threshold limit, and when bottlenecks have impacted the bandwidth.
In the future, the airport's network team would like to expand its knowledge of PRTG, as it currently believes it is only making use of a small part of the monitoring tool's capabilities. The team would also like to make a technical change: currently, PRTG is still running on a VMware virtual machine. In light of the team's desire to expand its monitoring, the software will be moved to one of its own servers to allow for sufficient capacities in the future.
Conclusion

Thanks to professional consulting and in-depth information on network monitoring, Flughafen Münster-Osnabrück (FMO) was able to quickly find a solution that met its monitoring and evaluation needs. Since then, PRTG provides for seamless, round-the-clock monitoring of business-critical processes, as well as prompt alerts to allow the IT team to take action at once. This minimizes the risk of malfunctions and failures.
"The overall investment for the future-proof migration to PRTG will pay off quickly given the software's extremely reliable monitoring, as well as its wide range of features including the prompt alarm function," asserts Willi Fremann, Head of Network and Communications Technology, Flughafen Münster Osnabrück GmbH. "PRTG provides for comprehensive monitoring that gives us precise insight into our network and infrastructure, thereby keeping the risk of potentially costly crashes and other failures to a minimum. We're particularly fond of its web-based client access, which allows for access via any computer in the network. Its notification system, which allows for alerts to be sent by email, SMS, and other methods, is also extremely practical as it always keeps us on the IT team in the know – whether we're sitting behind our computers or walking around the grounds with our phones." Among other things, FMO's IT team also benefits from the Windows-based server system and domain and RADIUS integration.
About P&W Netzwerk
P&W Netzwerk GmbH & Co. KG is an IT systems service provider based in Haltern am See, Germany. The company specializes in network troubleshooting and advises its customers on all aspects of hardware and software for network analysis, as well as IT management and security. In addition to helping with the choice and preliminary planning of appropriate software, the company also assists customers with the implementation (via installation and training) of the tools. P&W offers workshops and seminars on IT from a variety of different manufacturers.

Get to know more happy PRTG customers