Green Olive Tree uses Paessler PRTG to punch above its weight and keep clients online
About Green Olive Tree
Navy veteran Jon Berry founded Green Olive Tree nearly 20 years ago as a website hosting company after managing servers at US Naval nuclear power plants during his time in the Navy. Shortly after the company began, it quickly shifted to offering managed services focused on server support to address the changing needs of its customers.
Today, Green Olive Tree uses Paessler PRTG Network Monitor to manage 400 servers for over 200 companies, ranging from small businesses such as law firms and car dealerships that may not have in-house IT support to maintain and monitor servers to small internet hosting companies and industrial supply companies.
For Green Olive Tree founder Jon Berry, the decision to use PRTG to monitor his clients' servers is a no-brainer. Over the course of the 18 years he has managed his clients' servers, PRTG is the only monitoring software that gives him the flexibility he needs for each of their unique situations.
Of new clients that come on board, 75% have had slow-running servers that crash and cause their business operations to stall. By using PRTG, Green Olive Tree identifies and remedies these issues to return the servers to running at a much higher standard in a very short period of time.

"Often when we onboard a new client with a problem, it quickly becomes evident that they need something different than what they have. We start managing the existing infrastructure to determine bottlenecks. Sometimes it is CPU, I/O or code-based problems. By using PRTG, we can save them from making bad decisions, saving headaches, time and money."
Jon Berry, President and Owner, Green Olive Tree
Overview: What Green Olive Tree uses PRTG for
Create monthly recurring revenue streams through consultative managed services
Keep customers' eCommerce websites online and transactional by:
Detecting and mitigating website attacks
Detecting pending Windows updates on Linux servers
Resolving load spikes and load/page load time issues
Prevent email hacks that can lead to blacklisting
Creativity is born out of need
Green Olive Tree monitors its clients Linux servers to ensure that internet-based services, like web, email, and database services are all functioning as they should be. This includes monitoring Ports 80 and 443 and MYSQL database availability with the built-in sensors that come with PRTG.
One of Green Olive Tree's eCommerce customers' Linux server was experiencing odd I/O errors. The hard drive dropped to a read-only mode, which meant no data could be saved and no orders could be taken, limiting the client's ability to serve its customers and generate revenue. They wrote a script for PRTG to notify them if a file system dropped into read-only mode.
"We've been able to use PRTG in creative ways. With this client, we developed custom scripts and sensors that were deployed across the infrastructure to detect and diagnose problems before they stopped our client from being able to do business online," said Berry.
While they wrote the script for this client, they were able to deploy it to other clients, creating new opportunities to grow revenue and build trust.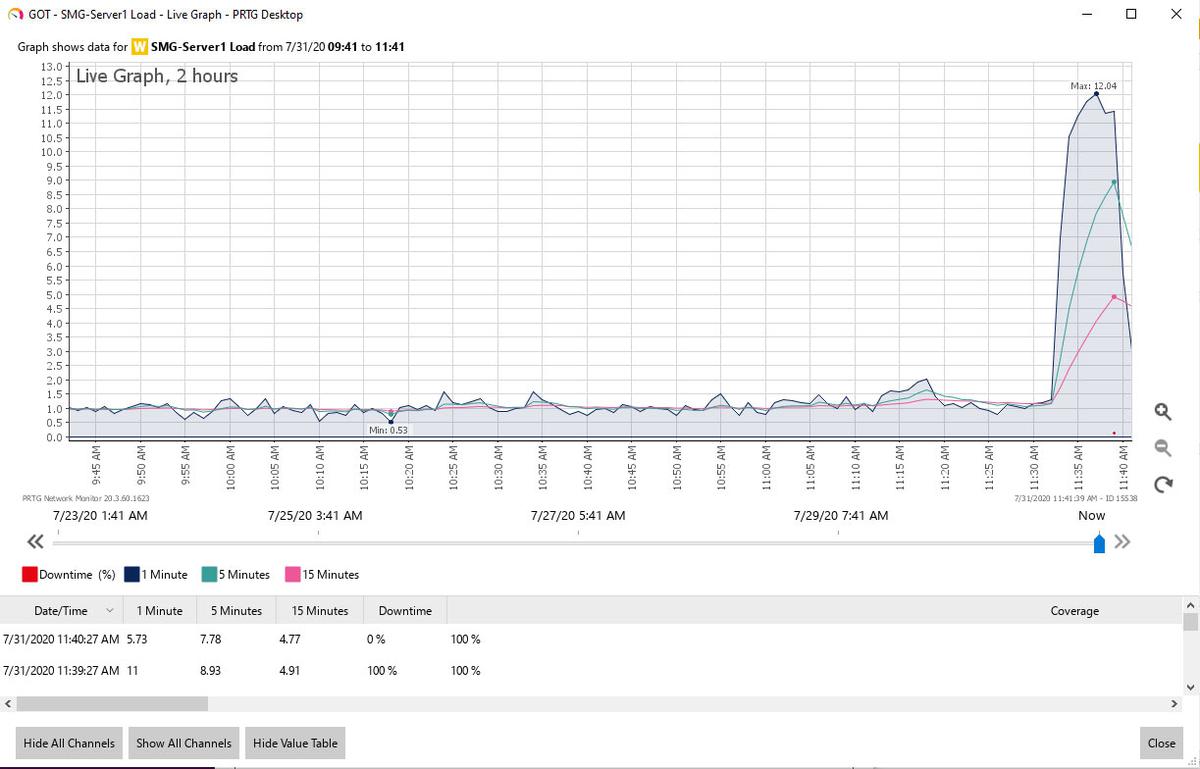 In the beginning of a DDOS attack on another clients' website, PRTG immediately alerted Berry. This gave him to opportunity to mitigate the attack before the server crashed and the website was taken offline.
One of Green Olive Tree's new customers' servers were crashing due to major load spikes that were between 40-50 when it should have been less than one. Berry used PRTG to find the quickest and best way to mitigate the problem. "You have to catch load spikes in the act to understand what is happening. I could identify the problem on my PRTG dashboard and fix it before it caused a major issue," said Berry.
Crisis averted from foreign cyberattacks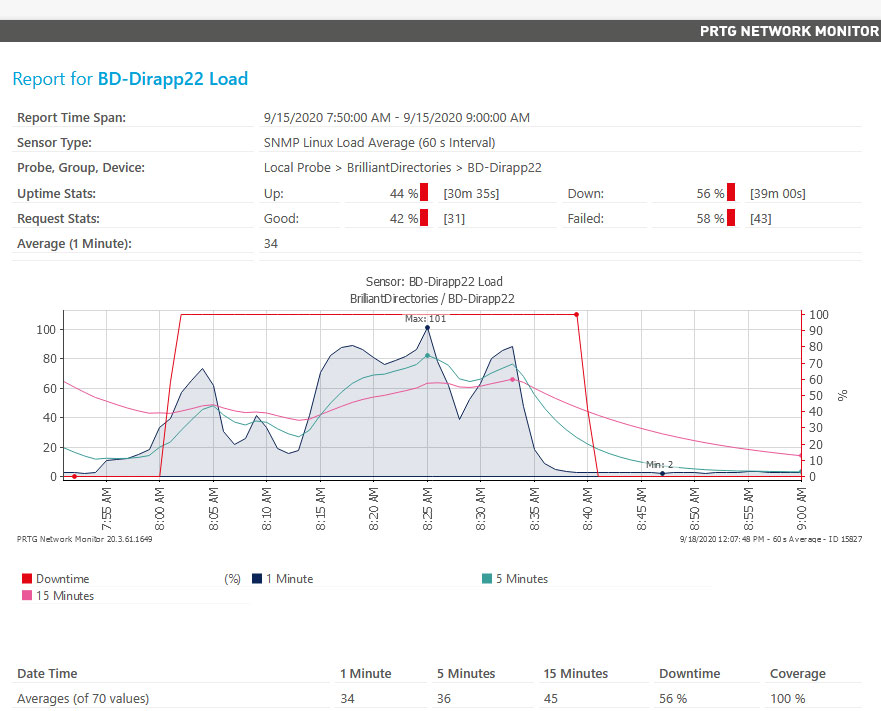 When PRTG alerted Green Olive Tree that a client's server had a high server load, they quickly analyzed the situation and found load coming from Apache and MYSQL.
They determined that there were far more Apache processes than expected and MYSQL queries were backing up and conducted an analysis on incoming network traffic and found one IP making an unacceptable number of connections to one site. After a WHOIS search on the IP revealed the site was a foreign IP, Green Olive Tree blocked it in the firewall and the load immediately dropped back to normal.
Berry cites PRTG's number one benefit to his business is being able to offer peace of mind to his customers. "This is possible because we use PRTG. It alerts us of impending problems before they cause our clients business interruptions, which allows us to present Green Olive Tree in the best possible light."
The right tools save money and time while improving performance
Intermittent website performance issues were stumping a potential Green Olive Tree client. Since they were happening at random times, the client could not pin down a trigger event. Green Olive Tree sold them a management package to place their current
infrastructure in PRTG to capture current performance benchmarks using load and full-page load sensors to alert them when webpages started to not fully load or if the server load started spiking. After assessing the data captured by PRTG, Green Olive Tree found a server with 256 GB RAM but with regular spindle drives, which was a suggestion from the client's incumbent provider to improve performance.
Within a day, Green Olive Tree received server load and page load times alerts. They quickly determined that MYSQL had multiple backed up MYSQL queries that took five-plus seconds to execute due to poorly optimized indexes. The server had four times more RAM than was needed.
Once Green Olive Tree provided the needed optimizations to the client's developers, they reduced the amount of RAM in the server by 75%, saving the client 25% in monthly infrastructure costs. After more time collecting data on traffic and resource usage through PRTG, Green Olive Tree moved this client to a new structure, saving them an additional 15% in overall costs for a total annualized savings of $8,000 per year.
Conclusion


When asked what business would be like if he did not use PRTG, Berry says, "It would be a nightmare. Servers would go down and I wouldn't know it. With PRTG, I can reboot and get a server back online before a client even realizes there could be an issue. I don't want them calling me first. If you don't have monitoring, it can be a shot in the dark."
Berry has looked at other monitoring software programs over the years, but he always comes back to PRTG. "The capacity of how much PRTG can monitor is impressive. I don't need another product because I am invested in PRTG. It is a valuable asset for anyone." Green Olive Tree's client retention rate is 98%, which Berry credits to PRTG.
Get to know more happy PRTG customers