Abu Dhabi University ensures its IT network gets top marks with Paessler PRTG
About Abu Dhabi University
Abu Dhabi University is the largest private university in the UAE and is committed to becoming the institution of choice for students across all Emirates and more widely in the region.
With five colleges offering over 50 undergraduate and postgraduate programs, campuses in Abu Dhabi, Al Ain, Dubai and Al Dhafra Region, and multiple affiliations with globally renowned institutions, a UAE-wide, truly international quality education is guaranteed for all of our students.
Abu Dhabi University (ADU) is a world-class university in the UAE. Established in 2003, ADU is now the largest private university in the UAE, with four campuses offering more than 50 undergraduate and postgraduate programmes to over 7,500 students.
It is committed to providing an engaging learning environment, quality education, and qualifications that are respected worldwide. As such, it regularly features in the QS World University Rankings as a world-class establishment.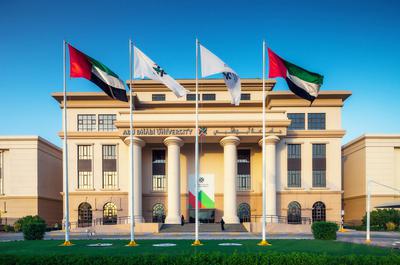 "Ensuring network uptime is critical to our learning delivery and daily business operation. PRTG analytics is a proactive approach to monitor our network resiliency. It enables the team to counter incidents before an interruption occurs thus keeping a continuous service uptime. We can identify and proactively solve network issues, often before users even notice there's an issue. It's helping me to deliver one of my key responsibilities - a positive user experience across the organisation. In the day-to-day life of a university, with students working hard on their studies, the network can't be something that holds them back."
Joseph Aninias, Director, Information Management & Technology, Abu Dhabi University
The challenge
In today's digital world, a reliable and fast network is a vital component of any organisation. As an educational institution, ADU students are highly dependent on access to the network to use the tools and applications they need to make the most of their studies, such as People Soft and Black Board Apps. This doesn't just apply during regular class hours but around the clock - studies don't stop just because class times are over.
With the organisation spread across four different campuses across the UAE, it could be challenging for IT staff to access insights into the university's complex network infrastructure. ADU realised it needed to have more visibility and control over its network in order to ensure better optimisation of the infrastructure and improved troubleshooting to minimise downtime.
Entering PRTG
It became clear that a solution was needed that would give the ten-strong IT team more insights into network performance. The team wanted to be able to track data from all different types of infrastructure equipment to look at how the network is operating and to monitor for potential issues that could lead to bigger problems resulting in downtime.
As a result, ADU turned to Paessler and implemented its PRTG Network Monitor, one of the world's leading IT monitoring solutions, to monitor a number of critical elements including WAN/LAN, routers, switches, firewalls, servers, and bandwidth.
The business benefits
To date, the main benefit of using PRTG has been to deliver a more proactive approach to network management. This has helped to keep network downtime to a minimum thereby ensuring a good quality user experience for students – the latter is an important KPI for ADU's IT team. It's able to use the PRTG solution in a number of ways to do this.
Firstly, PRTG allows ADU to review data and analysis into network equipment activity and use these insights to help improve capacity planning such as hardware management. This means it can see which equipment is present on the network, what is needed according to the day-to-day requirements and usage, what is obsolete and what is nearing end of life.
In addition, PRTG offers insights into unusual or unexpected behaviour of network assets which may indicate an issue. Once potential issues have been identified, these can be properly investigated and, where necessary addressed, often before users even realise there has been a problem.
Conclusion
This more proactive approach to the network and earlier problem resolution, has had a considerable impact on IT team resources. With PRTG undertaking the day-to-day monitoring, the IT team now has more time for strategic projects such as identity and access management, and enterprise-class disaster recovery solutions.
"The COVID-19 pandemic makes network monitoring even more crucial than before. Thanks to proactive monitoring with PRTG, we are able to assure service availability for our students so that they can carry on their studies from home without any breakdowns which would interrupt their learning," concludes Shabeer Mangattuparambil, Senior IMTS Manager.
Get to know more happy PRTG customers