Nobia gets a global view of their IT operations with Paessler PRTG
About Nobia
Nobia develops and sells kitchen solutions through a number of strong brands in Europe, including Magnet in the UK; HTH, Norema, Sigdal, Invita and Marbodal in Scandinavia; Petra and A la Carte in Finland; ewe, Intuo and FM in Austria as well as Bribus in the Netherlands.
Nobia generates profitability by combining economies of scale with attractive kitchen offerings. The Group has approximately 6,100 employees and net sales of about SEK 14 billion. The share is listed on Nasdaq, Stockholm under the ticker NOBI.
Like any business, Nobia can't afford for its corporate networks and infrastructure to go down – it's far too costly for the organisation. Yet, operating in multiple countries across Europe, it can be challenging to continuously have a clear view of how the corporate network and the company's data centres are running.
The last thing any IT team wants to hear is that users have been impacted, so it is critical to have insights into both high-level business processes, which directly impact users day-to-day, and underlying technology in order to identify potential problems before they become major issues, wherever they occur geographically.
As in any IT organisation, large or small, there is always a risk of getting bogged down with solving issues and firefighting. And yet, a key responsibility for any IT network and infrastructure team is to proactively review and improve the performance of each component and process used in such complex business support systems.
"We appreciate the flexibility of PRTG and how it grows together with the company, supporting our needs to also digitalize the factory floor and monitor not only standard IT infrastructure but also factory equipment."
Sandeep Rai, Network and Security Team Lead, Nobia AB
Enter PRTG
As a result, Nobia consolidated onto its existing Paessler PRTG Network Monitor, expanding its use, and benefiting from its ease of implementation. Today, the IT team has installed close to 10,000 PRTG sensors to monitor its global IT environment, including all core and access networking infrastructure.
Jonas added: "We needed a single pane of glass into our Europe-wide operations. We are glad that in PRTG we quickly found a solution which was easy to roll-out and manage."
The first real impact of using PRTG was being able to collect, and analyse data from different geographic locations. This gave the team a much better picture of how the network was performing outside of HQ and had an immediate impact on improving availability and performance.
The use of PRTG has also led to a much more proactive approach when it comes to the user experience. For instance, Nobia is using PRTG to monitor certificates within the environment for their validity and expiry, particularly important in systems which are not amenable to automated update processes. "Paessler puts us in a position to take a much more proactive approach to our IT operations, ensuring availability and uptime to keep our business properly supported," Sandeep said.
PRTG is also being used to monitor the availability of AWS. The associated infrastructure, including VPNs, are monitored centrally, flagging when connections are lost or if there is a failover on the firewalls. The result? More consistent connections for users.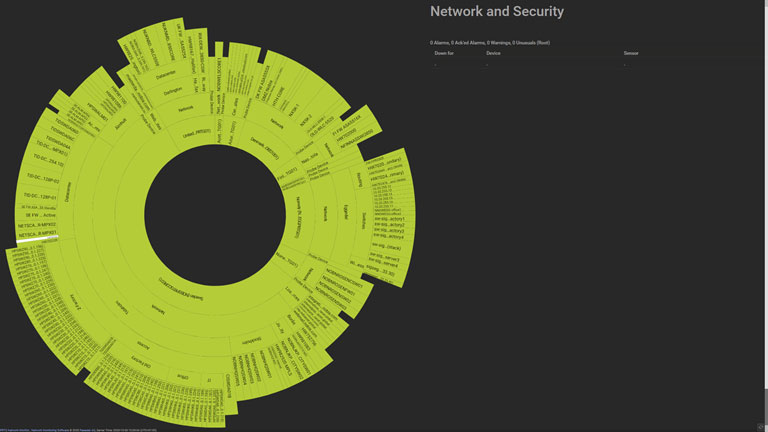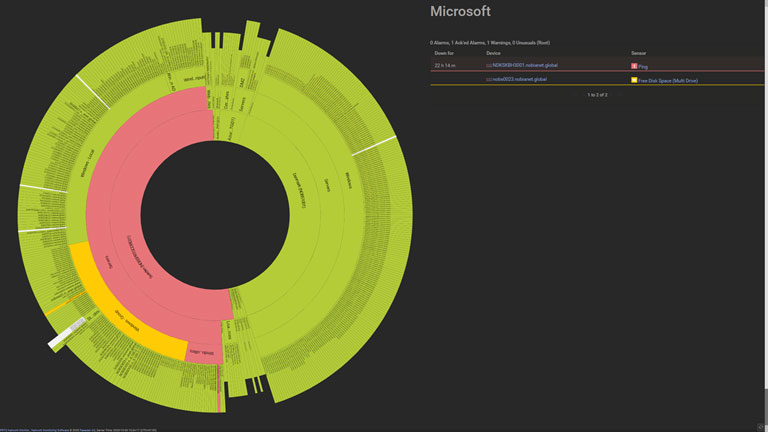 It also helped to troubleshoot network speed issues in one of Nobia's data centres by being able to monitor all the relevant hardware, which hadn't been possible before. PRTG gave them the ability to pick up bad data traffic patterns, which could be resolved, and to identify issues with CPU usage which had impacted the firewall.
PRTG has been used to monitor VPN capacity, particularly important as a business response to the challenges of COVID-19 resulted in unanticipated demand. The ability to delegate visibility to individuals outside the core network team was not easily achieved with the vendor tools. This allowed issues to be anticipated and avoided. This new facility was delivered within a couple of hours, something which would not have been possible with the other tools at hand.
The team at Nobia has also discovered some insights via PRTG that dedicated hardware management systems had not identified before. The UK part of the business uses Cisco servers to run all its virtual applications which are monitored by Cisco's own management system. Adding PRTG monitoring to the solution immediately highlighted that one of the blade servers was offline and had been for some time. As a result, the Nobia team was able to log a request to Cisco to resolve it and therefore avoided a potential system failure.
Conclusion
The IT team also appreciates the flexibility on how the alerts and notifications can be set up in PRTG in order to notify the right person via the right channel. "In addition to our standard channels, Microsoft Teams and SMS, we also created an integration between Cisco UCCX and PRTG. This enables PRTG to send a HTTP action via Cisco UCCX, which then calls the phone of the responsible person and actually reads the alert out loud to them," Sandeep explained.
"We appreciate the flexibility of PRTG and how it grows together with the company, supporting our needs to also digitalize the factory floor and monitor not only standard IT infrastructure but also factory equipment," Sandeep said.
Get to know more happy PRTG customers