SmartStep chooses Paessler PRTG as the centralized monitoring solution for its hybrid infrastructure
About SmartStep Consulting
SmartStep Consulting GmbH was founded in 2010 and currently has 35 employees. Based in Hamburg, Germany, the company provides specialized consulting to national and international pharmaceutical companies, as well as the manufacturers of medical devices. SmartStep employees are experts in the complex and highly regulated German and European healthcare market. As such, they are able to get the products of their clients on the market as quickly as possible.
The SmartStep Group includes Hygieneers Consulting, a company that specializes in hygiene consulting, and Data Institute GmbH, a company founded by Dr. Timm Volmer that goes beyond traditional healthcare consulting. At Data Institute GmbH, employees perform research and prepare secondary data for the healthcare sector.
SmartStep is a modern consulting firm from Hamburg that operates in the pharmaceutical and medical technology industry. In particular, the company specializes in getting healthcare products on the market as quickly as possible. In this complex field of activity, days or even hours can make or break a product. IT issues can cause delays and losses of data. SmartStep needed a monitoring tool that could keep an eye on its IT network and make sure its business operations continually ran smoothly for its customers. After a comprehensive selection process, the company settled on PRTG Network Monitor from Paessler AG.
"PRTG from Paessler has exceeded all our expectations. We can now detect and respond to problems immediately. This not only saves us time, but also ensures our processes are not disrupted by technical issues."
Dr. Timm Volmer, CEO of SmartStep Consulting GmbH
When network monitoring becomes essential to business

When working with business-critical data, the IT infrastructure must be running dependably in the background. In addition to data analysis systems, the WLAN, the email service, and certain critical devices are also vital to everyday business. "Up until now, we had no way of viewing the status of our IT services. If a problem arose in our systems, it often took us hours to determine the source," explains Torben Weichaus, a consultant at SmartStep Consulting GmbH. "We therefore decided to invest in a monitoring tool to help us monitor our IT infrastructure. Today, we're immediately informed of anomalies in our IT landscape – before they become real problems. If a malfunction does occur, we can quickly identify the source and prevent lengthy periods of downtime."
When looking for a network monitoring solution, the company wanted a tool that could help optimize performance while monitoring both user components and the backend infrastructure. "PRTG from Paessler AG immediately caught our attention," explains CEO Dr. Timm Volmer. Above all, we were struck by the software's ease of use, smartphone app, and streamlined administration. But our decision was not just based on the technical aspects of the tool. We were also thrilled with the support we received from Paessler. They understood our monitoring requirements and made sure we received the practical know-how we needed."
Increased awareness of IT
Upon installing PRTG and generating the first map on the dashboard, Timm Volmer was amazed at how much IT was actually in use at his company. "Once I saw the map with all our IT services, I was absolutely convinced that we had found the right tool – and that no startup should do without such monitoring."
SmartStep's IT employees customize the PRTG dashboard in accordance with their processes and tasks to make their daily work more efficient. When doing so, they make use of the various PRTG user interfaces, such as the web interface, the smartphone app, and informational pages for users not on the IT team. These pages include maps that allow the respective users to keep an eye on the data under their responsibility. PRTG not only provides an overview of device and service statuses, but also increases awareness of IT among employees.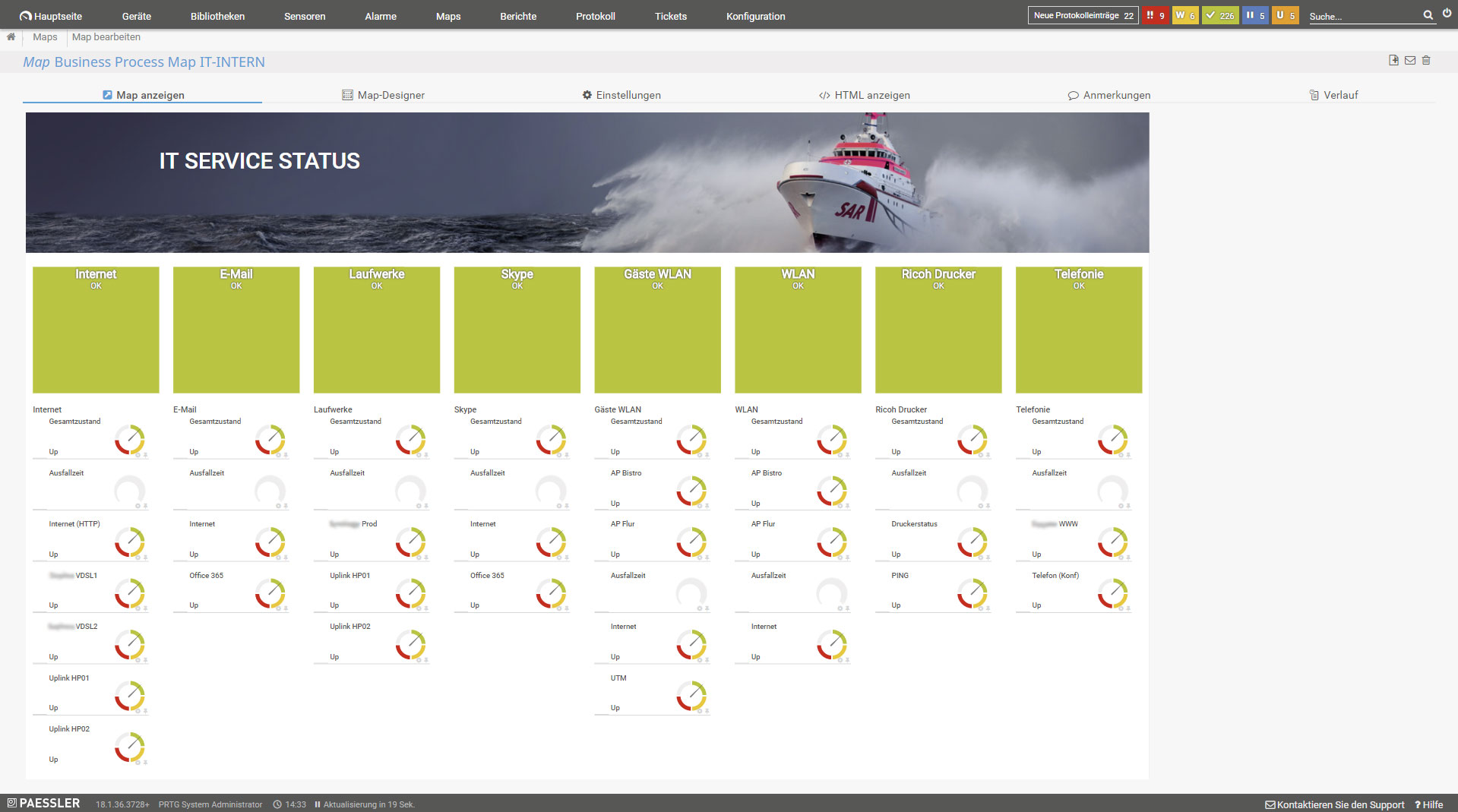 Scalable monitoring to meet future needs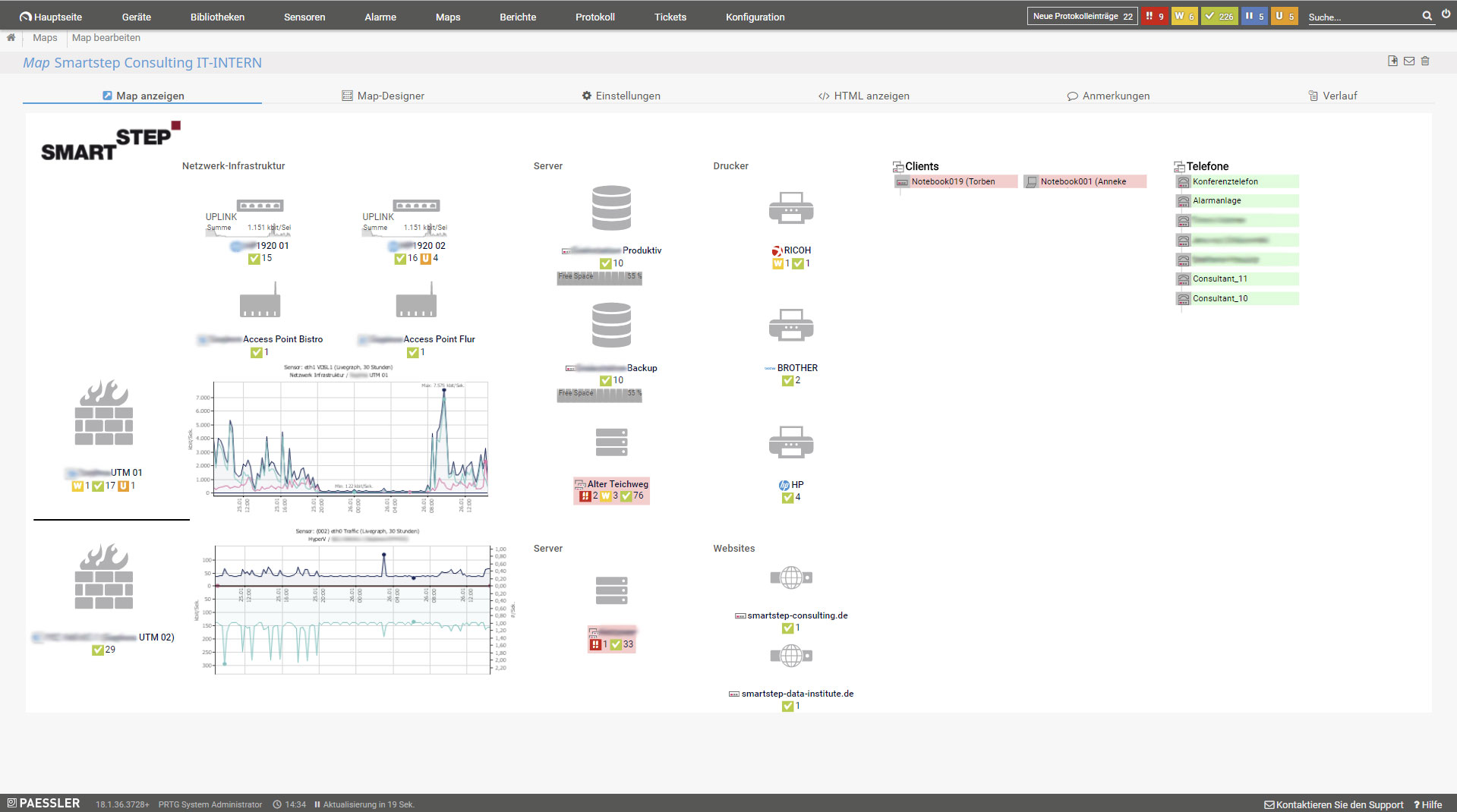 SmartStep uses a variety of preconfigured PRTG sensors to monitor one or more parameters of both the IT and non-IT components in its infrastructure. These sensors collect information on the status of applications, devices, and systems, and forward this data in real time to the central PRTG server. All data is neatly displayed on the PRTG web interface.
Currently, the company deploys around 350 SNMP, WMI, XML, HTTP, and business process sensors that continuously send information on the status of individual applications, devices, and systems to the main PRTG console. Thanks to PRTG, the Hamburg-based company can now monitor its hybrid infrastructure in real time, including its firewall, two Hyper-V servers, networks, and SaaS services such as MS Office 365. In-house components such as printers, hardware and software devices (clients), and phones are also extremely important. In addition to the functionality of individual systems, the IT manager also keeps an eye on the memory of the servers (and much more). "So far, the tool has had no trouble meeting all our monitoring requirements, and our PRTG instance continues to expand to accommodate the demands of our company. Among other things, we're thinking about monitoring backup jobs in the future," asserts Torben Weichaus.
In order to promptly identify errors, targeted threshold values are defined in advance for the individual sensors. If these thresholds are exceeded, PRTG sounds the alarm immediately. The corresponding warning message (including live data) is sent to the IT managers via SMS, push notification, or email.
Conclusion

PRTG has helped SmartStep develop and make its IT more secure. The all-in-one monitoring solution delivers important data that provides for a comprehensive overview of the company's hybrid infrastructure. "PRTG by Paessler has exceeded all our expectations," concludes Dr. Volmer, reflecting on the monitoring project. "We can now detect and respond to problems immediately. This not only saves us time, but also ensures our processes are not disrupted by technical issues."
Get to know more happy PRTG customers