Weisser relies on monitoring with Paessler PRTG in their Industry 4.0 concept
About Weisser Spulenkörper
Weisser Spulenkörper GmbH & Co.KG has been a leading global manufacturer of plastic parts for technical use for over 60 years. Weisser was founded all the way back in 1922. Today, the company employs 195 workers and has numerous branches around the world. At its headquarters in Neresheim, Germany, the company deploys state-of-the-art technology to ensure the quality of its production and its manufacture of tools. It also makes use of efficient automation technology and custom development consulting, among other things. Weisser's product portfolio is comprised of over 4,500 items made of more than 100 materials. This vast selection of items is supplemented by custom-made products that are manufactured according to the precise specifications and needs of customers.
Industry 4.0 is one of the hottest topics in IT and industry. The German Federal Ministry of Education and Research (BMBF) is currently looking into creating standards to make the practical use of Industry 4.0 more widespread at SMEs, where it is currently solely in the "research" stages. In the meantime, Kutzschbach Electronic GmbH & Co.KG, an expert in automation and IT based in Nördlingen, Germany, has already put its first Industry 4.0 applications into practical use with the help of the monitoring solution PRTG Network Monitor. In particular, the company helped its customer Weisser, a leading manufacturer of technical plastic components, to make their production machines more "intelligent" and thereby optimize their production processes.
"We've been successfully using PRTG for several years now as a unified IT monitoring tool for both our company and our customers. The API and architecture of PRTG, combined with our know-how and good relationship with Paessler, made us want to go with PRTG for the Wizard as well. With the Wizard and PRTG, we now have the perfect basis for merging production and IT. Judging from the feedback we received during the Weisser project, we're sure we made the right decision."
Tobias Schiffelholz, Head of Service and Support at Kutzschbach Electronic
Tiresome nightly inspections
Weisser, a typical German medium-sized company, has proven itself around the world for more than 60 years as a leading manufacturer of bobbins. Weisser products are used in the automobile industry, as well as in the fields of medical technology and electrical & mechanical engineering – in other words, wherever electronic components of the highest quality are needed. In order for Weisser to provide its customers with tailor-made bobbins, its injection-molding machines must run as efficiently as possible. The production of components is extremely time-consuming, and the machines are unable to specify when a component will be completed. In the past, this meant that employees had to regularly check the machines themselves. To optimize the use of the machines, these checks also had to be carried out at night and on weekends. This was extremely draining for the machine operators, and rarely produced the desired result: after all, there was always a period of time between an inspection and the completion of a product when the machines were idle.
Overcoming communication issues
The solution to the problem was obvious: the machines had to notify the operators when the components were finished. The problem was that the machines had no inherent way of communicating with conventional IT. So what was behind this communication problem? Well, the same thing that is preventing Industry 4.0 from taking off in certain fields: the traditional separation of IT and production, security aspects, and a lack of standards. This is where Kutzschbach GmbH & Co.KG comes in: as a manufacturer of automation technology and IT systems, the provider understands both sides of the issue. In particular, it developed the "PRTG Wizard," a product based on PRTG that can connect machines to the world outside the production hall. The PRTG Wizard client reads signals from the machines and "translates" them into XML. This information is sent to the PRTG probe (which runs Kutzschbach's PRTG Wizard control software), and then to the central PRTG installation. Once it arrives there, PRTG can display the statuses of the machines in overviews and send notifications in one of several formats (email, SMS, push notification, etc.), depending on the status.
"No more nightly inspections, no more unnecessary downtime! PRTG optimizes our processes and relieves our teams. With PRTG, Kutzschbach has taken Industry 4.0 by the horns and successfully put it into practice here."
Rainer Gschwendtner, Head of IT at Weisser
Optimized production processes with Kutzschbach and PRTG
In the case of Weisser, the Kutzschbach PRTG Wizard has made it possible to reduce the staff's workload and optimize the use of the machines. During a pilot project, Kutzschbach Electronic implemented PRTG and PRTG Wizard and connected the injection-molding machines. As a result, the machine operator is now informed (via a text message to his phone) when a component is finished, and can immediately initiate the next phase in the production process. PRTG also records all information on utilization, downtime, and machine statuses, thereby providing the basis for long-term evaluations.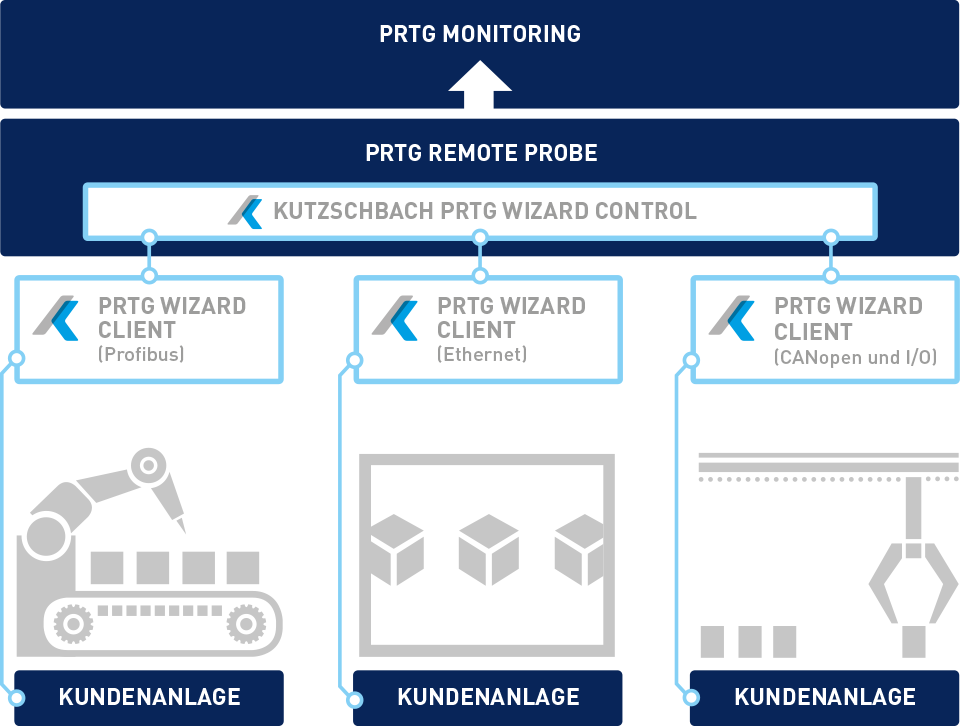 The benefits of unified monitoring
Since a PRTG installation was already being used for the Kutzschbach PRTG Wizard at Weisser, it made sense to use it for the monitoring of the "regular" IT infrastructure too. Thanks to its many features, PRTG can be used throughout the company in virtually every area. PRTG not only monitors Weisser's production machines, but also hardware (such as network devices, servers, and printers), software (database applications and complete business processes), and virtual environments (VMware, DataCore). Weisser benefits from a unified monitoring solution that consolidates production, IT, and building services in a single overview.
Rainer Gschwendtner, Head of IT at Weisser, concludes: "With PRTG, Kutzschbach GmbH has consolidated and replaced various stand-alone solutions that we were using to monitor production, building services, and printers. This saves us time, reduces employee workloads, and most importantly, provides us with a centralized control panel for analyzing and optimizing our processes."
About Kutzschbach Electronic
Kutzschbach Electronic GmbH & Co.KG has been successfully implementing core IT solutions (software development and automation) at companies in Germany and abroad for the past 30 years. Today, the company employees more than 50 workers at its new building in Nördlingen, and is certified in accordance with ISO standards 9001 and 14001. Its corporate culture is based on quality and the long-term satisfaction of customers.