Leica Geosystems chooses Paessler PRTG as their monitoring solution
About Leica Geosystems
For 200 years, Leica Geosystems has been revolutionizing the world of surveying as the leader in information technology and surveying instruments. Professionals all over the world rely on comprehensive solutions from Leica. The company is known for developing innovative and specialized solutions for a wide range of industries, including surveying and GIS, construction and machine control systems, public safety, and energy and industrial plant engineering. Precise instruments, modern software, comprehensive services, and world-class service & support help Leica Geosystems customers thrive in their industry as they shape the future of the world.
Leica Geosystems is part of Hexagon (Nasdaq Stockholm: HEXA B), a leading global provider of IT solutions that increase quality & productivity in geospatial and industrial environments.
200 years surveying the world
No job is too big for Leica Geosystems. Among other things, it has developed measures for the city of Nottingham (UK) to reduce its CO² emissions by 26 percent and taken the very first accurate 3D scan of the Mont Blanc ice cap. Owned by the Swedish company Hexagon, Leica Geosystems AG has been developing groundbreaking measurement solutions for 200 years, earning the trust of professionals around the world. A wide variety of technologies, including total stations (TPS), EDM (electronic distance measurement), GPS/GNSS, 3D laser scanning, tilt and angle measurement, point cloud generation and analysis, and measurement software are used in industries ranging from water distribution to furniture manufacturing.
The Leica Geosystems IT team provides high-availability IT services to more than 4,500 employees in 35 countries. It therefore comes as no surprise that these services must be managed from a complex, multi-vendor, and multinational environment. The IT team itself works in different locations and time zones. To succeed, the team must be able to access real-time IT status information for all the sites via a centralized monitoring system.
Leica Geosystems therefore went with PRTG Network Monitor to monitor its global IT services, working closely with its IT service desk team.
"We were eager to try a centralized, all-in-one IT management tool for our monitoring. After evaluating our existing slate of tools, we quickly decided to go with PRTG as our default solution."
Michael Türtscher, IT Systems Engineer – Infrastructure and IT Service Owner Monitoring Manager at Leica Geosystems AG
PRTG: Organic growth with SQL
Leica Geosystems began using PRTG in 2013 as part of a project to manage its SQL databases. Its main partner for this project was ITPS AG, an IT service provider with extensive experience with SQL and PRTG. ITPS recommended that Leica Geosystems use PRTG to monitor its database servers.
PRTG comes with built-in sensors for SQL servers. ITPS enhanced the system with additional sensors boasting new, customized features to adapt the monitoring to the company's needs. ITPS developed its own PRTG plugin software to generate output from an SQL query for MS SQL, MySQL, and Oracle, and successfully implemented the software as a pilot project for Leica Geosystems.
These special SQL sensors check the status of the databases. Leica Geosystems also decided to monitor the underlying physical hardware, virtual servers, and operating systems running the databases. In this way, the company can ensure that its underlying infrastructure is always available.
Like many other companies, Leica Geosystems was using a wide range of monitoring tools. With PRTG for SQL monitoring, that would mean yet another tool in the mix. Understandably, the IT managers at Leica Geosystems were not very happy with this situation.
"We were using so many different monitoring tools, including WhatsUp Gold from Ipswitch, BSM for SAP from theGuard!, and Systems Insight Manager from HPE," explains Michael Türtscher, IT Service Owner Monitoring Manager at Leica Geosystems. "We were eager to try a centralized, all-in-one IT management tool for our monitoring. After evaluating our existing slate of tools, we quickly decided to go with PRTG as our default solution."
Within no time, the company began to switch from the hodgepodge of tools to a single, centralized installation of PRTG.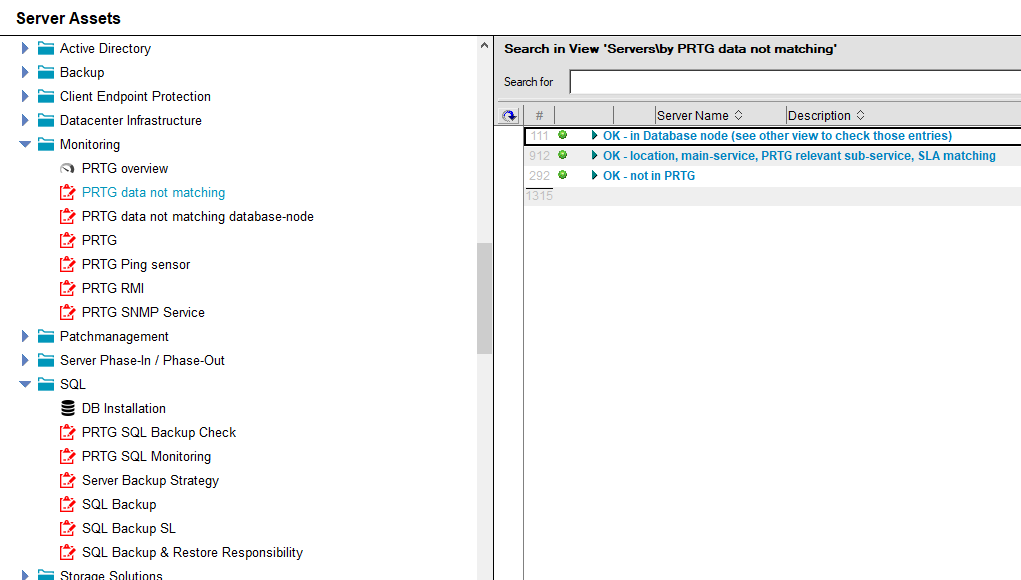 And then it was time for SAP...

The final step in the switchover was the implementation of an SAP PRTG plugin. Leica Geosystems once again worked with ITPS to develop special SAP sensors that provide PRTG with detailed information on SAP applications. These sensors are implemented as plugins for SAP ABAP and SAP Java Server. Leica Geosystems can now monitor any SAP application at the level of the operating system, the SQL databases, or the applications themselves.
Today, with its PRTG license, Leica Geosystems operates a single PRTG server with remote probes distributed all over the world. The company currently uses 17,000 sensors. Of these, 12,000 are managed by the main IT department, and 5,000 by other internal teams.
The PRTG monitoring environment
Lecia Geosystems uses remote probes:
in Heerbrugg, Switzerland
in the APEC economic region
in the EMEA economic region
in the Americas
for SQL databases
for other internal teams (2 probes in total)
Leica Geosystems has worked extremely hard to simplify its IT operations and standardize PRTG configurations across the firm. To achieve its goal, the company relies on a service-oriented tree structure that displays all its devices.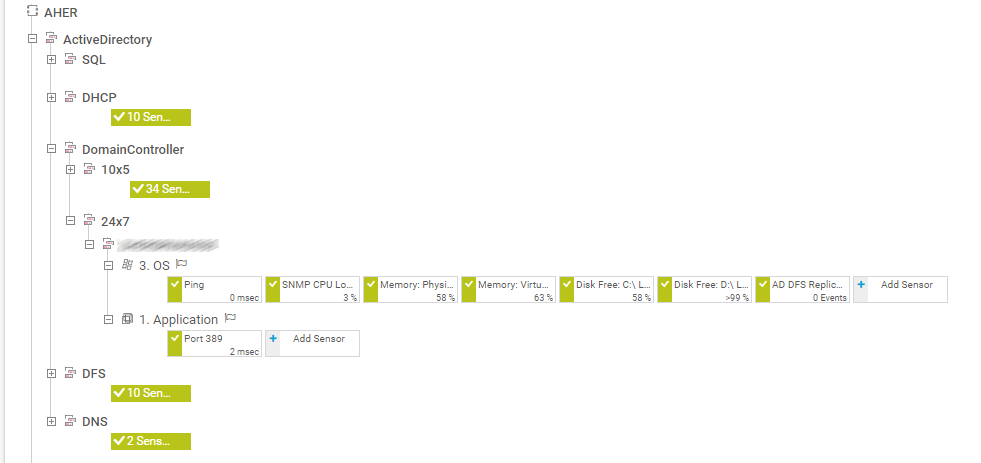 By organizing the servers into availability and SLA groups, Leica Geosystems can easily assess the gravity of an error and act in accordance with the SLA.
The company subsequently created device templates for its various server types. In doing so, the managers carefully considered which sensors and thresholds were needed. Leica Geosystems purposely chose a small number of sensors (five to ten) for each device. The managers had to decide between the use of several sensors allowing for extremely detailed results or streamlined (yet effective) monitoring. In the end, they decided to keep things simple and forgo information they probably only needed once a year anyway. In return, they got a standardized, easy-to-use monitoring environment with an alarm feature.
In the templates, Leica Geosystems almost only uses SNMP-based sensors with few WMI functions. Of course, the custom SQL and SAP sensors from ITPS also play an important role here.
The company also used templates to define its threshold values, even if the values created in this way (and the corresponding alerts) may not have been as accurate as if the company had set them itself.
Leica Geosystems uses the alarm function in a peculiar way: the company has disabled almost all PRTG notifications. The operations team no longer receives text messages or emails. So how do they stay in the know?
Before PRTG, Leica Geosystems was already using an incident management system. It therefore became confusing for the service desk team to receive alerts in their inboxes and on their screens, in addition to the incident management system. As a result, they turned off email alerts in PRTG.
Today, the service desk team simply looks at the PRTG-Konsole to check for new alerts. If they find one, they open an incident ticket, acknowledge the alarm in PRTG, and include the ticket number in the acknowledgment. In this way, all known issues are acknowledged in the PRTG-Konsole and all incidents are recorded in the ticket system.
The strategy at Leica Geosystems is "all green:" all sensors should either be green or acknowledged. When everything is under control, all known issues have been acknowledged in PRTG and are already being treated in the incident tracking system. This makes the work of the service desk team a whole lot easier.

Leica Geosystems owes most of its success to its organization, which focuses on people – not IT. Its monitoring is so successful because the company not only concentrates on the structuring of PRTG, but also on individual processes and work procedures.
The following questions are paramount here: Who responds to an alarm? And what does that person do?
The procedure must be transparent and followed completely, regardless of the department, location, or technology. Thanks to its clear, structured work processes and straightforward monitoring, the company now enjoys a comprehensive overview of all its IT services, as well as full control over its incidents.
Get to know more happy PRTG customers