All IT Rooms has all data centers at a glance with Paessler PRTG
About All IT Rooms
As one of the leading data center operators in the Netherlands, All IT Rooms plans, builds, and operates data centers for customers of all industries.
All IT Rooms is dedicated to ensuring your computer systems run perfectly. They use proven technology, smart planning, and sustainable improvements to handle every aspect of a server room, down to the smallest details. This covers designing, setting up, rearranging, upgrading, or relocating a customer's IT infrastructure, as well as providing ongoing service and maintenance, and remote monitoring and management.
All IT Rooms focuses on 5 key aspects
Modularity:

IT environments are constantly changing, so it is important to provide the necessary flexibility in the data center.

Capacity:

Space costs money, in construction as well as in operation. Too little space, however, can cost even more money if a second or a new data center is needed because the first one is no longer sufficient.

Availability:

IT failures cost a lot of money and can even endanger the existence of a company. Numerous aspects need to be considered as early as the planning stage to ensure maximum availability.

Sustainability:

It is not only in view of global warming that it is important to operate data centers in the most resource-efficient way possible. Saving energy and using durable components also saves costs.

Functionality:

The entire structure of the data center must be tailored to the requirements and needs of the company. Only in this way can it guarantee the required functionality.

All IT Rooms has the expertise and experience to optimally implement all 5 focal points as a full-service provider, from planning to implementation and operation. The goal is the availability of all IT components around the clock, seven days a week. After all, IT and the data center form the basis of all a company's business processes.
"Since we started using PRTG, our DCIM has been running 100% stable. Since 2017, we have had 0% downtime with PRTG. That's fantastic."

Ronald Kok, CEO at All IT Rooms
To ensure the availability of the data centers managed by All IT Rooms, a reliable and robust DCIM (Datacenter Infrastructure Management) system is a basic requirement.
The solution monitors and manages all aspects of the data center – from hardware components such as servers, switches, routers, storage systems or racks to building technology (air conditioning systems, door locking systems, environmental sensors, surveillance cameras, etc.) and environmental values such as temperature or humidity.
Monitoring is the most crucial factor here: Only if all aspects of the data center are monitored around the clock can irregularities or malfunctions be detected in time, the sources of the errors be identified, and the problem rectified before serious outages occur. All IT Rooms use PRTG Network Monitor from Paessler as their monitoring solution.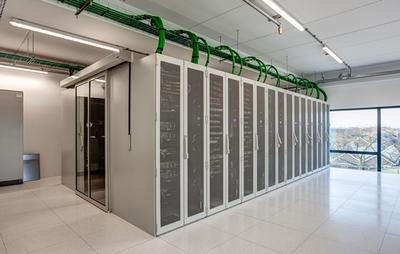 The evaluation
In 2017, All IT Rooms began evaluating a range of DCIM solutions for managing and monitoring the data centers it operates. First, the requirements were defined:
Robustness and reliability
No matter how technically sophisticated or comprehensive the solution, if it does not reliably deliver all the data needed around the clock, it is not an option for All IT Rooms.
Multi-client capability
From the very beginning, All IT Rooms envisioned a single solution that could manage multiple customers across multiple sites, while being independent of time, location, and vendors.
Scalability
The customer base and therefore the data centers to be managed are constantly increasing in number. The solution must be scalable accordingly at all levels.
Root cause analysis
An alert in the event of a fault is not enough: to react quickly and avoid consequential damage, the solution must be able to determine and communicate the cause of the fault.
In addition to some established DCIM solutions, PRTG was also included in the evaluation after intensive market research, even though the solution is commonly known in the market as a pure monitoring tool and not as DCIM software. To the surprise of the All IT Rooms team, PRTG proved to be the easiest to implement and the most scalable solution and – after extensive testing – also the most stable. Since monitoring was seen as the most important task of the targeted solution, it was clear that PRTG would be the basis of the DCIM system to be deployed.
Ronald Kok, CEO at All IT Rooms summarizes the results of the evaluation: "In all our tests, PRTG was significantly more reliable and, above all, faster than classic DCIM solutions such as Nlyte, iTracs, Sunbird or Device42, which we also evaluated. We need a solution that gives us a real-time overview of the status of all the data centers we monitor and does not make us wait for what feels like minutes with every click. With PRTG, we have found that solution."
Monitoring energy consumption with PRTG
Since 2017, All IT Rooms have relied on PRTG as the basis for its self-developed DCIM solution All-BaaS®. PRTG monitors all components of the data center infrastructure, from cooling systems to UPS (Uninterruptible Power Supply), generators, security systems, and more. A special focus is on monitoring energy consumption. Constantly rising energy prices and social responsibility in the face of global warming are vital topics for all data center operations.
Data centers are particularly energy-intensive and therefore subject to critical scrutiny. Saving energy is only possible when knowing the exact usage of every device and system, so monitoring energy consumption is a must. But energy consumption is not the only aspect when thinking about saving energy and costs in a data center.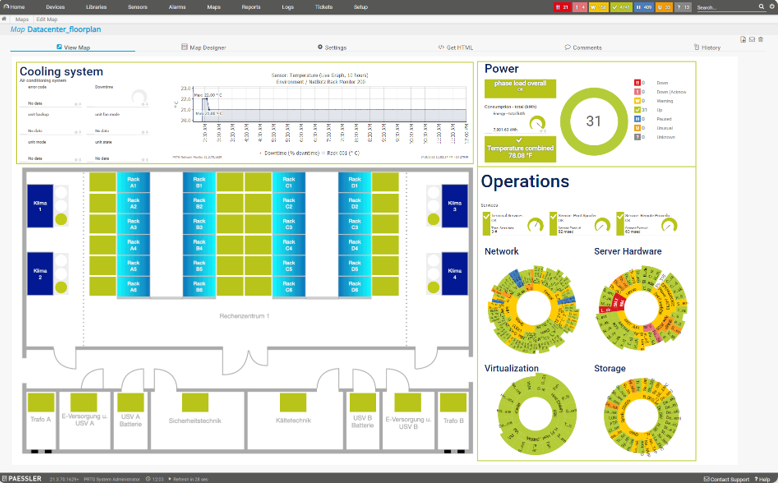 Ronald Kok explains how PRTG also helps avoiding any waste of energy: "Temperature is one of the most important factors in a data center. Excessively high temperatures lead to greater wear and tear on hardware components and even to failures due to overheating, while temperatures that are too low due to excessive cooling consume energy unnecessarily. Correct temperature management is an essential point when planning a data center, and consistent temperature monitoring with PRTG is a must during operation. This includes not only measuring temperatures, but also monitoring air conditioning systems or doors and windows."
Many data centers for multiple customers are managed with BaaS® today. The system has also confirmed the positive results from the evaluation and test phase in the long term: "For years we have been using PRTG in more and larger environments. Again and again, we have confirmed our decision: PRTG proves to be the ideal solution for monitoring all the data centers we operate and maintain daily," explains Ronald Kok.
In addition, over the years, several aspects have emerged that were not even in focus during the original conception.
Long-term optimization
PRTG continuously provides data on all aspects of the monitored data centers and stores it for the long term. The analysis of this data enables a whole range of optimizations on various levels in the long term:
Increasing performance
Long-term measurements reveal weak points in the data center that have a lasting impact on performance and reliability, such as excessive temperature, low battery levels or overloaded individual components, thus enabling continuous optimization measures.
Cost savings
Unnecessarily low temperatures are an indication of excessive cooling, while excessively elevated temperatures mean increased wear on hardware components and, in extreme cases, damage and failures. Long-term monitoring reveals this and enables resource consumption to be minimized – both in terms of energy and hardware. This saves costs and protects the environment.
Improved planning
Long-term monitoring with PRTG provides All IT Rooms with the data basis to continuously improve existing data centers and plan new data centers even more efficiently.
Increased efficiency thanks to synergy effects
Time and again, during All IT Rooms' collaboration with customers, it turns out that they are already using PRTG to monitor their networks and IT infrastructure. Ronald Kok explains how this circumstance can be used profitably: "With a little support from our experts, data center monitoring can be easily and quickly integrated into the existing IT monitoring of many of our customers. The result is a comprehensive overview of the entire IT and data center. This allows for root cause analysis across the board and much faster fault identification and resolution than with monitoring systems isolated from each other."
With PRTG as the basis of a DCIM system, All IT Rooms create significant added value for its customers. Their data centers operate more stably and efficiently. Faults are detected immediately and can be rectified before they lead to outages and serious problems.
For Ronald Kok from All IT Rooms, however, the decisive advantage of PRTG lies in its stability: "Since we started using PRTG, our DCIM has been running 100% stable. Since 2017, we have had 0% downtime with PRTG. That's fantastic."
Get to know more happy PRTG customers