Information may be Out-of-Date

This page about deprecated software versions is shown for
reference purposes only. Information on this page is not
maintained and may no longer be valid.

Please find the latest manual for Webserver Stress Tool here:
Running the Test
Running the Test
After setting all desired settings for Load Pattern and Browser Settings, click on Start Test to make Webserver Stress Tool begin executing the test.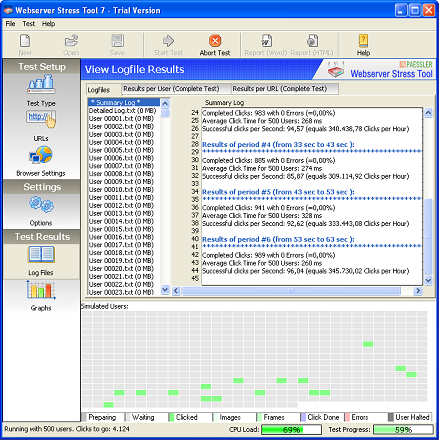 During the test you navigate through all settings pages, but you can not change the program and test settings.
You can however look at the test results already during the test.
As long as the test is active, there is a graphical view of the simulated users at the bottom of the window. Each user is shown by a rectangular area with a color showing the status of the user. This graph is updated every few seconds and will therefore not show all possible states for all users (that would slow processing down). But nevertheless, this visualization provides a good illustration of what's going on in the test.
Also watch the status line at the bottom of the window for status information about the test.
By clicking Abort Test you can stop the test at any time.
When the test is finished, the system will notify you with an audible sound (a beep). You can then review the results.
If you have enabled Store logs in a ZIP file after test in the options all results have been stored into one ZIP file for later reference.
As soon as the test is finished you will see the report in your web browser or in Word if you have enabled Open HTML Report after test or Open WORD Report after test in the options.