Information may be Out-of-Date

This page about deprecated software versions is shown for
reference purposes only. Information on this page is not
maintained and may no longer be valid.

Please find the latest manual for Webserver Stress Tool here:
Reviewing Logfile Results
Reviewing Logfile Results
Click on Log Files to open the logfile browser.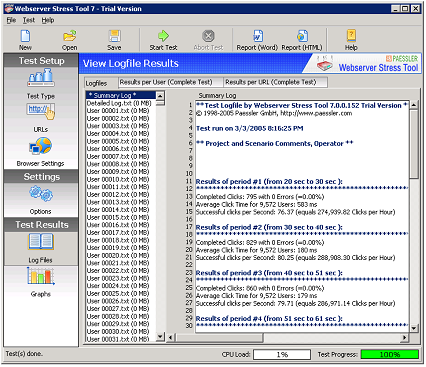 On the left you will find a list of available logfiles. Simply click one of the entries to view the contents on the right.
If you enabled Write HTML Files to disk you can also select all the HTML files here.
All logfiles are saved to the "logs" subdirectory of the EXE's directory (usually C:\Program Files\Webserver Stress Tool 7\logs).
More:

Summary Log and Detailed Log

User Logs

Results per User

Results per URL