Information may be Out-of-Date

This page about deprecated software versions is shown for
reference purposes only. Information on this page is not
maintained and may no longer be valid.

Please find the latest manual for Webserver Stress Tool here:
Graph Click Times & Errors (per URL)
Graph Click Times & Errors (per URL)
This can be considered the most important chart because it shows the average times and the rate of errors that the simulated users have experienced when downloading pages during the test.
For each URL, this graph shows the request times of clicks and the percentage of errors (in the lower part of the chart). If you enable "download images" there are a two more lines for each URL showing the average request times and errors for the images,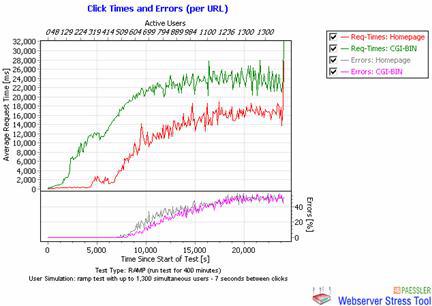 This sample graph shows the results of a 400 minute ramp test with up to 1.300 users accessing two URLs of a webserver every 7 seconds. One URL is a static HTML file (Homepage) and the other URL is a CGI script.
We can see that with the rising number of users the request times of the CGI script (green line) increase much faster than the request times for the static HTML page (red line).
In fact until about 300 simultaneous users (marked with "T1") the request times for the static file don't change much at all.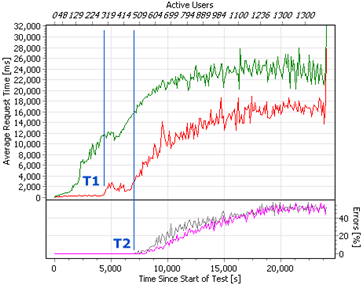 Then as the number of users crosses the 500 mark (marked with "T2") we can see that the first requests produce errors. The graph of the percentage of errors (gray and pink line) goes up from 0% and keeps rising up to 50% until the end of the test.
We can conclude that this server can support about 80-100 users clicking either link every 7 seconds with an average click time of 2 seconds. With more than 100 users the request times (especially those of the CGI) increase substantially.
This server can not support more than 500 users because with higher loads up to 50% of the requests produce errors.