Information may be Out-of-Date
This page about deprecated software versions is shown for
reference purposes only. Information on this page is not
maintained and may no longer be valid.

Please find the latest manual for PRTG Network Monitor here:
Cross-Browser Features
Cross-Browser Features
Site Inspector is a true "cross browser" application because it supports both the Internet Explorer and the Firefox/Mozilla browsers in three ways:
·      Site Inspector's stand alone browser application "Analyzing Browser" combines both browser engines into one application
·      Site Inspector's comprehensive toolbars are available in all three browsers: IE, Firefox and Analyzing Browser
·      Site Inspector adds various functions to the context menus of IE and Firefox
You can switch between IE and Firefox with one mouseclick in the Analyzing Browser (the screenshot shows the corresponding two menu items).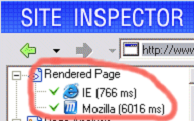 Also you can switch between the main windows of IE and Firefox with a menu item of their toolbars.