Information may be Out-of-Date
This page about deprecated software versions is shown for
reference purposes only. Information on this page is not
maintained and may no longer be valid.

Please find the latest manual for PRTG Network Monitor here:
Copy Highlighted HTML Source
Copy Highlighted HTML Source
The Copy Highlighted HTML Source function allows you to capture the exact HTML of the webpage object (as it would appear in the View Source Option from the Internet Explorer View Menu) including highlighted tags and elements.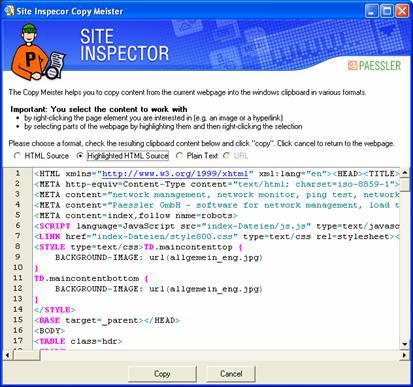 To copy the highlighted HTML Source
·      Select the object that you wish to copy and then select the Copy Meister option from the Copy functionality of the toolbar (or invoke the context menu by right clicking the desired element and choose the entry "Copy Meister").  This will bring up the Site Inspector – Copy Meister Window.