Trace network traffic with PRTG...
...and keep a constant eye on everything
Network traffic and data packet tracer
Packet Sniffing, Flow, SNMP
Monitor routers, switches, ports, and servers
Transparent licenses, all-inclusive
Sensors for tracing your network traffic
iWhat is a sensor?
In PRTG, "Sensors" are the basic monitoring elements. One sensor usually monitors one measured value in your network, e.g. the traffic of a switch port, the CPU load of a server, the free space of a disk drive. On average you need about 5-10 sensors per device or one sensor per switch port.




A sneak peek at monitoring with PRTG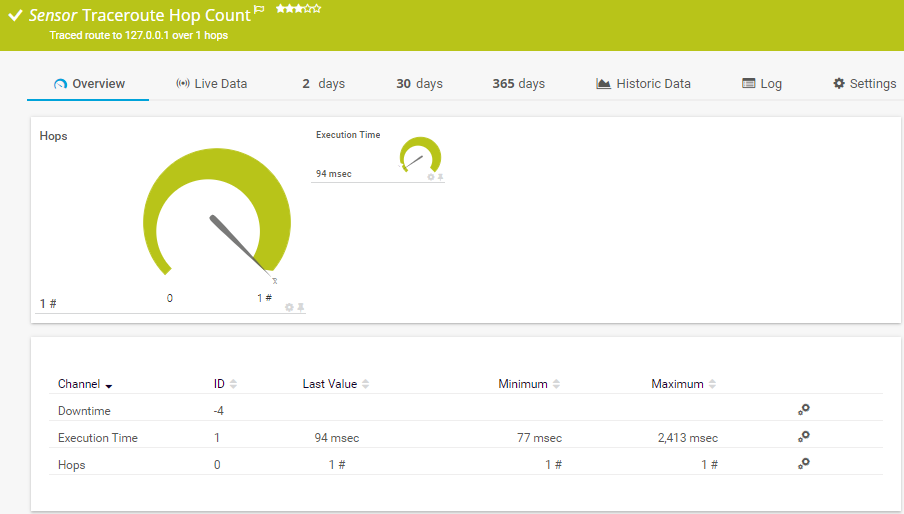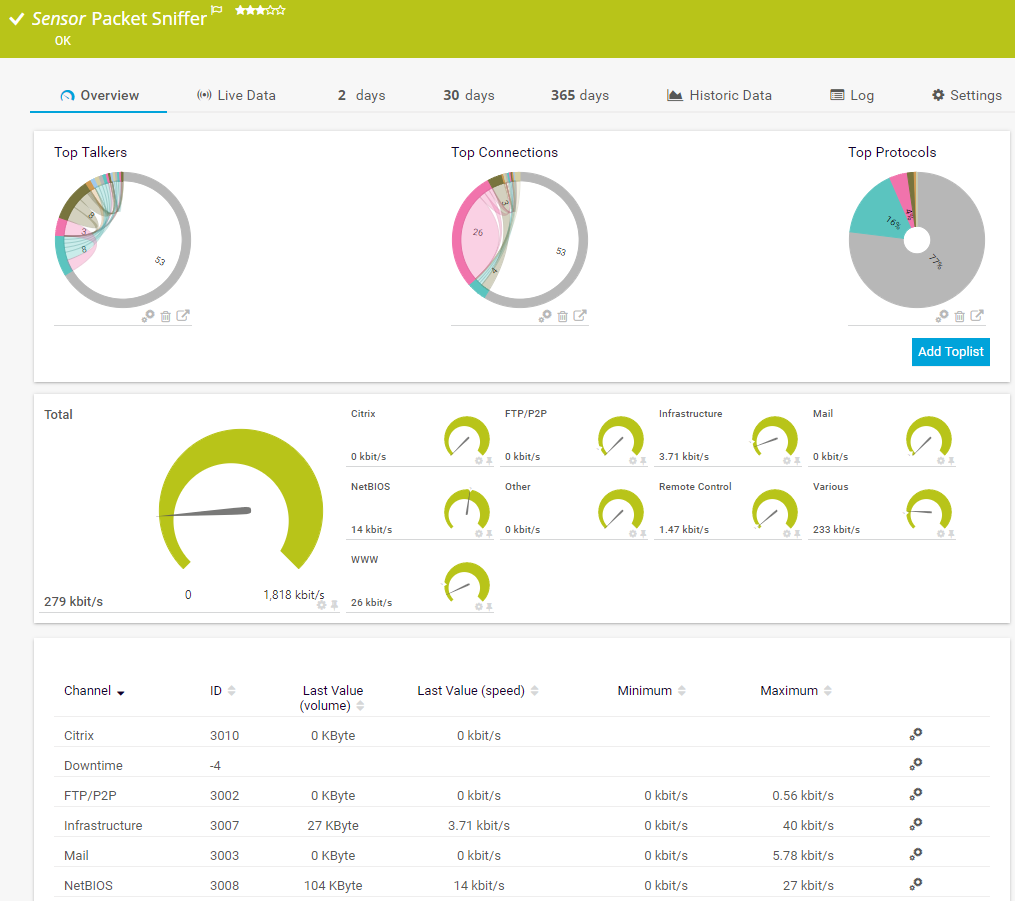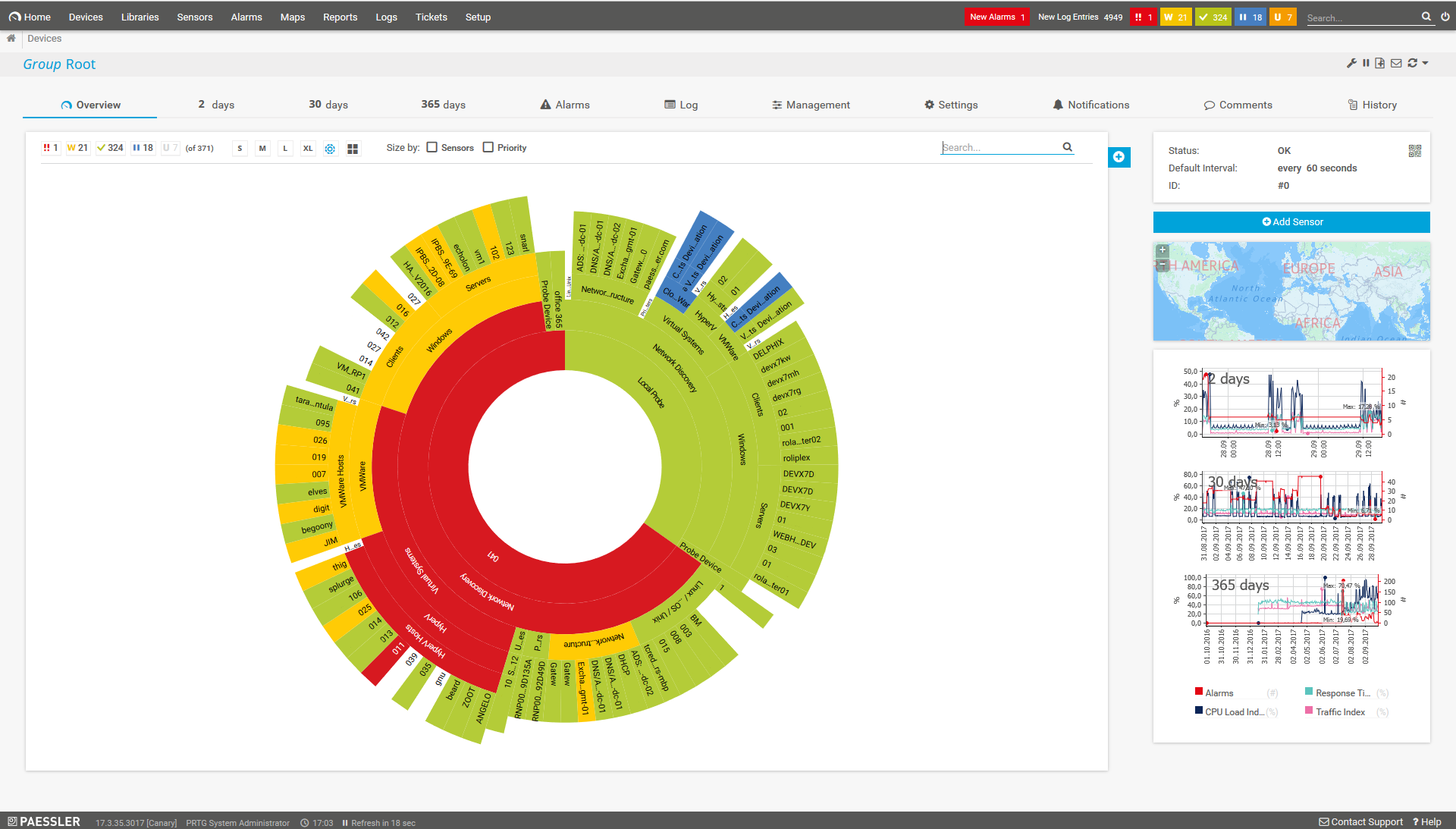 5 advantages of PRTG for conveniently tracing your network traffic

PRTG is always accessible
PRTG consolidates all your monitoring information into an easy-to-read, customizable dashboard. A quick glance is all it takes to know that everything is OK.

Easy installation
Thanks to the Auto Discovery feature, which pings a specific range of IP addresses, PRTG is set up and ready to go in no time. You can therefore start checking your network traffic at once.

Customizable
PRTG comes with over 200 predefined sensors. It also offers customizable sensors ("custom sensors") that can monitor the values which are most important to your company.

Customizable alarm
Is your data line about to overload? PRTG promptly lets you know if your traffic increases and risks causing problems in your network. Its built-in alarm feature is fast-acting, and allows you to take action at once.

All-inclusive
With a PRTG license, you get the full range of sensors, the notification system (alarm), the reports feature, and technical support. There are no hidden fees whatsoever. And that is sure to make your higher-ups happy.
Network traffic: Monitoring vs. recording
Network traffic monitoring:
PRTG is a network monitoring tool that allows you to monitor your traffic as well as the status of your hardware and applications. PRTG provides you with a constant overview.
Network traffic recording:
If you specifically wish to record your traffic and have a look at individual data packets, then you will need another type of software. There are many such tools on the market.
"Hey Stephan, do you have any tips for packet sniffing
with PRTG?"
"The Packet Sniffer Sensor allows you to analyze traffic in your network in much the same way as deep packet inspection. You can see, for example, if mail traffic is alarmingly high, or if P2P file sharing is being used in your company network and thus posing a risk to network security."
Stephan Linke, Paessler Technical Support
Traceroute tools in Linux and Windows

Linux tool
Trace Route (or "Traceroute") is a command line tool in Linux/Unix. It lets you trace the route of data in your network. Individual hops are captured and recorded. As a result, you can identify bottlenecks and disruptions.

Windows tool
A similar command line tool exists for Windows. This tool is called "Tracert." Tracert also allows you to determine the path of data packets by entering commands in the command line. With Tracert, you can pinpoint (for example) where a data packet got delayed.

PRTG
Unlike command line tools such as Traceroute and Tracert which are used selectively, PRTG continually monitors your entire IT structure. In the event of delays, disruptions, or crashes, PRTG immediately sounds the alarm. There are many possible reasons for a data packet not reaching its destination. With PRTG, troubleshooting is a whole lot faster and easier.
The following 2 articles from our blog
take a closer look at Traceroute
Trusted by 200.000 users and recognized by industry analysts as a leader
Unlimited version of PRTG for 30 days
After 30 days, PRTG reverts to a free version
Or, you can upgrade to a paid license anytime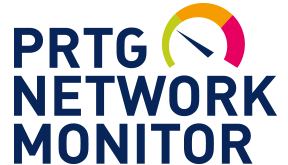 How to record port traffic
Why port monitoring is important

Open ports are gateways for Trojan horses and other attacks. Ports are often used on a temporary basis. In large, unmonitored networks, there are almost always open ports which go forgotten. Monitoring data traffic across network ports is important to prevent overloads and sniff out suspicious traffic.
Port traffic: How PRTG can help

PRTG monitors open and closed ports. The network monitoring tool monitors all traffic and records the connections. As an IT manager, you therefore get a constant overview of the traffic that flows through your ports.
Sensors for recording port traffic

PRTG comes with a number of preconfigured port sensors. These include the above-mentioned SNMP Traffic Sensor, Packet Sniffer Sensor, and Flows sensors, as well as the Port Sensor and the Port Range Sensor, which monitors a range of ports and indicates whether these ports are open or closed. More on port monitoring.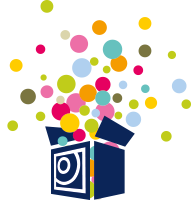 Reader tips from our Knowledge Base
on "trace" and "hops"
Perform a traceroute on a server
With PRTG, you can perform a traceroute on a specific server or another network device with just two clicks of the mouse.
The target device should already be incorporated into your monitoring. If not, add the desired device to PRTG.
In the PRTG device tree, scroll down to the device upon which you would like to perform the traceroute.Right-click on the device to open its context menu.In the "Device Tools" menu, click on "Traceroute...".
Right-click on the device to open its context menu.
In the "Device Tools" menu, click on "Traceroute...".
PRTG will now perform a traceroute on the target device and display the results in a matter of seconds.
Keep a constant eye on your network –
even while on the go
PRTG can be started within minutes and it's compatible with many mobile devices.


PRTG monitors these vendors and applications, and more, in one view!
Over 95% of our customers recommend PRTG
Paessler AG worldwide trialled PRTG in over 600 IT departments.
The aim was to tune the network monitoring software closer to the needs of the administrators.
The result of the survey: over 95% of the participants would recommend PRTG - or already had.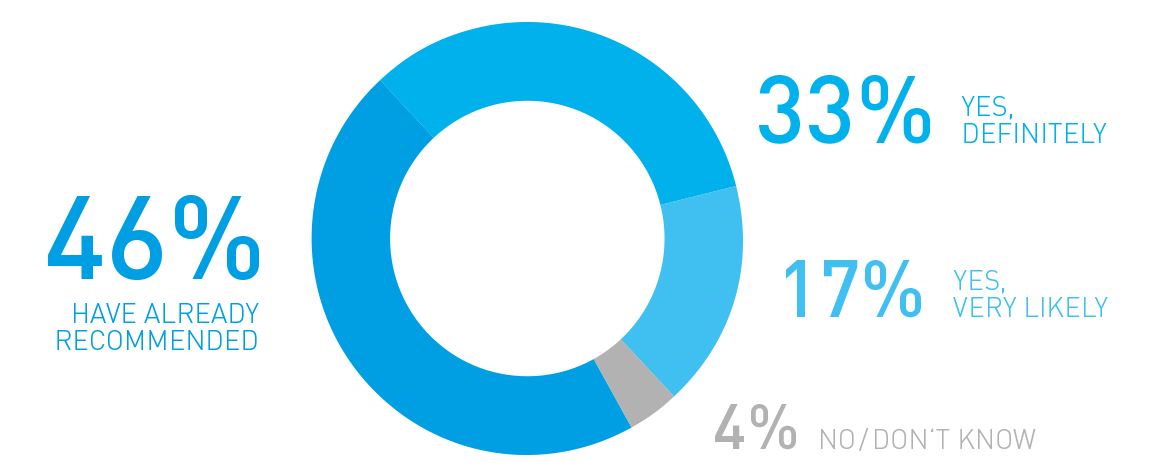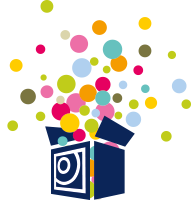 Learn more about how to trace and monitor your network traffic
QoS monitoring – Do away with delays
PRTG comes with several QoS sensors which are perfect for quality of service monitoring. With these sensors, you will discover when (and why) delays and disruptions occur in your VoIP. Other QoS-related topics include jitter monitoring and the analysis of packet loss.


IP SLA monitoring
PRTG comes with special sensors for Cisco devices. With IP SLA monitoring, evaluating the quality of service of your Cisco routers and switches is easy.


CPU monitoring
When processors are overloaded, the entire network is brought to its knees. PRTG lets you monitor the CPUs of servers, routers, and switches. In the event of bottlenecks, you'll be notified at once.
PAESSLER AG –
German quality engineering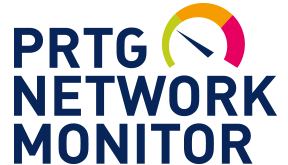 Free Download
Unlimited version of PRTG for 30 days
After 30 days, PRTG reverts to a free version
Or, you can upgrade to a paid license anytime

Most administrators want to test a tool for free before deciding to make an investment.
The many advantages of PRTG:
1. Free trial version: Take the time to explore PRTG so you can determine if it satisfies your needs and meets your expectations. Once the trial is over, it's easy to upgrade your already configured version of PRTG, which means you're much less likely to make an incorrect purchase.
2. One tool, one overview: Administrators often use a variety of monitoring solutions for their network or for the individual components of their infrastructure. But using several different tools every time you want to create an overview costs time and energy. PRTG is an "all-in-one" solution. Our dashboard and app provide a comprehensive overview, whenever you want it.
3. Quick customer support: Got a question? Stuck on a problem and need a hand? PRTG is backed by a dedicated development and support team. We do our utmost to answer every customer inquiry within 24 hours (on business days). Browse all our support topics here.
Configure your PRTG today. The trial version is free of charge. Save time, worry, and money with our monitoring tool designed for your network and entire infrastructure.
PRTG

Network Monitoring Software - Version 20.1.55.1775 (January 22nd, 2020)

Hosting

Download for Windows and hosted version available

Languages

English, German, Spanish, French, Portuguese, Dutch, Russian, Japanese, and Simplified Chinese

Pricing

Up to 100 sensors for free (Price List)

Unified Monitoring

Network devices, bandwidth, servers, applications, virtual environments, remote systems, IoT, and more

Supported Vendors & Applications


More