Monitor DNS servers with PRTG
PRTG checks the availability and performance of your DNS servers
PRTG provides comprehensive statistics on DNS servers
PRTG immediately notifies you in the event of downtime and malfunctions

DNS servers are an essential part of your network
DNS servers are also referred to as "name servers." They assign the right IP address to a URL, and vice versa. On the web, they assign the right IP address to a domain name such as www.paessler.com so you don't have to memorize a string of numbers. In the local network, the DNS server translates the names of computers and network devices into "real addresses." It ensures that you can access all your devices without having to enter their IP addresses.
Active Directory also relies on information provided by the DNS. And if you wish to use the name resolution service in your own network, then you'll need a DNS server.


3 good reasons to monitor your DNS

Prevent downtime in your company network
Considering the vital role your DNS server plays in the company network, your DNS infrastructure should be as stable as possible. It is highly recommended that companies invest in a backup solution for their DNS server which they can fall back on in the event of an emergency. By monitoring your DNS servers with PRTG, you will be constantly informed of their availability and performance. In the event of downtime or lengthy response times, you can quickly intervene before errors and bottlenecks arise in your local network.

Stay up-to-date on performance
PRTG keeps you updated on the goings-on of your DNS servers. If a DNS server resolves a domain name incorrectly, you'll know so at once. PRTG also comes with the DNS Sensor, which measures the response time of a DNS server. If the response time is too high, then the entire network suffers.

Find out if your network has been compromised
Just like everything else behind your firewall, your DNS server should be protected against attacks from the Internet. While monitoring the various components of your LAN, don't forget to include your DNS server. When crashes loom or traffic goes through the roof, time is of the essence. With PRTG, you can also monitor your security devices to ensure that in addition to your LAN, your DNS server – in particular – is safe and sound.
An introduction to DNS monitoring with PRTG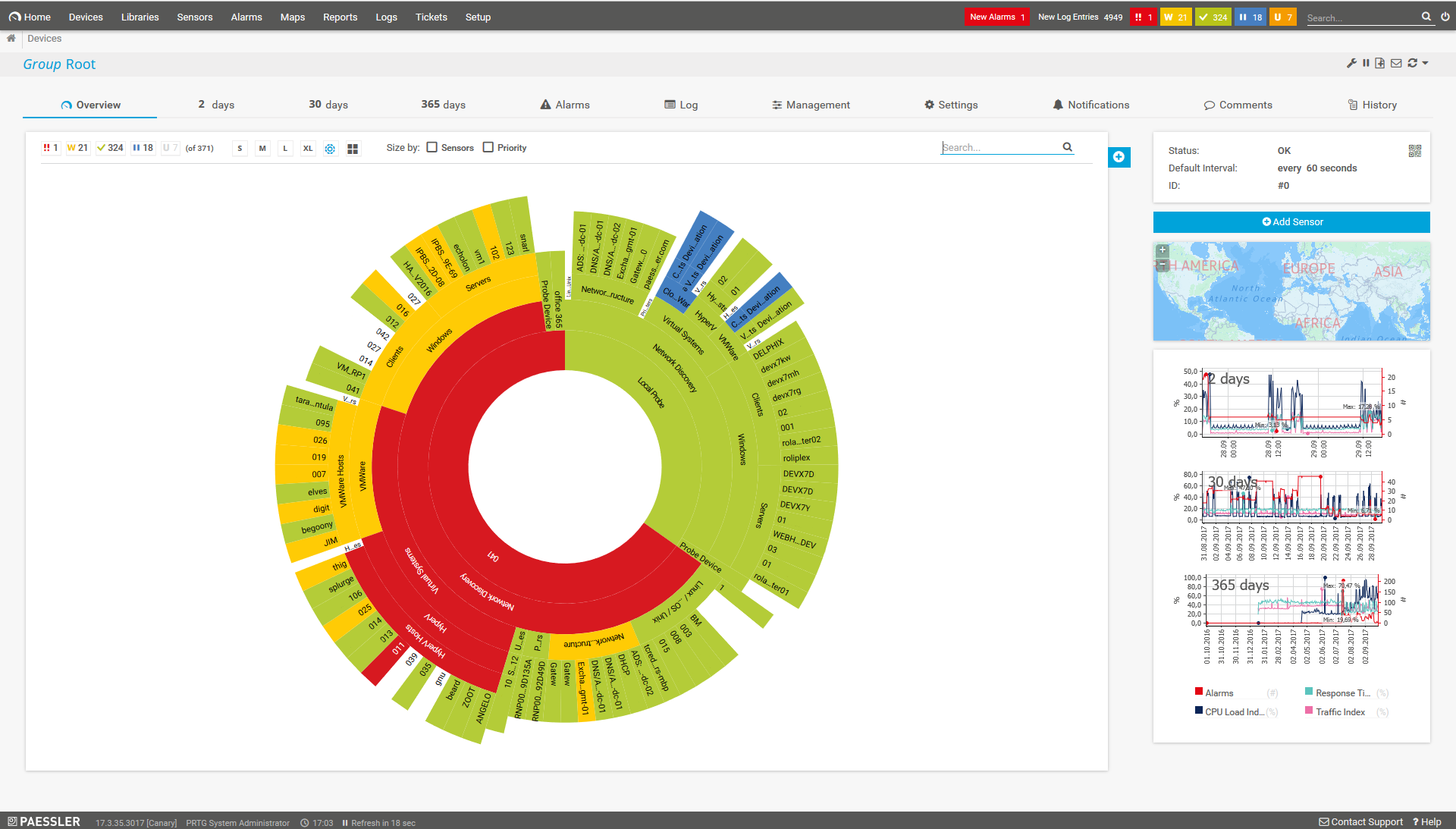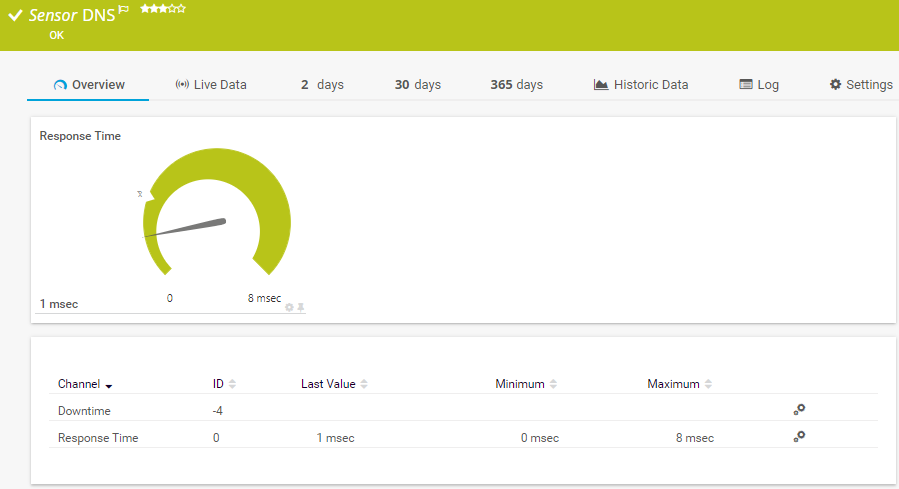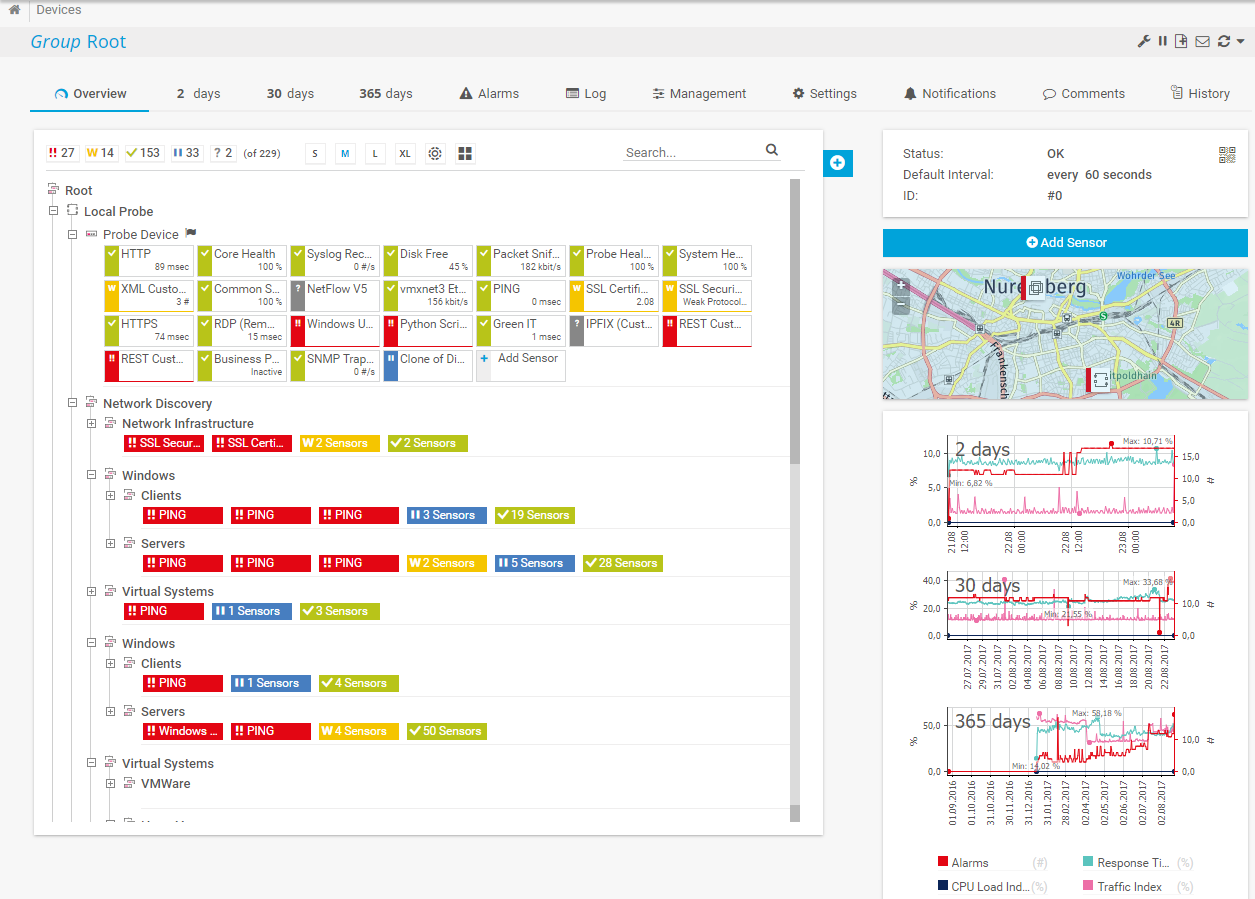 Be notified immediately in the event of problems

Automatic monitoring
PRTG DNS monitoring runs automatically in the background. If you wish to verify the status of the DNS Sensor, you can do so via an easy-to-read user interface. PRTG also comes with a handy notification system which means you no longer have to constantly check the DNS server yourself.

PRTG alerts
If a DNS server is slow to react (or no longer reacts at all), PRTG lets you know at once. PRTG alerts can be sent by push notification, SMS, or email. As a result, you can quickly take action before more serious problems have a chance to arise.


iWhat is a sensor?
In PRTG, "Sensors" are the basic monitoring elements. One sensor usually monitors one measured value in your network, e.g. the traffic of a switch port, the CPU load of a server, the free space of a disk drive. On average you need about 5-10 sensors per device or one sensor per switch port.
Comprehensive statistics

PRTG not only monitors your DNS servers in real time, but also records all key performance data. You therefore get detailed information about your DNS servers, whenever you want it. How high was availability during the last six months? How fast was the average response time?
Your DNS servers at a glance – even while on the go
PRTG can be started within minutes and it's compatible with many mobile devices.


PRTG monitors these vendors and applications, and more, in one view!
3 good reasons to choose PRTG as your DNS monitoring tool

All-in-one solution
PRTG can be customized to meet the needs of any infrastructure, be it a small network or a large server landscape. And when it comes time to expand the server environment, upgrading your PRTG license is easy. PRTG is an invaluable network monitoring tool – not just for the monitoring of your DNS servers. It keeps a constant eye on your entire infrastructure, including computers, routers, switches, operating systems, network performance, and others.

Easy to use
The PRTG dashboard provides a convenient overview of the status of the encryption that is supported by your devices' ports.

Custom dashboards and maps
PRTG uses easy-to-read maps to illustrate your network. All your IT components can be dragged and dropped into a network map and visualized graphically. Custom dashboards show the statuses of your devices and connections, allowing you to immediately see if everything is OK.
Unlimited version of PRTG for 30 days
After 30 days, PRTG reverts to a free version
Or, you can upgrade to a paid license anytime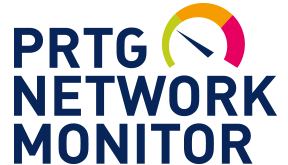 Monitoring other servers with PRTG
PRTG is not only the perfect tool for monitoring DNS servers, but will keep an eye on the other servers in your network as well.

Mail server monitoring
With email being an indispensable form of communication both within and outside the company, mail servers play an important role in the makeup of your network. If the mail server is down, then complaints begin to pour in at once. PRTG keeps a constant eye on your mail servers, and promptly notifies you in the event of a malfunction.

Web server monitoring
For many companies, website performance is vital – especially if products and services are offered via the homepage. PRTG comes with several sensors designed especially for monitoring web servers.

Database monitoring
Databases must run smoothly if companies hope to remain productive. PRTG monitors the availability and performance of your databases. It comes with special sensors for MySQL, Microsoft SQL, and Oracle SQL, among others.
PRTG simplifies your day
Our monitoring software works for you and promptly notifies you of potential issues.
It frees you to concentrate on your day-to-day tasks with peace of mind.

PRTG saves time
With PRTG, you get one central monitoring tool for your servers and entire network. Enjoy a quick overview of your whole infrastructure via our dashboard and app.

PRTG saves worry
Customizing PRTG is a breeze. Getting started or switching from another network monitoring tool is easy thanks to the PRTG auto-discovery and pre-configured device templates.

PRTG saves money
80% of our customers report substantial or even exceptional cost savings in the area of network monitoring. The experience shows that the costs for licenses have paid for themselves within a matter of weeks.
Over 95% of our customers recommend PRTG
Paessler AG worldwide trialled PRTG in over 600 IT departments.
The aim was to tune the network monitoring software closer to the needs of the administrators.
The result of the survey: over 95% of the participants would recommend PRTG - or already had.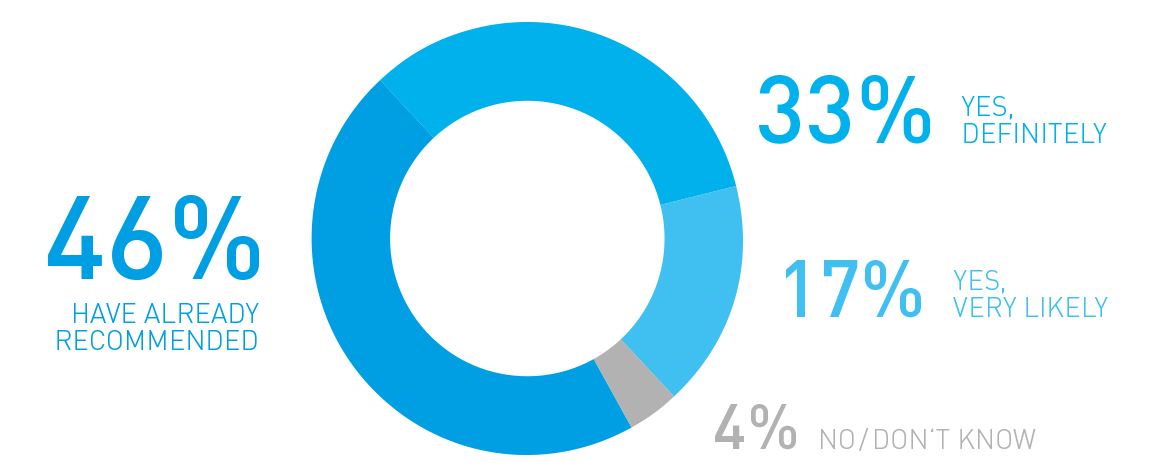 Award winning solution
We work hard on making our software as powerful and easy-to-use
as possible for our customers each and every day.
Of course it makes us proud when we get awards for that.

PAESSLER AG –
German quality engineering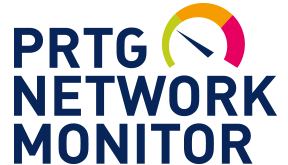 Free Download
Unlimited version of PRTG for 30 days
After 30 days, PRTG reverts to a free version
Or, you can upgrade to a paid license anytime

Made in Germany: The PRTG Network Monitoring Tool is the fruit of a dedicated, international team. The company was founded by Dirk Paessler. PESSLER AG's headquarters are located in the city of Nuremberg, in the heart of Germany.
A quick overview: PRTG provides a quick overview, whether on your desktop or as an app on your smartphone. An individually configurable dashboard features every key stat in the form of an easy-to-understand graph, so you can always make sure your network is running smoothly.
Easy configuration: Our Smart Setup guarantees a quick and easy setup. During configuration, PRTG will ping your network and create appropriate sensors, saving you a great deal of time. Furthermore, switching from other software such as Nagios is relatively quick and easy.
Outstanding support: Our support team strives to resolve inquiries within 24 hours (on business days). Discover a wide selection of videos, webinars, and instructions in our Knowledge Base. Our Manual is also an excellent resource.
Getting started is easy: The trial version is for free, allowing you to evaluate our monitoring tool with no strings attached. To upgrade, simply search for a suitable license. You can modify your license any time you like.
PRTG

Network Monitoring Software - Version 19.2.50.2842 (May 15th, 2019)

Hosting

Download for Windows and hosted version available

Languages

English, German, Spanish, French, Portuguese, Dutch, Russian, Japanese, and Simplified Chinese

Pricing

Up to 100 sensors for free (Price List)

Unified Monitoring

Network devices, bandwidth, servers, applications, virtual environments, remote systems, IoT, and more

Supported Vendors & Applications


More