Active Directory
Monitor PRTG
PRTG:
Active Directory Monitoring Software
A functional Active Directory is one of the core elements in a network's organization.
Virtually every company with a Windows infrastructure uses Active Directory to manage network resources and regulate access rights within a domain and its domain forest. The Active Directory creates a directory service, which stores information relating to a network's resources and objects.
In addition, domain controllers - usually several within a single domain - are used to store data sets regarding objects.
A replication service ensures that all of a domain's directory information is always and fully available on all of its domain controllers.
PRTG network monitor offers integrated,
complete active directory monitoring in real time
PRTG solves typical
Active Directory
problems
Preventing Replication Errors
The first problem involves so-called replication errors. The replication of directory data between various domain controllers can be prone to error. In turn, the resulting errors can cause problems with authentication and with access rights to resources.
A variety of factors play a role in the occurrence of these errors, including the number of consecutive synchronization failures, the time of the last synchronization attempt, and the number of pending replication operations.
PRTG's Active Directory Replication Errors Sensor monitors up to eight different parameters during the replication of directories and the synchronization of the various domain controllers, and intelligently sounds the alarm in the event of anomalies or errors.
Identifying logged-out and deactivated users
Another common problem associated with the use of an Active Directory involves logged-out or deactivated users. Maintaining an overview of such users is next to impossible with standard AD tools.
With PRTG, you'll get a ready-to-use script for PRTG Network Monitor which searches the Active Directory for all logged-out and deactivated users, and then lists them in PRTG: https://kb.paessler.com/en/topic/57603-is-it-possible-to-monitor-active-directory-user-account-status
To use this script, PRTG requires the Active Directory PS module. A manual with information on how to install the module can be found here: Microsoft Manual.
With a Search-AD account, you can run the script with a number of different queries. For the switches, see Microsoft's TechNet platform: TechNet Platform
PRTG immediately recognizes replication errors and
logged-out users and sends intelligent alerts.
Overview: Active Directory Replication Errors Sensor
PRTG uses the Windows credentials of the parent device to check the domain controller for replication errors.
The Active Directory Replication Error sensor displays the following in PRTG:
Number of consecutive synchronization errors


If the source was deleted

If the scheduled synchronization was disabled


Time of the last synchronization attempt

Result of the last synchronization

The last time a synchronization was successful


Number of aligned synchronization sequences

Number of pending replication operations
The PRTG Active Directory Replication Errors Sensor in action (example):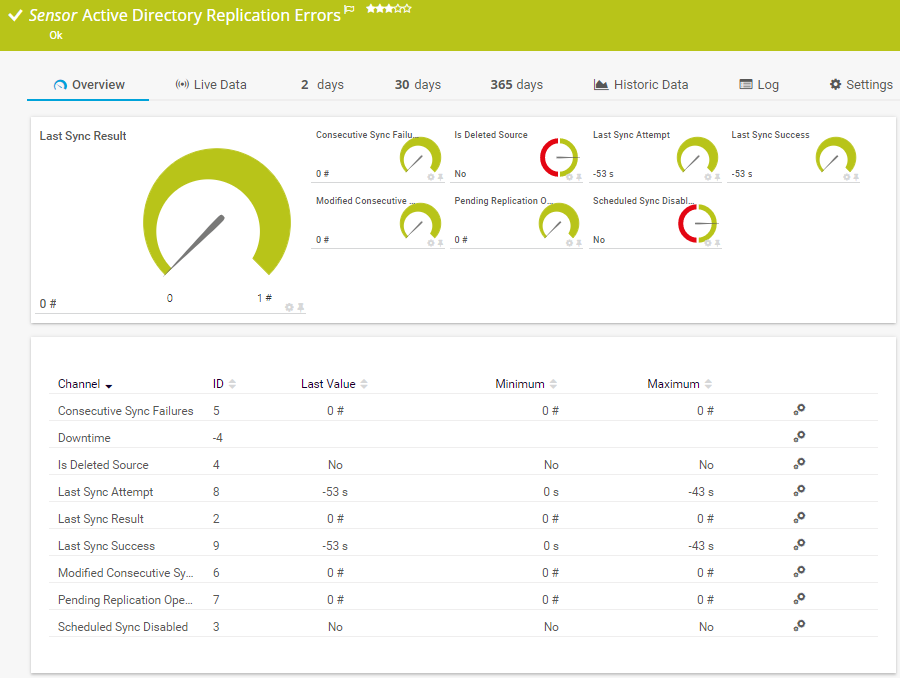 TIP: Monitor your Active Directory ports (53, 88, 389, 445, 464) with PRTG's Port Range sensor.
Active Directory Info (and much more) at a glance
PRTG can be set up for Active Directory monitoring in a few short minutes and provides an immediate overview.
PRTG simplifies your day
Our monitoring software works for you and promptly notifies you of potential issues.
It frees you to concentrate on your day-to-day tasks with peace of mind.
PRTG SAVES TIME
With PRTG, you get one central monitoring tool for all your company's hardware. Thanks to our dashboard and apps, you'll enjoy a quick and complete overview of your entire network, whenever and wherever you please.
PRTG SAVES YOU EFFORT
Monitor all your hardware around the clock and without worry. The built-in alarm feature is quick to act – before crashes and complaints can arise.
PRTG SAVES MONEY
80% of our customers report substantial or even exceptional network management cost savings. Our customers report that their PRTG licenses have paid for themselves in an average of 3 ½ months.
Screenshots
An introduction to active directory monitoring with PRTG
Notification System
Be alerted quickly
Flexible
PRTG features a variety of memory alerts:
e-mail, SMS, Pager, Apps, running an external application, etc. You can specify when and how each person is to be informed. To do so, you can add contacts and edit, delete, or pause your notifications at any time.
Integrated
The notification system is built into the Active Directory Monitor and is available at no extra charge. Because of its integrated quality, configuring the alert feature is done in just a few clicks.
Proactive
PRTG won't wait to let you know if "your RAM load is on fire." You define your own thresholds. If these are crossed, you'll receive a corresponding notification. This means you can intervene promptly before clients or coworkers are aware of any problems.
Award winning solution
We work hard on making our software as powerful and easy-to-use
as possible for our customers each and every day.
Of course it makes us proud when we get awards for that.
 
"The greatest advantage of PRTG? You get to rest easy."
Steffen Ille, Bauhaus-University Weimar.


PRTG:
The Swiss Army Knife for Sys Admins
Adapt PRTG individually and dynamically to your needs relying on a strong API:
HTTP API: Access monitoring data and manipulate monitoring objects using HTTP requests
Custom Sensors: Create your own sensors for customized monitoring
Custom Notifications: Create your own notifications to send alarms to external systems
PAESSLER AG –
German Quality Engineering
30 DAYS TRIAL
Installed in minutes Free Version
100 Sensors free forever
With PRTG, PAESSLER AG offers a powerful, affordable and easy-to-use unified monitoring tool. Over 150,000 administrators worldwide use our software, whether it be to monitor their server performance, virtual environments, hardware devices, or even the accessibility of their websites. PRTG is a network analysis solution for Windows.
Our network monitoring software was created in 1997 by Dirk Paessler. We are an established software company with headquarters in Nuremberg, Germany. We place great value on our high standards and never stop developing our software. And if ever there is an issue, our support team usually responds within 24 hours (except weekends). 
Use PRTG for your Active Directory Monitoring. You'll save time, money, and effort. It takes only a few minutes to install PRTG. You get 100 free sensors, which is plenty for small networks. And you can upgrade whenever you'd like.
Download
Network Monitoring Software for Windows - Version 17.2.30.1883 (April 24th, 2017)
Languages

English, German, Spanish, French, Portuguese, Dutch, Czech, Russian, Japanese, and Simplified Chinese

Pricing
Free for up to 100 sensors (Price List)
Unified Monitoring
Network devices, bandwidth, servers, applications, virtual environments, remote systems, IoT, and more...

Supported Vendors
& Applications

&nbsp

&nbsp

More >>
Related topics