Network Reporting Tool
Analyze and Visualize Network Usage Trends Using PRTG Network Monitor
Why Use a Network Reporting Tool?
Using a network reporting tool such as PRTG Network Monitor helps administrators to keep control of their networks: identify network and bandwidth usage trends, monitor the availability and uptime of network devices, and check performance metrics such as CPU and RAM usage of your servers and computers. The PRTG network reporting tool collects the monitoring data and displays it in easy to read reports and graphs.
Advantages of Using the PRTG Network Reporting Tool
PRTG is a powerful and cost effective network monitoring software which makes it easy to generate detailed reports for administrators and summary reports, which give managers and other decision-makers a quick overview of the network and resource consumption.
PRTG makes it easy to compare the current situation to historic data, which is very helpful for resource planning, Windows network troubleshooting, and to run an Ethernet performance test.
As PRTG supports more than 250 sensor types and runs on all Windows versions from XP onwards, it gives you a complete overview of your network, allowing you to generate comprehensive and actionable reports: whether you want to monitor Hyper-V servers, troubleshoot Vista networks, check your VoIP connections for jitter noise, or find out which IP address consumes most bandwidth, you can be sure that PRTG offers you an easy and intuitive way to do this.
The network reporting tool also allows you to make selected data available to the public or a defined set of users: you can publish graphs on your website, intranet, or grant certain users access to part of the monitoring data.
In addition, PRTG also offers an iPhone interface which makes mobile network monitoring possible.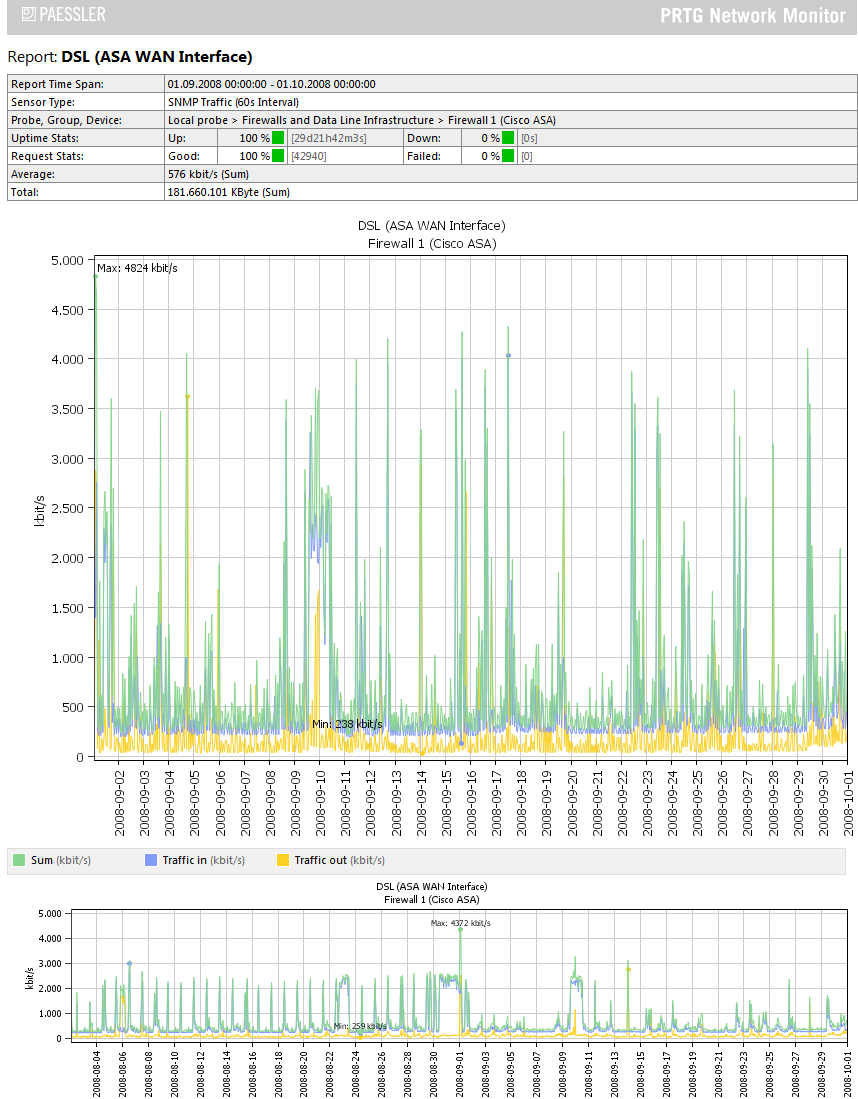 PRTG

Network Monitoring Software - Version 22.2.76.1705 (April 26th, 2022)

Hosting

Download for Windows and cloud-based version PRTG Hosted Monitor available

Languages

English, German, Spanish, French, Portuguese, Dutch, Russian, Japanese, and Simplified Chinese

Pricing

Up to 100 sensors for free (Price List)

Unified Monitoring

Network devices, bandwidth, servers, applications, virtual environments, remote systems, IoT, and more

Supported Vendors & Applications


More
Unlimited version of PRTG for 30 days
After 30 days, PRTG reverts to a free version
Or, you can upgrade to a paid license anytime