Network Performance Test
Monitor Webserver And Network Performance
Most businesses today depend on their network. To ensure the availability and performance of the business' network a periodic network performance test is indispensable.
PRTG Network Monitor is a comprehensive monitoring solution that covers the entire range of bandwidths, usage and availability monitoring. It comes with all features and functionalities needed for a professional network performance test.
But PRTG can do even more than a mere network performance test - it monitors your network, informs you when anything goes wrong, gathers data for long periods, and allows you to optimize your network. PRTG Network Monitor can also do a network performance test for virtualized environments using special VMware sensors.
Click here for more information about PRTG Network Monitor...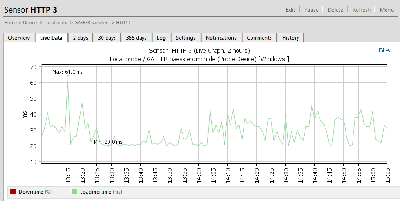 Network Performance Test With Webserver Stress Tool
A webserver is often an important component of a network. Intranet applications are basic cooperation platforms for many businesses, websites are frequently the main marketing and/or sales tool for modern companies.
A network performance test normally has a strong focus on the webserver's performance. The free network performance test application Webserver Stress Tool is a powerful HTTP-client/server test application designed to pinpoint critical performance issues in websites (also intranet-websites) or web servers that may prevent optimal experience for the site's visitors and for employees working with the intranet.
PRTG

Network Monitoring Software - Version 20.3.61.1649 (August 11th, 2020)

Hosting

Download for Windows and hosted version available

Languages

English, German, Spanish, French, Portuguese, Dutch, Russian, Japanese, and Simplified Chinese

Pricing

Up to 100 sensors for free (Price List)

Unified Monitoring

Network devices, bandwidth, servers, applications, virtual environments, remote systems, IoT, and more

Supported Vendors & Applications


More