Cisco Network Troubleshooting
Troubleshooting for Cisco Networks with PRTG
Are you in charge of a network that relies on Cisco products? Do you need a troubleshooting solution that will prevent bottlenecks and reduce overall costs? PRTG Network Monitor can help you with all your Cisco troubleshooting needs. PRTG Network Monitor provides in-depth, real time data, which greatly simplifies all monitoring and management.
Businesses increasingly rely on their networks to move data, provide communication, and enable basic operations. Network downtime, no matter how brief, can seriously hurt your business' effectiveness, efficiency, reputation and bottom line. In today's hyper-competitive business environment, companies simply cannot afford for their networks to go down. PRTG's 24/7 real time network monitoring enables you to identify potential issues and perform in-depth troubleshooting to resolve the situation before a problem arises.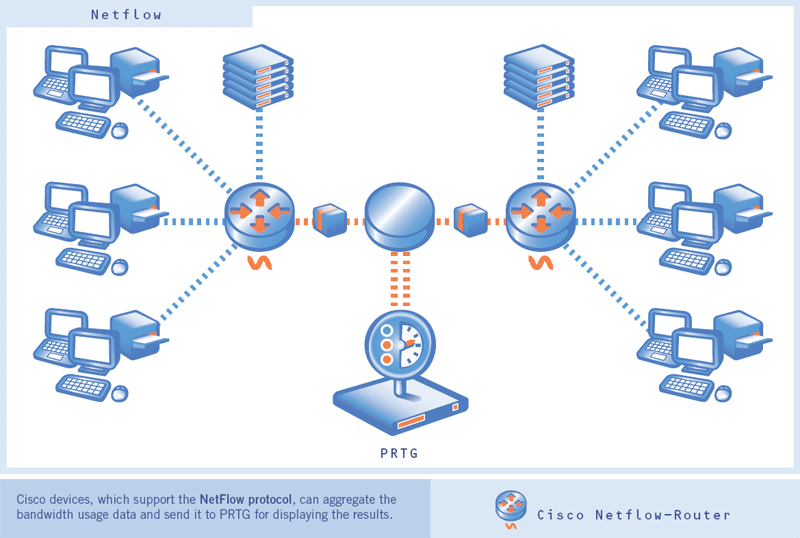 PRTG is well suited to Cisco network troubleshooting, because the functionality is supported by numerous methods of network data acquisition:
SNMP (Simple Network Management Protocol) and WMI (Windows Management Instrumentation): used to gather bandwidth usage and performance data for all systems within your network, including port-by-port usage data for switches and routers.

Packet Sniffing: used to inspect all network data packets travelling in your LAN or WLAN to calculate the bandwidth usage.

NetFlow: supported by most Cisco routers to measure bandwidth usage. It is the most powerful monitoring method, suitable for high traffic networks.

The PRTG network performance test software runs continuously on a Windows-based machine within your network, recording network usage parameters. The easy to use web-based interface allows to you to configure the devices and sensors that you want to monitor.
PRTG's comprehensive reporting features are highly customizable and can be defined for any time span.

PRTG Network Monitor is available in two editions.  For basic, free bandwidth tracking functionality, the Freeware Edition may be downloaded and used for personal and commercial use completely free of charge (including an SNMP Trap monitor).  For more advanced bandwidth monitoring needs and Cisco network troubleshooting have a look at our Commercial Editions.
Read more about PRTG Network Monitor.
Paessler also offers the Freeware Webserver Stress Tool which enables you to conduct advanced load tests.