Paessler Announces PRTG Network Monitor Version 8.4 Featuring Advanced Drag & Drop Maps Editor
Latest Version of Network Monitoring Software Lets Users Easily Customize Maps of Monitoring Data Right in their Browser
Los Angeles, CA and Nuremberg, Germany (May 4, 2011) - Paessler AG, the innovative network monitoring solutions specialist, today announced the release of version 8.4 of its PRTG Network Monitor solution. The new version features an enhanced Drag & Drop Maps Editor that makes it easy for network administrators to arrange their monitoring data on a map of their IT network exactly how they want it to be displayed.
The Maps Editor in version 8.4 has been completely rewritten, allowing users to create maps in their browser in an even more straightforward manner than before. Thanks to the new Drag & Drop feature, items on the map can easily be added, moved and altered. Users simply select an object and drop it right onto the map. The Map Editors' new, intuitive design permanently displays all needed graphical elements next to the map being edited. On the left side of the browser, a device tree shows all of a user's monitoring objects, and a 'Properties' box that controls the appearance of map items is displayed on the right.
"We really listened to our customers and used many of their suggestions to improve the PRTG Maps Editor," said Dirk Paessler, CEO of Paessler AG. "Now, with PRTG 8.4, it's even easier for administrators to customize the look of the graphical display of their monitoring data based on their individual needs and preferences. For example, our customers can create maps using their companies' floor plans, assemble specific list views, or show the overall monitoring status of different branch offices on a global geographical map."
The Maps Editor was designed to work as a simple web-based application, so there is no need to install additional software.  All edits are made right in the browser and can be seen instantly. This allows administrators to make changes to maps quickly and easily. PRTG 8.4 is fully backward compatible with maps that were created with earlier versions of PRTG Network Monitor.
PRTG already comes with many icons and background images that make it simple to model network states or show geographical distribution of sites individually. And, as with previous versions of the network monitoring solution, users can still add their own icons and backgrounds, such as device symbol's depicting company branding or building plans for visual support. Any map can be made publicly available to users without logging in to PRTG by using an URL containing a "secret" map ID only known to the people it is disclosed to.
Paessler's network monitoring software is used in over 200,000 installations every day to monitor LANs, WANs, servers, websites, appliances, URLs, and more. PRTG Network Monitor handles all aspects of network monitoring: up-/downtime monitoring, traffic and usage monitoring, SNMP, NetFlow, packet sniffing, and many more, combined with concise reporting and analysis features. PRTG delivers one clear and simple solution for an entire network.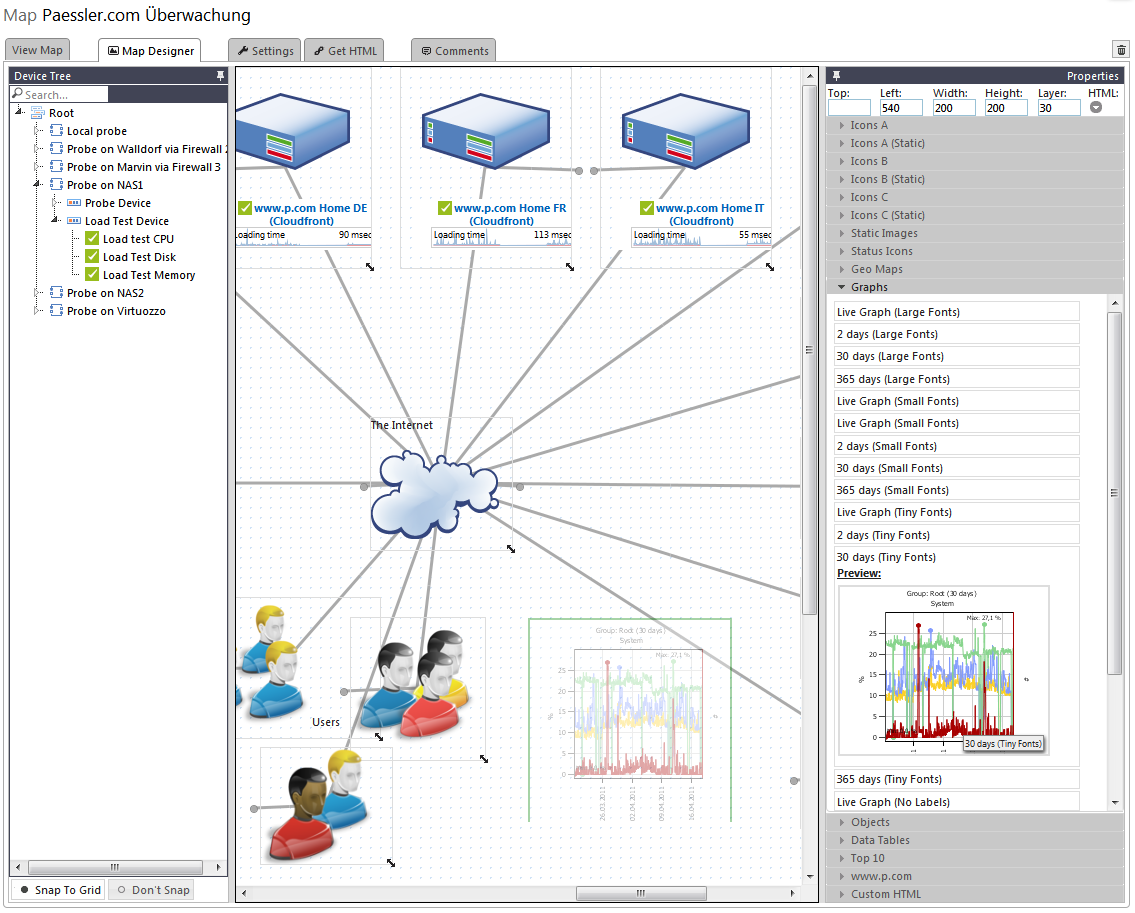 Press Contact
Paessler is working together with several PR agencies around the world. Please send your press inquiries to: