Smart IoT irrigation tool by Paessler receives 2022 Environmental Award from the City of Nuremberg
"This award means a lot to us. First of all, because the project perfectly embodies our corporate mission, which is to help reduce the overall consumption of resources in the world. And secondly, because the tool represents a technological milestone for us. This is the first time Paessler has expanded its service portfolio – which up until now dealt entirely with monitoring – to include products with active controls."
Joachim Weber, CTO of Paessler
Nuremberg, Germany, 27th of September 2022 - This year, five projects and ideas addressing the sustainable and respectful use of water were awarded the 2022 Environmental Prize from the City of Nuremberg. Every two years, the City of Nuremberg awards this prize to highlight exceptional efforts to protect the environment and promote sustainable development in the Nuremberg region (or in connection with the city). Paessler AG (www.paessler.de), a leading provider of monitoring solutions for complex IT, OT, and IoT infrastructures, was one of the winners for the 2022 edition. As part of a pilot project created with the Knoblauchsland Water Board, the company developed a smart irrigation tool that allows for the automated and efficient irrigation of fields in local vegetable-growing areas.
Joachim Weber, CTO of Paessler, explains: "This award means a lot to us. First of all, because the project perfectly embodies our corporate mission, which is to help reduce the overall consumption of resources in the world. And secondly, because the tool represents a technological milestone for us. This is the first time Paessler has expanded its service portfolio – which up until now dealt entirely with monitoring – to include products with active controls." For Paessler, this is also an important step in terms of its corporate strategy for the future. In particular, as digitalization becomes more widespread, demand will only increase for IoT solutions that incorporate both data collection and transmission, as well as automation and real-time recommendations based on this data.
Smart irrigation saves water, increases crop yields, and reduces costs
It was no coincidence that the pilot project was set up in neighboring Knoblauchsland, as the region around Nuremberg is known for its low rainfall. Since plants live on rainwater or water stored in the upper layers of the soil, farms in Knoblauchsland must invest more in irrigation solutions than farms in other parts of Germany. When it comes to irrigation, the most important thing is that no more water is used than is actually needed.
Farmers who use smart irrigation systems such as the Paessler Irrigation Monitor benefit from cost savings as well as higher crop yields, all while lending a helping hand to the environment by using less water.
IoT technologies for remote monitoring and irrigation
Although still in the pilot phase, the Paessler smart irrigation tool is expected to be ready for the market in the medium term. The tool is made up of several IoT sensors and the associated measurement technology, actuators for opening and closing valves, a LPWAN connection for wireless data transmission over long distances, and centralized monitoring software for consolidating and combining the measured data with weather forecasts.
Sensors placed in the field collect data on soil conditions, weather, and the status of the hardware components of the irrigation system, which consists of a main valve and various sub-valves. Based on the results and the predefined threshold values, the system is monitored and the irrigation is planned and controlled remotely in an automated manner. Only the essential amount of water is used when necessary. If the flow rate is too high, the main valve shuts off automatically. Because of this, pipe bursts and leaks can be detected quickly to keep any resulting damage and downtime to an absolute minimum – providing further savings to farmers.
Stefan Hußnätter, Director of the Knoblauchsland Water Board: "Farms in this part of Germany have always been innovative and eager to try new technologies. When we heard of a smart and modern system that can monitor and control our irrigation, we were immediately on board. Without water, there's no vegetable gardening; and without vegetable gardening, there's no Knoblauchsland!"
The findings from the pilot project will influence the development of the Paessler Irrigation Monitor. Paessler AG is already working on several other sustainability-related initiatives, including smart IoT solutions for air-quality and building monitoring.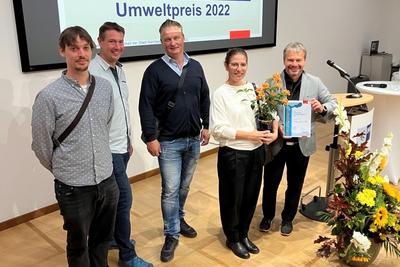 Paessler team receives 2022 Environmental Award
Press Contact
Paessler is working together with several PR agencies around the world. Please send your press inquiries to: