Windows 8 and Windows Server 2012 show WMI Weaknesses
Performance testing from network monitoring specialist Paessler finds problems with latest operating systems
14. August 2012 - Network monitoring specialist Paessler has found critical weaknesses in the performance of Windows Management Instrumentation (WMI), within the current* versions of Windows 8 and the business version Windows Server 2012. According to Paessler's tests, the WMI performance of Windows 8 and Windows Server 2012 is significantly worse than in other previous versions: up to 25 per cent slower on a monitoring server and about 15 per cent slower on a client system.
WMI is a powerful Microsoft standard that allows system administrators to monitor and manage an entire Windows network from one central point. Paessler has actively tested Windows operating systems for years, to give its customers credible recommendations for the optimal setup to allow the most effective monitoring of their IT networks.
WMI technology is a key component of network monitoring on PCs, as it provides vital and detailed information on devices and applications running on the Microsoft operating systems such as CPU and network utilisation, or usage of RAM. Using WMI, administrators can also determine the performance of Microsoft applications such as Exchange or SharePoint servers. This monitoring, however, can be severely compromised if the WMI standard doesn't work properly.
The Test
Paessler tested the latest beta versions of both operating systems and compared the results to all previous versions up to Windows XP. Both a monitoring server and a client system were installed for each operating system and then all combinations were tested.
In previous tests, both Windows Vista and Server 2008 R1 came out bottom with WMI working at an alarmingly slow rate. Windows 7 had a much-improved performance, however the results with the latest operating systems are yet again disappointing. The WMI performance of Windows 8 and Windows Server 2012 is significantly worse than in previous versions: up to 25 per cent slower on a monitoring server and 15 per cent slower on a client system. This means that to monitor large networks, administrators may have to monitor with longer time sequences or use multiple probes to distribute the WMI load better.
Dirk Paessler, CEO of Paessler says, "WMI is an important part of an IT network, yet its performance has always been rather disappointing. There was some improvement with Windows 7, however the latest operating systems from Microsoft show that WMI performance is, yet again, bad. This can really slow down monitoring efforts and have disastrous affects if something goes wrong as it will take longer for administrators to figure out if there's a problem on the network."
Tips for Avoiding WMI Overload:
Use WMI sensors on slightly higher scanning intervals of several minutes (rather than 60 seconds), to avoid overloading the network.
Using different protocols could help to obtain your network monitoring results quicker. SNMP for example, which is built into all Windows systems but has to be activated first, is a better solution. Techniques using RPC connections are also another option.
Don't over monitor the network - identify the most important aspects that you need to keep tabs on and just keep an eye on those.
Paessler's PRTG Network Monitor includes a number of WMI sensors, which are continually optimised by Paessler according to their WMI testing and changes with Windows operating systems. The latest version of PRTG also includes a new WMI HDD Health sensor. In addition, PRTG comes with 'Remote Probes' included in every license, which are ideal for large installations to distribute the load of the monitoring system on several computers.
For more information see the Paessler-Blog.
* Pre-release versions of Windows 8 and Windows 2012 were tested by Paessler in July 2012.

Tabelle with results of the WMI test in 2012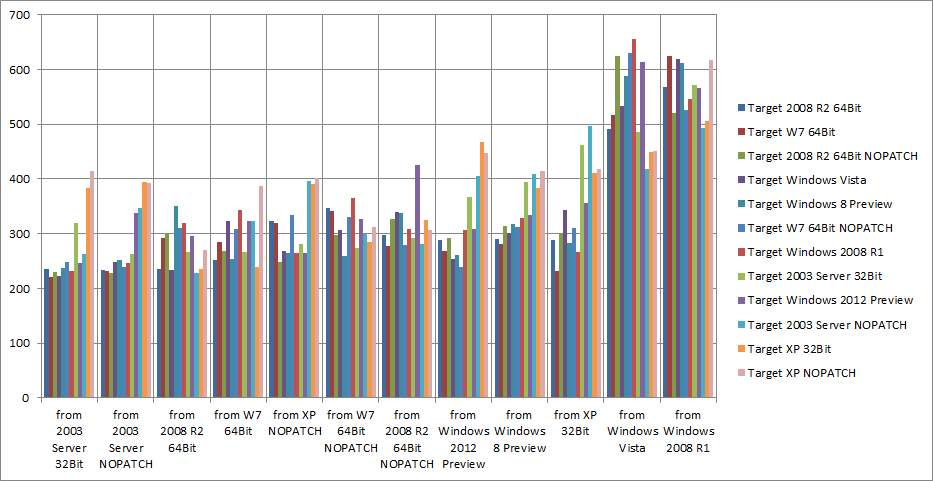 Press Contact
Paessler is working together with several PR agencies around the world. Please send your press inquiries to: