Paessler To Exhibit VMware Features at VMworld 2016
Company will demonstrate VMware capabilities and sensors for PRTG Network Monitoring solution
WAKEFIELD, Mass. And NUREMBERG, Germany, Aug. 29, 2016 - Paessler AG, the innovative network monitoring specialist, today announced that it will be demonstrating the VMware capabilities of PRTG Network Monitor at VMworld 2016 US, August 28 - September 1 at the Mandalay Bay Convention Center in Las Vegas (booth #550). Paessler will display its comprehensive line of VMware sensors, which enable IT administrators to continuously monitor the health and performance of their entire infrastructure, including virtualized and cloud components.
PRTG is a unified monitoring tool capable of monitoring anything that IT could need, with roughly 200 prebuilt sensors and a customized API. PRTG gives users real-time information on any number of data points or metrics - data flow, bandwidth CPU usage, disk space, flow analysis, packet sniffing and more. Among PRTG's preconfigured sensors are a number of ready-made VMware sensors, which make it easier for IT administrators to add and monitor new devices and hardware (virtual or physical) to a network. One example is the VMware Datastore (SOAP) sensor, which monitors the disk usage of a VMware data store, and shows available capacity in bytes, free space in bytes and percent, and total provisioned disk space.
PRTG is easy to install and can be set up within minutes. It comes with its own database, an integrated web server, automatic network discovery and a smart setup configuration. Additionally, PRTG is an agentless monitoring tool, requiring no complex hardware or agent installation.
"VMware is an important part of many SMB and enterprise networks, and VMworld is an ideal event for demonstraing our VMware capabilities and sensors to IT administrators," said Andrew Cutting, director of channel sales, North America, at Paessler. "Our goal at VMworld is to show attendees the benefits and functionality of PRTG in virtualized environments and give them a close look a our full line of VMware sensors."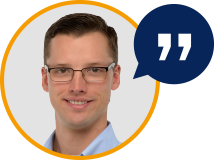 Press Contact
Paessler is working together with several PR agencies around the world. Please send your press inquiries to: