Paessler showcases new push notification feature at Cisco Live, Milan
Demonstrations will show how users can respond to network problems even faster with PRTG
London and Milan, Italy, 22 January 2015 - At Cisco Live later this month IT monitoring software developer Paessler will demonstrate its new push notification feature for the Android and iOS app version of PRTG Network Monitor. A demonstration of how this new feature works, as well as an explanation of the four new sensor types the network monitoring solution provides, will take place at booth E45 at Cisco Live, which runs from 26- 30 January in Milan.
At the exhibition running alongside the event, Paessler will demonstrate the push notifications feature that extends PRTG's existing notification options beyond email and SMS. The push notification appears in the status bar of the terminal in the same way as an SMS. With just a tap, the user can open the triggering sensor in the app and view all details. This new feature increases the speed at which users can respond to and address IT infrastructure issues before they cause disruption or downtime.
During the conference, Paessler will also unveil a new "responsive design" for PRTG's web interface. With the new design PRTG's interface automatically adjusts to the size of the browser window so the user can view more information at any one time.
PRTG's new device-analysis feature also helps to provide a more detailed picture of the IT infrastructure. Each device added to PRTG is analysed and PRTG subsequently suggests the most appropriate sensors for an even more accurate monitoring solution.
In addition, Paessler is introducing four new sensor types , including the "SNMP Cisco UCS Blade" sensor, which keeps an eye on the status of a blade server in a Cisco UCS (Unified Computing System). Other additions include the following beta versions:
"SNMP Custom Lookup" sensor: checks individual strings via SNMP and provides status update by lookups.
"Cloud HTTP" sensor: checks the load time of web servers using HTTP and the new PRTG cloud from various locations worldwide.
"Cloud Ping" sensor: monitors the ping time from various international locations to a target device using the PRTG cloud.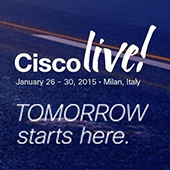 More information on Paessler's plans for Cisco Live can be found on the Paessler website, in the "Events" section.
Press Contact
Paessler is working together with several PR agencies around the world. Please send your press inquiries to: